Derrick Mason Traded: Why Rex Ryan Had to Get Rid of WR
October 12, 2011
Elsa/Getty Images
Derrick Mason was traded to the Houston Texans last night for a conditional seventh-round draft pick. That didn't last long. The Mason signing was clearly a mistake.
The 37-year-old wide receiver Mason was brought in late to plug the hole left by the release of No. 3 veteran Jets wide receiver Jerricho Cothery.
At the time of the signing, it was considered kind of a big deal. Mason was being courted by a few other teams and ultimately decided on the Jets.
Despite his age, he was very productive for the Baltimore Ravens last season as he appeared in all 16 games hauling in 61 receptions for 802 yards with seven TDs.
The same was expected for him this season with the Jets. Rex Ryan praised the move, claiming that he would have 80 to 90 catches.
Then the season started and it went downhill quick. Here are five reasons he had to be traded.
1. He was unproductive. Through five games, Mason has 13 receptions for 115 yards. There were rumors he could not comprehend the playbook and instead of taking the time to learn it, he would visit with family in Tennessee on his off days, via Daily News
2. He just was not a good fit. There are only so many balls to go around. Inept Offensive Coordinator Brian Schottenheimer could not even find ways to get Plaxico Burress or tight end Dustin Keller the ball. How can he possibly find ways to get Mason the ball?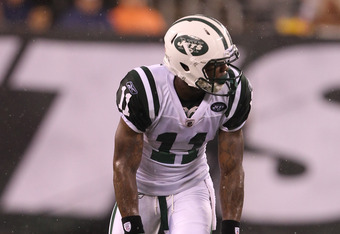 Al Bello/Getty Images
3. There were reports that his comments were getting the coaching staff peeved. After the loss to the Baltimore Ravens, Mason had this to say, "Obviously, there's things that have to change. There's some cracks. And don't nobody really want to identify the cracks. Until we identify the cracks, we're going to keep having the same problems. Whenever somebody wants to seal up the cracks, then we'll continue to move forward as an offense."
4. Mason was stunting rookie WR Jeremy Kerley's growth and could have been seen as a bad influence. Kerley's impressive play on special teams and punt returns has earned him a larger role in the offense. Kerley took over the third receiver role and delivered with three catches for 35 yards and a touchdown against the New England Patriots.
5. It was time for the Jets to cut their losses and sell high. A conditional seventh-round pick is still a pick. Mason did not really cost anything but aggravation and a seventh round pick may turn into a productive player. Who knows? It has happened before.