5 Reasons the Philadelphia Eagles Will Make the NFL Playoffs
October 12, 2011
Brody Wheeler/Getty Images

Everyone is bashing the Philadelphia Eagles right now. They have had a disappointing start to their season as they have just one win and four losses.
However, the Eagles have a pretty good chance to rebound and make the playoffs. Here's why:
1.) Philadelphia Has Been Unlucky with Turnovers
The Eagles have turned the ball over 10 more times than their opponents so far this season. That means their turnover margin per game is an awful negative two. 
In the past three years, the lowest such margin per game over the course of a full season was minus 1.1. Going back to 2003, the lowest was minus 1.5.
Clearly, the Eagles are due for some regression to the mean. Even if luck doesn't swing into their favor, they should at least stop turning the ball over at such a historic rate. That alone will improve the Eagles.
2.) Philadelphia Has Outgained Their Opponents
The Eagles have outgained their opponents by almost 100 yards per game, despite the fact that they have given the ball to the other team so often.
In fact, they have averaged almost a full yard more than their opponents per play—they have averaged a ridiculous 6.7 as opposed to their opponents' 5.8.
This means Philadelphia should be able to create more long scoring drives in the future.
Football is a gain of yards, and the team who gains more usually wins. If the Eagles' turnover margin improves like it should, it would lead to more plays and even more yards for Philadelphia.
3.) Philadelphia Has a Low Score Differential
Right now, the Eagles have only given up seven more points than they have scored, including an interception returned for a touchdown. A team with this many turnovers should not be able to keep the game close. They should get blown out!
But, somehow,  Philadelphia has managed to stay in games—mainly because when it isn't turning it over, it is a devastating offensive team.
The Eagles have scored more touchdowns (14) than punts (13). They have also attempted 12 field goals. So, on approximately two-thirds of their drives that don't end with a turnover, they make it to at least field goal range.
This is an explosive offense that will put up great numbers, and soon.
4.) Philadelphia Has 5 Divisional Games Left
The NFC East is not the best division in the NFL this year. The winner of this division could easily end the season at 10-6. The Eagles could easily go from 1-4 to 10-6. They have five divisional games left.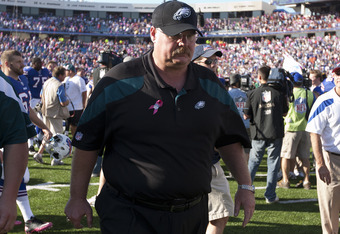 Brody Wheeler/Getty Images
Winning four or five of those would put them in the driver's seat for the division crown, especially if they beat the New York Giants in a rematch.
A win over the Washington Redskins this week and the Dallas Cowboys next week would likely put them at just one game behind the division leader—two games at the most. Also, they play Dallas in week 16 and Washington in week 17.
If the Eagles can keep the division race close until then, they can overtake the Redskins and Cowboys and vault into the top spot.
5.) Philadelphia Could Easily Be 4-1
Three of the Eagles' four losses could have been wins with just one or two simple things. They lost to the Atlanta Falcons by just four points in Week 2.
Had Vick not gotten injured, they most likely would have held on to win that game.
In Week 4, they lost by a single point to the San Francisco 49ers. Had they just ran the ball in the second half, the 49ers would not have had enough time to mount a comeback.
Last week, they lost by one touchdown to the Buffalo Bills, despite turning the ball over five times. In fact, the Bills returned an interception for a touchdown. Take away that touchdown, add an Eagles' score, and Philadelphia wins the game.
 If the Eagles were 4-1, no one would be pointing out their offensive line or defensive problems. But they aren't, and people are, which is why it is news for someone to predict a playoff appearance for them.