NFL: 6 Players on Bad Teams That Should Be Traded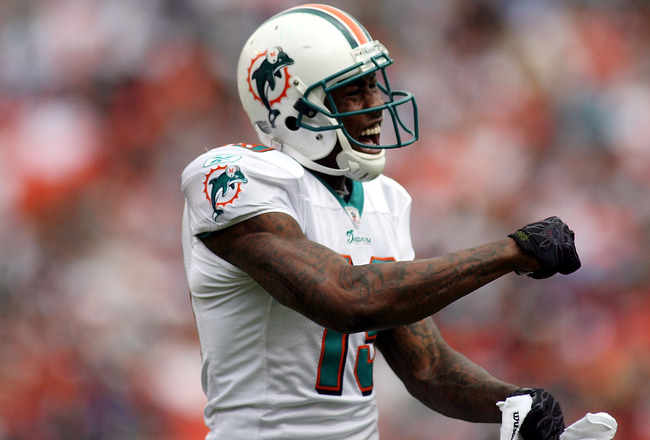 Marc Serota/Getty Images
The NFL Season is only in Week 6, but Bill Parcells would tell anyone that, "You are what your record says." Many teams need to turn the page on some current players and get what they can out of them, whether it's young, current players or future draft picks that will materialize into players.
Some coaches can turn these guys into examples to send a message while others can just quit while they're ahead or, for most cases, quit while they're behind.
Building for the future is more important than pretending to fans that their teams are capable of winning in the present when it's far from the truth.
NFL trades are a rarity compared to the NBA and MLB, but action should be expected closer towards the trading deadline.
These six players, and many more not included, should find new teams even though many will stay in their current locations.
6. Antonio Cromartie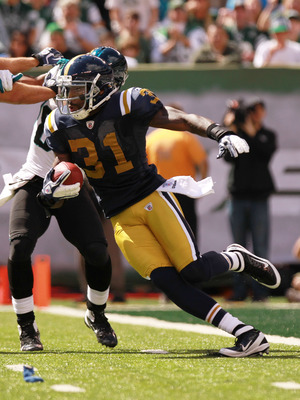 Nick Laham/Getty Images
One of the early surprises through Week 5 of the NFL Season is how terrible the New York Jets are at stopping the run. Even if people didn't believe the Jets to repeat their past success, no one would think that Rex Ryan's unit wouldn't be physical enough.
Antonio Cromartie is a cornerback and he shouldn't receive much of the blame for New York being soft tacklers so far. However, he's not physical for a defense that keeps allowing runners get to the second level and beyond.
Cromartie may even be talking too much for coach Ryan's liking. Ryan benched receiver Derrick Mason for complaints and Cromartie could be made an example of if the Jets' coach feels like his words are wearing thin.
The only way Cromartie would be traded is if the Bills and another AFC team take up the two AFC Wild Card spots the Jets will look to occupy.
5. Brandon Marshall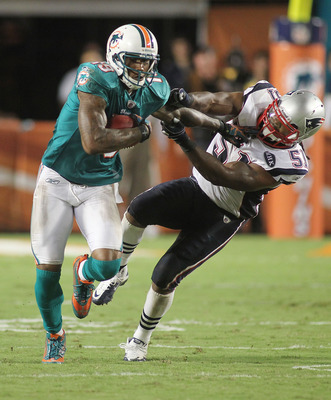 Marc Serota/Getty Images
It may be time for Miami to attempt the task of, "Forgetting Brandon Marshall."
Apologies for the poor reference, but Miami's new management will likely get rid of the wide receiver regardless. It could be smart for the current front office to cash in on a quality draft pick after a good performance from Marshall if he can have one with Matt Moore.
Most of Marshall's money from his 2010 deal has already been paid, thus helping a potential deal get done.
The Dolphins need depth whether it comes in draft picks or current players. Both sides appear to be at the point of no return but Miami would then need to find at least a stop-gap No. 1 receiver for 2012.
Marshall could be reunited with his old quarterback Jay Cutler in Chicago or a team like Baltimore could give the big, physical target to a quarterback who has a ton of speed guys.
4. Brandon Lloyd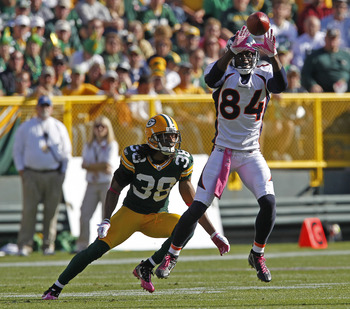 Matt Ludtke/Getty Images
Another player in his contract year, Brandon Lloyd may not receive new money from his current organization.
The Broncos will run the ball with much more regularity as Tim Tebow takes the starting job at quarterback and Lloyd has already expressed disinterest in playing receiver for someone other than Kyle Orton as his quarterback in Denver. Lloyd's attitude has been a problem in the past and it could turn worse with more losing.
The Chicago Bears should be brought up again as Jay Cutler not only lacks good pass blocking but good pass catching. It's doubtful that Chicago would take back Lloyd who already played for and irked the team in the past.
It doesn't appear that John Elway, John Fox and other members of the Broncos' organization care if Tebow gets a full chance to prove he's a capable starter. It wouldn't deter a potential deal from forming if a team offers Denver fair compensation for their veteran receiver.
3. Jared Allen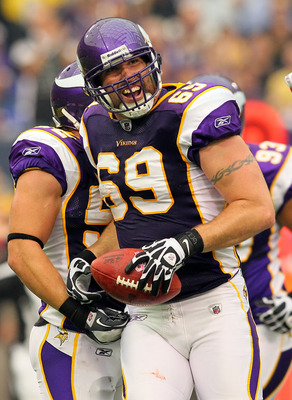 Adam Bettcher/Getty Images
Minnesota's best defensive player may be a case of sell high even though he wasn't bought low when the Vikings traded a first-round selection along with two third-rounders.
Allen is leading the NFL in sacks through Week 5 and legitimately good teams could look to add a top pass rusher in a league where passing is as prevalent as it has ever been.
If Minnesota could receive what they gave to Kansas City when they acquired Allen, the deal would be worth doing. With that said, the Vikings would have to do a better job of selecting impact players than the Chiefs did in 2008 with the three picks.
2. Steven Jackson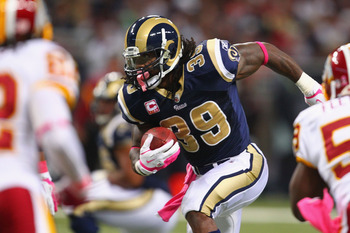 Dilip Vishwanat/Getty Images
Steven Jackson has been a part of too many bad teams in recent memory and he's part of that only because of his lack of good health. Assuming that St. Louis' running back stays healthy and produces at his normal level, more than a few contending teams could use a dynamic runner like Jackson.
Josh McDaniels will be sticking around to help Sam Bradford grow in his still young career and the team will need many more pieces. Slot receiver Danny Amendola is a good building block, but he plays in the slot for a team that doesn't have an outside threat currently on the roster.
The Rams should accept no less than a second-round pick for Jackson. The veteran running back still aids his second-year quarterback and it'd hurt Bradford's development long term if St. Louis doesn't get serious about finding him a number one target.
1. Asante Samuel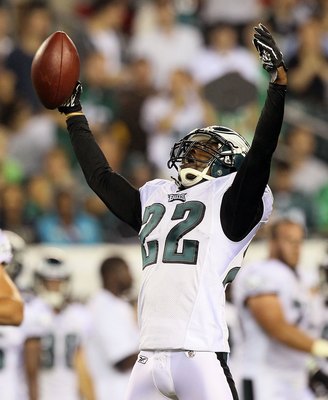 Jim McIsaac/Getty Images
Asante Samuel has signified many of the Philadelphia Eagles' issues although he's far from being the only player contributing to the team's struggles.
Samuel doesn't like to tackle, which was clearly shown against Buffalo in Week 5 and one interception in five games isn't enough to warrant his gambles and his mouth. Samuel is in his contract year anyway, and the future for Philadelphia's secondary appears to be in Dominique Rodgers-Cromartie.
There could be a market for Samuel's services. The former Patriots cornerback is best in a cover-two scheme, and both the Bucs and Bears could use his skills to produce more turnovers to underachieving defenses.
It's much more likely that Chicago would make an offer to Philadelphia because Tampa Bay is a young team that may not want to take on any unnecessary risks. With that said, the Bucs do have the salary cap room to make the move happen.
Chicago would be an ideal home as he'd be accountable to Brian Urlacher and he would play alongside someone who'd compliment him well in Charles Tillman, a physical corner with great tackling ability.
Keep Reading