NFL Picks Week 6: San Francisco Will Hand Detroit Its 1st Loss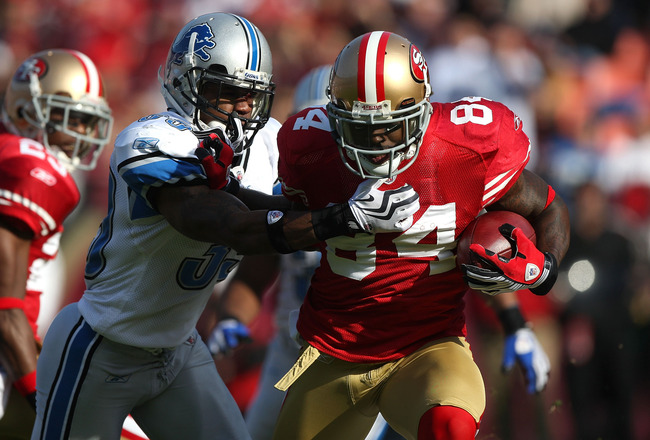 Jed Jacobsohn/Getty Images
Few teams are hotter heading into Week 6 than the San Francisco 49ers.
With a quarter of the regular season already in the books, the Niners find themselves atop the NFC West at 4-1. Their wins thus far have come come in all stripes.
Comeback win? Check. They surprised a reeling Eagles team 24-23 in Week 4.
Blowout win? Check. After struggling to beat the lowly Colts, Tampa Bay got rolled by the Niners last week at the Stick 48-3.
Ugly win? Check. NFL Films is unlikely ever to take us back to San Francisco's 13-8 squeaker over the Bengals in Week 3.
If they had not caught Tony Romo on one of his heroic days, the 49ers might be sitting at 5-0.
They now face a real undefeated team in Detroit. The Lions are coming off a huge Monday night win over the Bears and are off to their best start since 1956. San Francisco will head into the Lions' den Sunday to spoil the Motown party.
Here's four reasons why they'll hand Detroit its first loss.
Frank Gore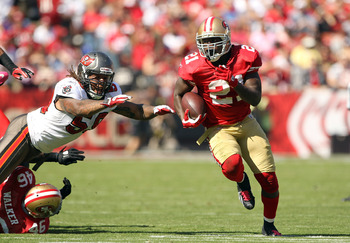 Ezra Shaw/Getty Images
Coming off a 125-yard performance against the Buccaneers, the physical Frank Gore should be able to run the ball effectively against Detroit.
Ranked ninth among running backs with 400 rushing yards in 2011, Gore has propelled San Francisco's rushing offense to 12th in the league, a vast improvement from being ranked 19th a year ago.
After going up against two of the NFL's top defenses in Cincinnati and Dallas, Gore has hit his stride in the last two contests. Before torching the Bucs for over a century last week, Gore pounded a soft Eagles front seven for 127 yards in just 15 carries.
Detroit enter's the weekend meeting averaging 114.8 yards allowed on the ground and looked vulnerable to the well executed screen or draw Monday night. While Gore is more of a power back than the elusive Matt Forte, look for San Fran to take advantage of the Lions' backfield penetration in the same vein as Chicago but with better results.
If Gore can have a big day on the ground, it will go a long way to relieve the pressure Alex Smith will be under from kickoff.
San Francisco's Secondary Will Force Turnovers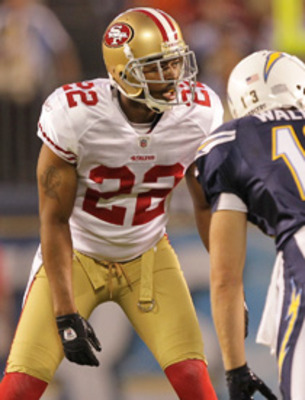 Undersized though they might be, the 49ers' secondary has been a huge factor in San Francisco's 4-1 start. Going against a young quarterback in Matthew Stafford should play in their favor, with Stafford prone to overthrows especially early in games.
San Francisco's eight interceptions are good enough for third in the NFL and are a huge reason for their plus-10 turnover differential.
Corner Carlos Rodgers has been responsible for three of them which ties him for first in the league. At 6'0'' Rodgers is one of the Niners' taller men in the secondary and should see a lot of time on Calvin Johnson come Sunday.
If the 49ers can force some picks early they might be able to take the raucous Detroit crowd out of it for a time, allowing the offense to settle in and put points on the board. No one passes more in the first quarter than Detroit, so the secondary should have ample opportunities.
The Niners' Front Seven Will Contain Jahvid Best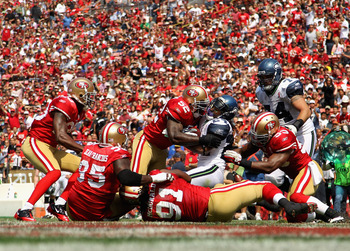 Ezra Shaw/Getty Images
While Detroit's Jahvid Best may have looked like Barry Sanders Monday Night, he wasn't going up against the kind of front seven San Francisco brings to the field. The Chicago Bears are not what they once were defensively, but the 49er's might be.
San Francisco has yet to allow a 100-yard rusher in 27 consecutive games dating back two seasons. Linebackers Patrick Willis and NaVorro Boman have made a lethal combination in the middle, combining for 82 tackles so far.
If they can take away the run, Detroit will be forced to air it out more than they already do, creating more chances for the secondary to force turnovers. Making the Lions' one-dimensional offensively is as good a strategy as any to come out on top.
It's a Classic Letdown Situation for Detroit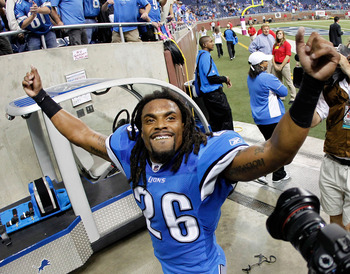 Gregory Shamus/Getty Images
Coming off an emotional, high-energy win over the Chicago Bears Monday night has set Detroit up for a letdown game against San Francisco. The Lions are 5-0 with a lot of young players in key positions on a short week, and their inexperience with consistent success might work against them.
If things don't go their way early, the Lions might try to force the issue too much and result in costly turnovers. They didn't play close to error-free football against the Bears, committing 12 penalties for 94 yards. If they make those mistakes Sunday, the Niners will make them pay.
Much will be decided in the opening quarter where the Lions have looked so vulnerable game after game. Despite Jim Schwartz's best efforts to guard against it, expect a hang over Sunday which the 49ers should be able to capitalize on.
Keep Reading

San Francisco 49ers: Like this team?