Bears vs Lions: 6 Things We Learned from Detroit's 24-13 Win on Monday Night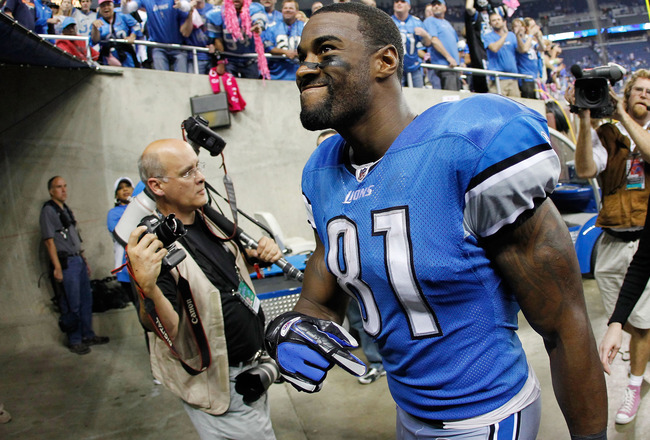 Gregory Shamus/Getty Images
I'll make this quick.
The Lions are 5-0 for the first time in 55 years.
They beat the Bears on Monday Night Football to show the whole country that they're for real.
They're still considered a legitimate playoff contender, and I can't disagree.
Times are good. So while I attempt to come down from a fantastic piece of football by the Detroit Lions, here are the six things we learned from this game.
There are, technically, a lot more than six. But a man's got to stick to his principle.
Note to Lions Opponents: Don't Go for It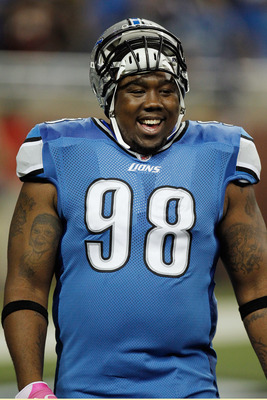 Gregory Shamus/Getty Images
I don't know how many times Lions opponents have to try a run up the middle on fourth-and-1 before everyone understands that it doesn't work.
The Bears were the latest to try a short-yardage conversion on fourth down late in the first quarter. I don't know why, but they basically ran the same play that got stuffed on third-and-1 during the previous down.
This is the same team that got stuffed four consecutive times last year with first-and-goal at the one yard-line.
It didn't work then, it hasn't worked for anyone all season, it didn't work today, and I have to wonder how much longer until offensive coordinators start to learn to stop beating their heads against a wall.
Especially when Ndamukong Suh is holding the wall up from the other side.
And What of the Running Game?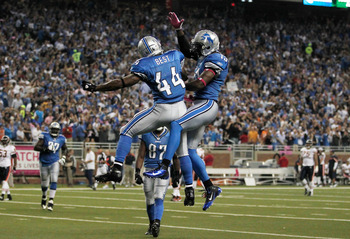 Gregory Shamus/Getty Images
I expected lots of things to click against the rapidly-fading Bears defense. I did not expect one of them to be the running game.
And yet there goes Jahvid Best, dashing through another truck-sized hole in the Bears' defense.
Partially because of an explosive 88-yard touchdown run, and partially because of some great blocking against a thinning Bears D-line, Jahvid Best averaged over 10 yards per carry in this game.
Equally interesting is that he only carried the ball 12 times, yet beat his previous career-high in rushing yards by more than double what it was.
I think this is more a sign that the vaunted Bears' defense is a shell of what it once was, and less of one that the Lions' running game is some how fixed now. But it's nice to see Best exhibit the wheels, vision and strength that made him a first-round pick in 2010.
Ford Field Is a Tough Place to Play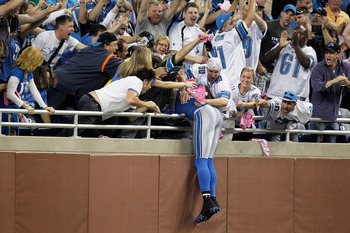 Gregory Shamus/Getty Images
Nine false starts. Nine.
The Bears have an atrocious offensive line, no discipline and abysmal coaching, but nine false starts?
Nobody felt the crowd noise more than the Bears' offensive line, which was painfully overmatched as it is. They were out of sync, confused, nervous and when they did manage a clean snap, it usually meant Jay Cutler on the turf.
More on this a little later...
I Hate Jay Cutler, but He Earned My Respect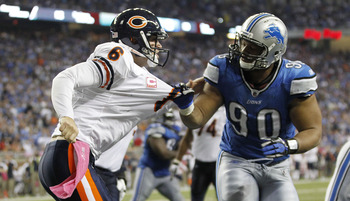 Leon Halip/Getty Images
I hate Jay Cutler, I think, more than any football player ever to play. He's like the Tony Romo of the NFC North.
Talented player, capable of putting up big stats, highly susceptible to fold when he comes under the tiniest bit of pressure.
Not on this day. Cutler didn't set his feet once all day, and it seemed like he threw everything off balance with a defender hanging off his leg.
And yet his final stat line? 28 for 38, 249 yards, one touchdown, no interceptions.
I think he also avoided about a dozen sacks over the course of the game; although, this category isn't an officially recorded stat.
The Bears lost this game to the better team, but I don't know that I've ever seen a quarterback play a better game while under that much pressure on every single play.
The Chicago Bears Are the Worst-Coached Team in Football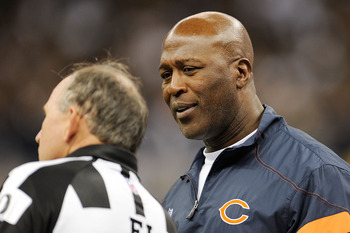 Stacy Revere/Getty Images
Lovie Smith is part of a pretty exclusive group of long-tenured coaches, along with Jack Del Rio and Marvin Lewis.
All three have been the coaches of their teams for a very long time. And nobody quite knows why they haven't yet been fired.
Smith was on the hot seat for a while, then took the Bears to the NFC Championship game, where they were embarrassed by the Packers. Still, a deep playoff run bought him some time, and as a Lions fan, I couldn't be happier.
The crowd noise has a fair amount to do with this, but 14 penalties? Nine false starts? One of them on a punt?
Directly speaking, the players are responsible for these penalties, and the Lions weren't much better in terms of sheer volume of penalties.
But most of the Lions' penalties were issues of defensive aggressiveness, while the Bears' were primarily pre-snap or post-play penalties. That lack of discipline traces directly back to the head coach.
Penalties aside, though, Smith just didn't coach a very good game, and never was this more apparent than at the end of the first quarter.
Smith called a run up the middle on third-and-1 but was unsuccessful at moving the chains. He then sent his offense out to try to draw the defense offsides, they didn't get it so Smith called a timeout. With that extra time to think about it, he sent the offense back out onto the field with the same formation as it had before the timeout (so why didn't they just run the play?).
It was almost the same play as the one that didn't work on third down, and Matt Forte was clearly brought down behind the line of scrimmage. But Smith wasn't done. For no apparent reason, Smith decided to challenge the spot of the ball.
The end result: Instead of taking three points from the automatic Robbie Gould, he spent two timeouts to turn the ball over on downs.
Fun question: If Smith gets fired mid-season, who takes over as interim: Mike Martz or Rod Marinelli?
Linebackers Matter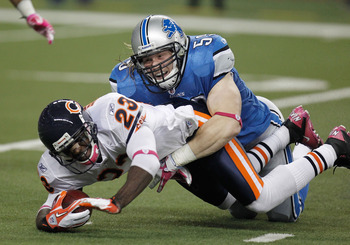 Gregory Shamus/Getty Images
Bobby Carpenter, the Lions' backup outside linebacker for Justin Durant, had four tackles in this game, but it felt like more.
Every time there was a play to be made, Carpenter, Steven Tulloch, or DeAndre Levy made it.
The defensive line was there to suck up all the blocks, and the linebackers ate up the remainders on every play.
This is a key difference between the Lions this year over last. The range and ability of the three guys at linebacker is exponentially greater than it was last year, and the face of the entire Lions defense has changed as a result.
Keep Reading

Detroit Lions: Like this team?