Philadelphia Eagles Week 5 Report Card: Grading Each Unit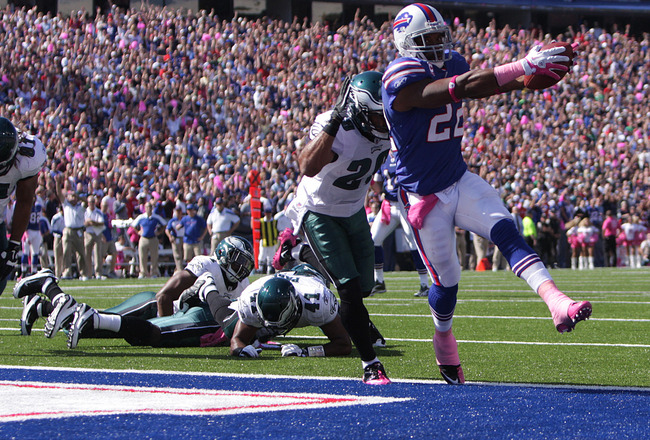 Brody Wheeler/Getty Images
Yikes! That's all you can really say if you're an Eagles fan.
High expectations have turned into humiliating disappointment. No team has been more creative at finding ways to lose ball games quite like the Philadelphia Eagles have been in 2011. Their lone win came at the hands of the winless St. Louis Rams, which now hardly seems like much of an accomplishment.
After the first five weeks of the season, the Eagles appear to be a long shot for the playoffs that they seemed like a lock for just four weeks ago. The problems spread to every single unit on both sides of the football. It doesn't appear to be an easy fix for the Eagles right now, but we all know how quickly things can change in this league.
Quarterbacks: C+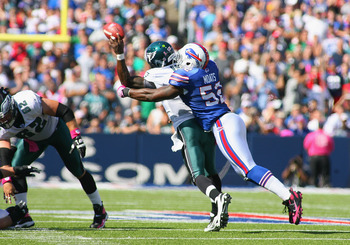 Rick Stewart/Getty Images
Michael Vick has had a roller coast like start to the 2011 season. He has been knocked out of two games, broken the all-time rushing record by a quarterback for a career and has turned the ball over 10 times through the first five games.
Vick has lead the Eagles offense with 1,654 total yards. He has lead the offense to 125 points that looks even deadlier than it did a year ago when they broke several team offensive records. He is on pace for nearly 5,000 total yards and 25 touchdowns.
Vick is also on pace for 30 turnovers, which makes it hard to say how good of a year Vick has had so far. He is a playmaker. You have to take the good with the bad. The problem with Vick is that the defense has been so bad that he has too much pressure on him to keep scoring to keep his team in games.
Vick has to put more priority on protecting the football. He isn't the only player to blame for the five turnovers the Eagles had in Week 5 against the Buffalo Bills, but he should get most of the blame. This team can't start to turn things around until Vick becomes more careful with the ball and also better at reading the blitz.
Running Backs: B+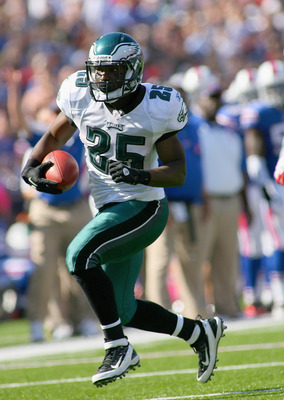 Rick Stewart/Getty Images
LeSean McCoy is quietly having a great season, when he gets the ball. McCoy is averaging 5.7 yards per carry, but only has 77 carries through the first five games. He has been the Eagles' most consistent offensive player. He has zero fumbles and seven touchdowns through Week 5, but has just 20 carries in the last two games.
McCoy has been the total package at running back this season. He has also added 110 receiving yards this season and has also been outstanding in pass protection.
The rest of the running backs have had very little impact this season for the offense. Ronnie Brown appears to be a waste of a free agent pickup. He has 38 total rushing yards and zero catches to go along with his famous attempted goal line pass that turned into a lost fumble last week against the 49ers.
McCoy has been an A+ type player this season, but has had little help, and the Eagles have yet to utilize a balanced attack on offense.
Wide Receivers/Tight Ends: B-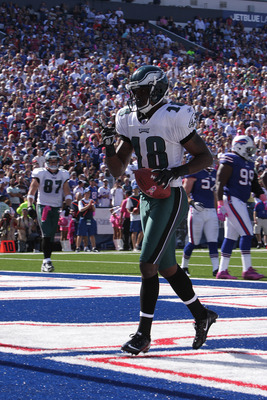 Brody Wheeler/Getty Images
The wide receivers for the Eagles have put up big numbers through the first five weeks of the season, but have been incredibly unclutch in three of the Eagles four losses. In Week 2 against the Atlanta Falcons, it was Jeremy Maclin who dropped a critical pass on a 4th down play on the Eagles final drive.
In Week 4, Maclin was the culprit again. This time, he fumbled the ball away while the Eagles were driving in 49ers territory in a one point game. In Week 5 against the Buffalo Bills, it was a critical fumble by Jason Avant that cost the Eagles their fourth straight loss.
Three different Eagles receivers have at least 300 receiving yards. Jason Avant is one of the best slot receivers in the league, while both DeSean Jackson and Jeremy Maclin provide the fast receiving duo in the NFL. The problem with this group is they have all been prone to both dropped passes and fumbles.
The tight end position has been almost non existent in the passing game. Clay Harbor and Brent Celek have combined for just 148 receiving yards and just one touchdown. The Brent Celek we saw break out in 2009 appears to have been just a tease, as he hasn't come close to looking like his former self in the last 21 regular season games. Harbor has shown some flashes of greatness, but neither of the Eagles' tight ends scare any opposing defenses.
Offensive Line: C+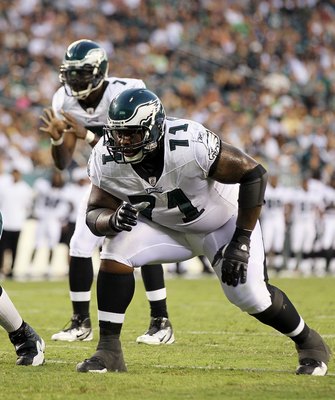 Jim McIsaac/Getty Images
The offensive line has taken a lot of heat for all the unnecessary shots that Michael Vick has taken, which probably isn't fair. Vick has been sacked just seven times through five games. The line has also blocked for the top rushing offense in the league, as the Eagles are averaging 165 yards per game on the ground.
The line is more athletic than it has ever been under Andy Reid, and it has shown through the first five games. The problem with an undersized line is that they don't usually win the battles in goal to goal type situations. Critical third and short type situations are still plaguing the Eagles offense, and there doesn't appear to be an easy solution to that problem.
This offense is built for speed but lacks power. Every position group as one of the most athletic in the NFL, but none of them has the size or strength to come through in the clutch. Until this offense becomes less of a finesse oriented, they will continue to struggle in clutch situations.
Defensive Line: B-
Rick Stewart/Getty Images
The defensive line has really been able to get after the pass in the wide 9 technique, but has done little to contain the run. That's the problem with Jim Washburn's scheme. It's sexy at first. You hear about how the defensive line is going to wreak havoc in the backfield, and what you get is a lot of sacks and mediocre run defense.
The Eagles front four has racked up 16 sacks through the first five games, including seven by Jason Babin and five by Cullen Jenkins. The pass rush hasn't been the problem for the Eagles; it's been the run defense that has been atrocious.
The Eagles rank 30th in the league against the run, giving up more than 140 yards on the ground a game. The defensive line is in a scheme that doesn't bode well against the run. They will make plays in the backfield, but they will eventually over pursue and put the back seven in a tough position to make a play against the run.
Linebackers: F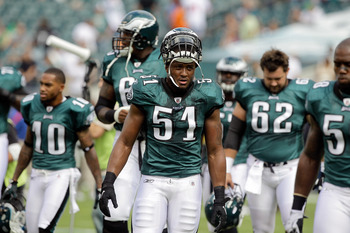 Rob Carr/Getty Images
No unit on the Eagles has been more horribly managed then the linebackers have been. Nobody has been put in a position to succeed in a tough scheme that doesn't favor speedy but undersized linebackers.
Stephen Tulloch was a free agent middle linebacker from the Tennessee Titans that finished second in total tackles in 2010 playing in Jim Washburn's wide 9 technique. Tulloch had proven to be an effective run stopper in the same scheme the Eagles planned to use in 2011. Very few teams showed much interest in Tulloch until the Lions finally signed him a measly one-year, $3.25 million dollar contract on July 31st. Tulloch has 26 total tackles through the first four games.
Jamar Chaney finished the 2010 season at middle linebacker after Stewart Bradley went down with a dislocated elbow. Chaney finished strong in 2010 and looked like a future Pro Bowler at middle linebacker. He was moved to the strong side linebacker during training camp so that a rookie fourth round draft pick in Casey Matthews could play middle linebacker. Matthews struggled, and Chaney was finally moved back to middle linebacker.
The Eagles are inexperienced and undersized at linebacker, and it has shown big time against the run. This unit looks very overmatched through the first five games, and there doesn't appear to be a quick turnaround coming anytime soon.
Secondary: F-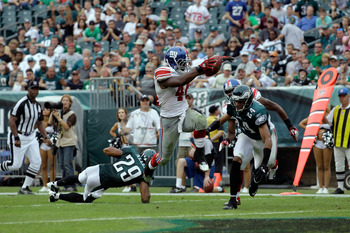 Rob Carr/Getty Images
The unit that was supposed to be some dominant against the pass has failed through the first five games. The Eagles defensive backs have just two interceptions so far and have struggled to make tackles and key stops when the defense really needs it.
Most of the blame has to go to defensive coordinator Juan Castillo, who has used Nnamdi Asomugha in every way except as a press man cover corner this season. Asomugha has looked very mediocre and has already given up more touchdowns than he did all of last year with the Oakland Raiders.
The safeties have also really struggled. Nate Allen is finally healthy and should solidify this group a little bit. The strong safety spot has really struggled. Jarrad Page was replaced against Buffalo by formerly bench free safety Kurt Coleman. No matter who is playing opposite of Nate Allen, it doesn't really matter because no one is getting the job done in run support or against the pass.
Overall, this group has enough talent to get the job done. It's just a matter of putting the players in the right position. Castillo appears to be learning on the job much like a trainee at a local restaurant. Until Castillo can figure out how to properly position his defensive backs on defense to make plays, this until will continue to overachieve this season.
If he figures it out, however, this defense is capable of making a lot of plays and giving the offense a chance to starting winning again. The question is, will Andy Reid and Juan Castillo have more than one more game to prove they can get it done?
Keep Reading

Philadelphia Eagles: Like this team?