Philadelphia Phillies: Ranking Their 6 Most Important Championship Pieces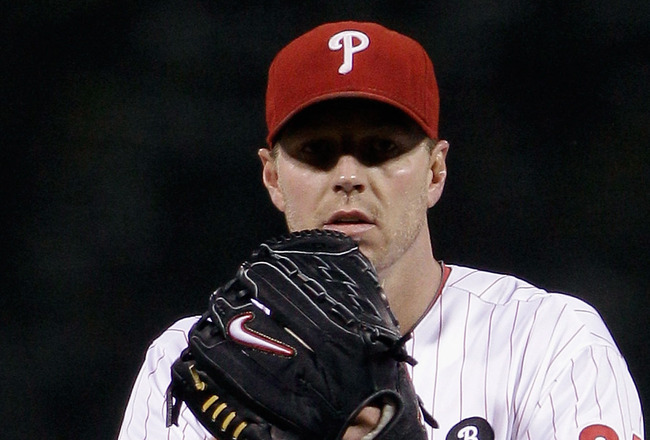 Pool/Getty Images
Philadelphia is still reeling as the best team in baseball and arguably best roster ever assembled was upset by the St. Louis Cardinals in the NLDS. The Philadelphia Phillies have quickly gone from a team loaded with superstars to an assembly of overpaid and over-aged players.
2011 was clearly a World Series or bust year but there is still reason to not jump off the bandwagon. The Phillies have the best rotation in baseball locked up for next season and they have a lot of money coming off the books.
A tweak here and there and this team could be even stronger in 2012. Players like Jimmy Rollins, Brad Lidge and Raul Ibanez could all have played there last game's in Phillies pinstripes, but there are other players on this roster that are crucial to the Phightin's World Series chances.
Here is a ranking of the Philadelphia Phillies six most important championship pieces.
6. Hunter Pence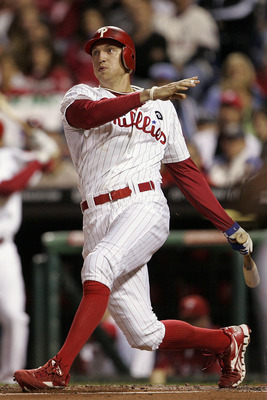 Rich Schultz/Getty Images
The decline of Chase Utley and even Ryan Howard have been well documented, but Placido Polanco is not getting any younger and Carlos Ruiz has caught a lot of games. Hunter Pence as the lone power bat from the right side of the plate puts a lot of pressure on the right fielder.
A completely ineffective Ryan Howard puts on even more.
The Phillies need to find a way to re-sign Pence to a multi-year deal at a manageable price, as he is one of the few players on this roster that is still in their prime.
5. Cole Hamels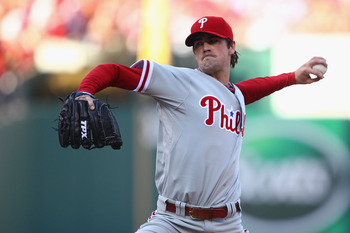 Dilip Vishwanat/Getty Images
It was clear to all of Phillies Nation that King Cole Hamels is deserving of a $100 million contract, but it better be crystal clear to the Phillies front office after his dominant Game 3 performance. Hamels is the youngest of the Phillies aces and he is just now entering the prime of his career.
The Phillies need to make re-signing Hamels their top priority if they wish to remain championship contenders. He might not be able to beat the Mets, but every other team in MLB fears King Cole.
4. Ryan Madson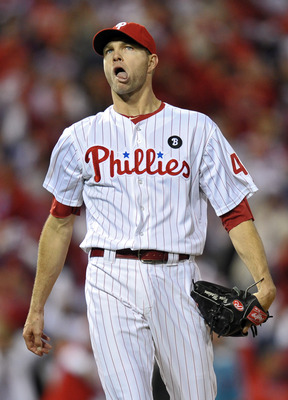 Drew Hallowell/Getty Images
Ryan Madson may have pitched his last game with the Philadelphia Phillies, but GM Ruben Amaro better think long and hard before letting his closer walk. Madson was the lone reliable arm out of the pen for the Phillies and even recorded a five-out save in Game 3 when Brad Lidge made a mess of things.
This team's strength is their pitching and the Phillies would be playing a really dangerous game if they wish to gamble on anyone else but Ryan Madson to shut the door.
It sure as heck isn't "Lights Out" Lidge anymore.
3. Ryan Howard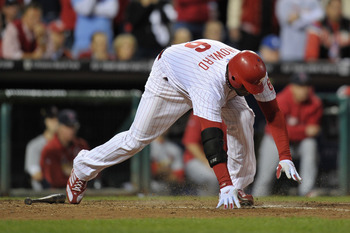 Drew Hallowell/Getty Images
When Ryan Howard made the last out for the second consecutive season and writhed on the ground in agony, I'd bet that two things were going through the minds of Phillies Nation. One is the down-right anger that was felt that one of the top paid players in all of sports came up small again in the biggest of situations.
Two is that Howard was faking an injury to take the focus away from his inadequacies. The series against the St. Louis Cardinals proved that it is not Jimmy Rollins that is most important to this offense.
That honor (or dishonor) goes to Ryan Howard. "The Big Piece" is paid to be the main man and he was even given extra protection with the addition of Hunter Pence, but he continues to make the same mistakes over and over again and not make any adjustments.
How many times are you going to let a pitcher throw a down and away breaking ball when you're behind in the count Ryan? The Phillies need Ryan Howard to be productive in the playoffs if they have any chance of repeating 2008.
2. Cliff Lee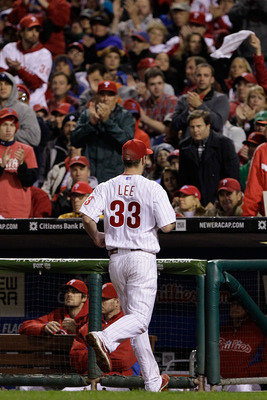 Rob Carr/Getty Images
I wrote an article earlier in the season about the Philadelphia Phillies who seemingly will never get booed. The comments made by many readers disagreed with the premise and argued that any player on this team could and would get booed if their performance warranted.
The picture above is Cliff Lee jogging off the mound after his Game 2 performance in which he allowed 12 hits and blew a four run lead. A standing ovation is what Lee received.
The inadequacies of the Phillies lineup were much publicized all season long and many fans feared that their anemic offense would rear it's ugly head again in the postseason. Those fears were certainly warranted as the offense was completely ineffective, but if Cliff Lee did not blow a 4-0 lead than all would be fine in Philadelphia.
And our attention would be focused on the Milwaukee Brewers. This team was built to win based on its pitching, and no matter how much it pains me to say so Cliff Lee came up small in the biggest of stages.
1. Roy Halladay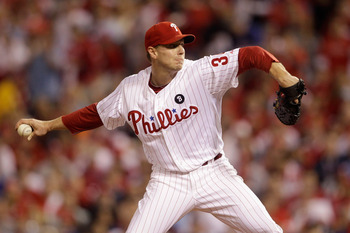 Rob Carr/Getty Images
Roy Halladay came to Philadelphia for less guaranteed years and less money for one reason, to win a World Championship. Doc pitched his heart out and battled like the true warrior that he is, and he has already forever endeared himself to the Philly Phaithful.
Halladay is the most crucial piece to the Philadelphia Phillies championship run as he can carry the team on his broad shoulders. Halladay can cover up a team filled with glaring holes and he almost pulled out a victory in the clincher against the Cardinals.
Where would the Phillies be without Roy Halladay?
Keep Reading

Philadelphia Phillies: Like this team?