Houston Texans: Winners and Losers from the Texans' Loss vs. Raiders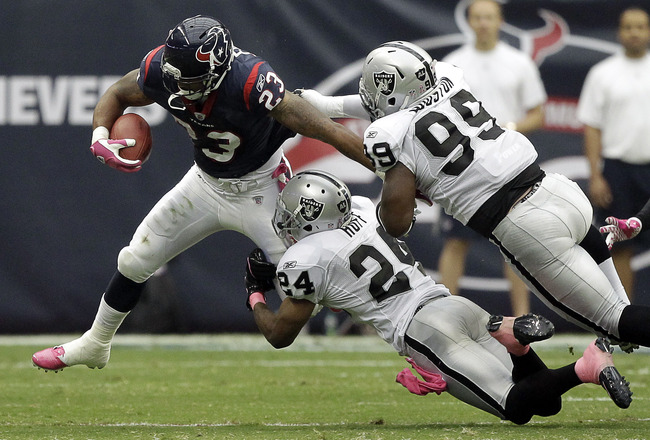 Arian Foster battles the Raiders defense in the Texans' Sunday loss.
Bob Levey/Getty Images
The Houston Texans could not have looked more like the Houston Texans on Sunday, as they were defeated by the Oakland Raiders 25-20.
Despite having been ahead 14-6 at one point, the Texans, as they always do, allowed their opponents to creep back into the game. A Neil Rackers field goal with 10 minutes left in the fourth quarter kept the home team in the game, but they were unable to regain their lead.
The following is a list of winners and losers from Sunday's game against the Raiders.
Arian Foster-Winner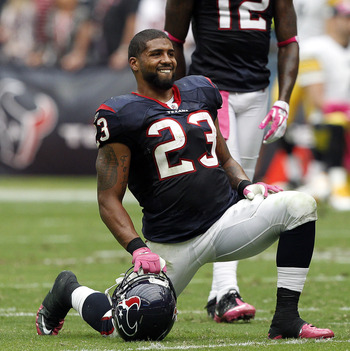 Arian Foster had an impressive game against the Radiers.
Bob Levey/Getty Images
Arian Foster demonstrated why he's a top player in both fantasy and actual football. Foster rushed for 68 yards on 22 carries, which averages out to just over three yards per carry. However, more impressively, the former Tennessee running back caught the ball five times for a game-high 116 yards.
Listed, before the game, as a probable starter due to a hip injury, Foster showed the Raiders, and everyone watching, just why he is one of the top offensive players in the NFL.
The Texans' running back appears too happy and fully recovered from all of his injuries.
Matt Schaub-Loser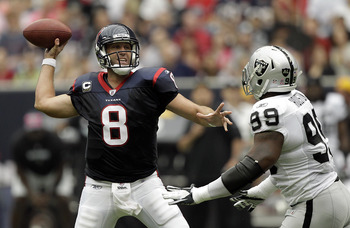 Matt Schaub endured a tough game against the Raiders.
Bob Levey/Getty Images
Matt Schaub had a rough day at the office. Although he threw for 416 yards and two touchdowns, the Texans quarterback was unable to come through when his team needed him most.
The Texans endured a whirlwind of a fourth quarter, which saw the Raiders provide some very suspect play-calling that led to opportunities for the Texans. Schaub was unable to convert on a number of occasions, and the Texans were unable to come back.
Schaub's reluctance to avoid pressure by throwing the ball away led to the Texans facing a number of extended second and third downs. This, coupled with Schaub's inability to pick out receivers while on the run, saw the Texans give up a painful loss that a more composed quarterback would have avoided.
While Schaub has shown signs of brilliance in the past, and can usually be relied upon to do his job well, today was not a great day for the Pittsburgh native.
Jacoby Jones-Loser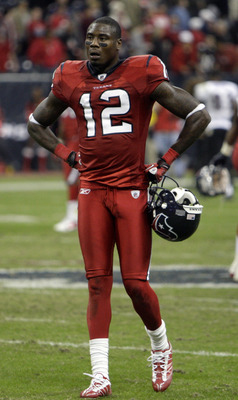 Jacoby Jones looked a shadow of the player that Andre Johnson has been. Johnson was replaced by Jones due to a right hamstring injury.
Bob Levey/Getty Images
Jacoby Jones, who started in place of the injured Andre Johnson on Sunday, did not have an impressive performance against the Oakland Raiders. The Texans receiver was targeted by Matt Schaub 11 times, but he caught just one pass for nine yards.
Jones was level with Owen Daniels on a team-high 11 targets, but the New Orleans native came up short of expectations.
This performance comes as a bit of a shock, seeing as in the two games Jones started in place of Johnson last year, he caught 10 passes for 185 yards.
Jones will be hoping to improve next week, when the Texans are set to face Baltimore on the road. Meanwhile, Houston fans should not expect to see Andre Johnson back, as the star receiver still expects to be out a few more weeks.
Sebastian Janikowski-Winner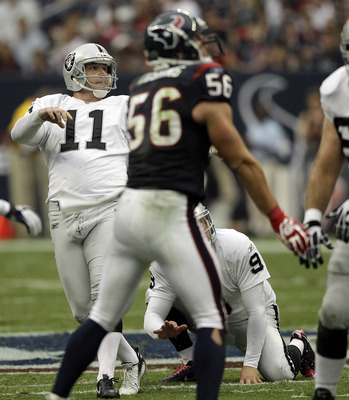 Sebastian Janikowski had an outstanding game as he helped the Raiders overcome the Texans.
Bob Levey/Getty Images
Sebastian Janikowski had as good a day as most kickers could ever hope to have. The first-round draft pick converted four kicks from 42, 50, 54 and 55 yards.
In the Raiders' first match since the passing of legendary owner Al Davis, it was nice for one of Davis' unorthodox draft picks to come through for his team. Sebastian became the third kicker ever to be selected in the first round, when he was picked 17th overall in the 2000 NFL draft.
The Polish Cannon, as he's since be nicknamed, justified that selection with the performance he put in against the Texans.
Texans' Tight Ends-Winners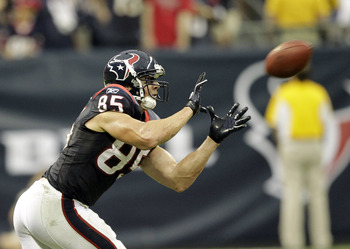 Joel Dreessen had a fantastic day for the Texans.
Bob Levey/Getty Images
Owen Daniels and Joel Dreessen were rays of sunshine, in an otherwise cloudy Texans offense. The pair combined for 12 receptions, 201 yards and a touchdown.
Combine these impressive numbers with Arian Foster's receiving yards, and you'll find that 317 of the Texans 416 passing yards came from these three players.
With Andre Johnson out, it would not be surprising to see Matt Schaub start targeting the tight ends more often, as they offer a safe and reliable receiving option.
Raiders Organization-Winner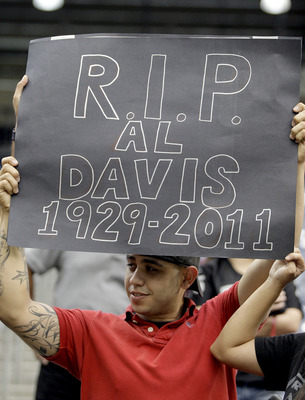 This was the Raiders' first game since the passing of owner Al Davis.
Thomas B. Shea/Getty Images
On Saturday morning, the NFL lost one of its greatest characters in the form of Al Davis. Davis, who became managing partner of the Oakland Raiders in 1972, helped see the Northern California franchise to an extraordinary amount of success.
Between 1976 and 1983, the Raiders won three super bowls under the stewardship of Davis. He was never afraid of controversy, and he often upset "Raider Nation" by benching or trading away players who had been large role players on the team. He would also lead the team to make peculiar draft choices, as evidenced by the 2000 NFL draft, in which he took Polish kicker Sebastian Janikowski 17th overall.
The late owner is the reason that you won't find the name "Oakland" on any Raiders apparel. Davis stated that he wanted to be able to move the team to any city at his whim, another one of his many odd characteristics.
In losing Al Davis, the sports world has lost one of its few remaining characters. Davis is a man who will certainly be missed by all football fans. Always an entertainer, his motto for the franchise was "Win baby, win." And on Sunday, that's exactly what the Raiders did.
Keep Reading

Houston Texans: Like this team?