Curtis Painter: Could Peyton Manning's Injury Replacement Be Indy's QB in 2012?
October 9, 2011
Andy Lyons/Getty Images
Who would have thought the Indianapolis Colts would be 0-4 heading into their Week 5 matchup against the Kansas City Chiefs?
That's the result of sheer-and-utter deflation, which was exactly what the Colts felt when their MVP signal-caller, Peyton Manning, was announced to be out for the season following neck surgery.
Enter the ancient Kerry Collins and former Purdue standout Curtis Painter. Painter, who is much younger at just 26 years of age, appears to be the guy Indianapolis wants to go with for the rest of the season.
This could be a very useful year for Painter, who could use this playing time for valuable experience that could thrust him into the starting role sometime in the future. He is a local product and has the fans on his side, especially if he can start to play well somewhere down the road this year.
But don't expect the Colts to get to the playoffs this year. In fact, it's nearly statistically impossible for them to accomplish such an improbable feat.
On paper, a 26-year-old quarterback with a year's worth of experience should usually trump the injured 14-year veteran, right?
That's actually talk that has surfaced in recent days regarding the situation with Painter and Manning.
Could Curtis Painter really take over the quarterback job against one of the most prolific passers of all time?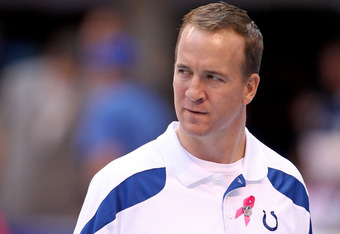 Andy Lyons/Getty Images
Don't kid yourself and reply "yes" to that question. In any other situation other than New England, that might be a realistic thought, but the fact of the matter is Peyton's career has to be over today to make that possible. This is basically looking like another Matt Cassel situation circa 2008.
Peyton says he still thinks he could make it back on the field this year, and he's nearly guaranteed to be back at sometime next year.
There's no way Indianapolis would not give Manning back the steering wheel. He's way too valuable to just get shoved out of town without at least getting a shot back in the lineup.
And all of that talk is under the assumption that Manning might struggle with a nagging injury and lack of reps.
But let's get real. It's Peyton Manning we are talking about. It's not like he broke his back or tore his ACL five times.
He's going to be healed, healthy and mentally ready for anything next season, or this season.
This doesn't mean Curtis Painter won't be a part of the Colts' future. He very well could be the next franchise quarterback when Manning does retire.
But there's no way he's the guy next season unless Peyton suffers another season-ending injury.