Cincinnati Bengals: The Curious Case of Jerome Simpson
November 8, 2016
John Grieshop/Getty Images
On Wednesday, September 21st, two-and-a-half pounds of marijuana was delivered to the home of Bengals wide receiver Jerome Simpson. Authorities discovered an additional six pounds of pot after a search of Simpson's home just days after a close loss to the Denver Broncos.
Cincinnati grumbled, and with good reason. Over 30 Bengals have been arrested since 2000, and Simpson's ganja warehouse appeared to be an unfortunate return to form for the team just when they were beginning to show some promise.
Local sports talk shows were flooded with calls regarding the team's perpetual habit of signing players with character flaws. Bengals fans wondered about systemic problems in the personnel and scouting departments. The consensus opinion among sports fans around the Queen City was "new players, same problems." Resigned to their fate, Bengals fans awaited the length of Simpson's jail sentence.
They waited while No. 89 suited up and played in the home opener against the San Francisco 49ers and again last week as he played in the Bengals' Week 4 upset of the Buffalo Bills. They are still waiting as Simpson has yet to be charged by the authorities.

Some Bengals fans feel lucky that Simpson is still on the field, while some fans are angry as the circumstances seem to be cut and dry. All Bengals fans are confused.
I am not a lawyer and do not understand why police press charges when they do or what kind of evidence needs to be gathered before someone is arrested. One would think eight-and-a-half pounds of the green would be evidence enough, but who knows. The fact that Jerome Simpson is not behind bars is confusing.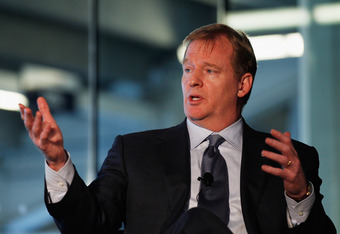 Mike Stobe/Getty Images
"Jerome's legal situation with regard to events of the past week remains completely unresolved, and the Bengals believe it is not appropriate to act on any presumption of what may transpire," read a team statement amidst the drug investigation.
What I find more confounding is NFL commissioner Roger Goodell's silence on the matter.
Goodell does not have a history of always letting the law take its course before doling out reprimands of his own.
Just as two examples, he suspended Steelers quarterback Ben Roethlisberger for an incident in a Georgia bar even though Big Ben was not charged with a crime and, most recently, even suspended Oakland Raiders quarterback Terrelle Pryor five games for Pryor's NCAA infractions.
In other cases—Michael Vick and Donte Stallworth come to mind—Goodell has waited to suspend NFL players until their legal proceedings were complete. However, the "Commish" never shies from flexing his authoritative muscle.
So, where has Roger Goodell been? NFL spokesman Greg Aiello released a general statement after Simpson and Bengals teammate Anthony Collins were detained, but that's all.
Perhaps police and Roger Goodell know something about this case that the rest of us do not. Maybe Goodell is waiting for Jerome Simpson to be formally charged before he makes a public statement.
While the Jerome Simpson story is a black eye on top of many black eyes for the Cincinnati Bengals, these are the strangest circumstances Bengals fans have seen. Expect Jerome Simpson to play on Sundays until the police finally charge him with a crime, or until Roger Goodell lives up to his reputation.