Week 5 Start 'Em, Sit 'Em: 6 Under-the-Radar Stars Ready to Break out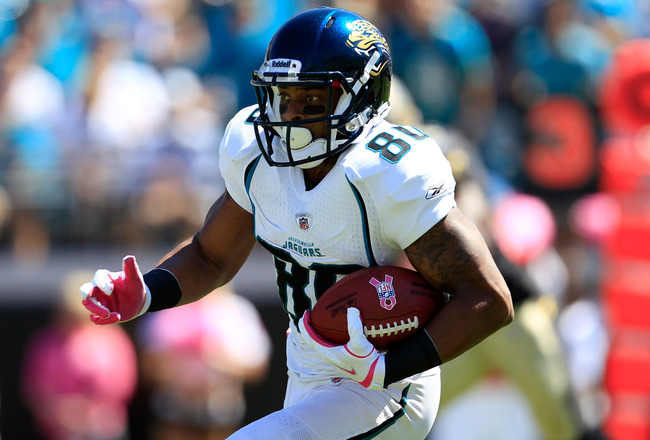 Sam Greenwood/Getty Images
With so many yards gained through the air almost every game, the NFL seems to be churning out a new star each week. There was a time when many thought there wasn't going to be an NFL season this year, and, at times, it looks like the defenses really aren't playing.
The rules imposed on the game have made defense nearly impossible to play. The quarterback is virtually untouchable and receivers are getting more freedom with every new rule. Whether or not it's the rule changes, defenses struggling or offenses improving, we are definitely entering a new era in the NFL.
The number of quarterbacks that stay in the pocket are limited, and every position is continuing to look more athletic. Basically, new names are hitting the mainstream media at a rapid rate. Fantasy football owners are trying to find the next diamond in the rough.
Here are six players that will post big numbers this week and follow it up throughout the season.
Ryan Mathews (Running Back—San Diego Chargers)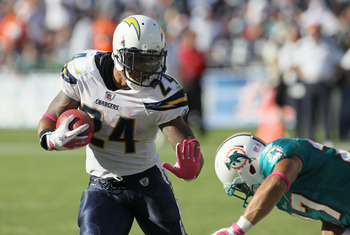 Stephen Dunn/Getty Images
Ryan Mathews has been producing all season, but some owners are unaware of the numbers he's been putting up. On the ground, Mathews has been pretty average. He's scored three rushing touchdowns, but has yet to eclipse the 100-yard mark.
Mathews is very involved in the Chargers passing game, having already brought in 19 passes for 254 yards. Those numbers are comparable to some of the top wide receivers, making Mathews absolutely invaluable.
It would be tough to trade for him right now, but if you have him, be wary of sending him off in a trade.
The Chargers are up against the Denver Broncos this week, who were crushed by the Packers last week.
Owen Daniels (Tight End—Houston Texans)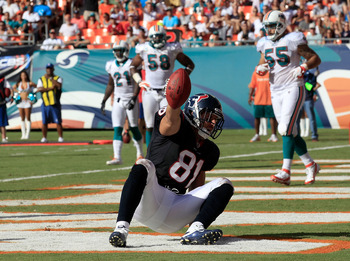 Sam Greenwood/Getty Images
Owen Daniels has become a forgotten player in the league. An injury in 2009 provided an early end to what was looked like a breakout season for the Texans tight end. In 2010, Daniels was disappointing, only making 38 grabs during the year.
However, Daniels has found the end zone in the last three games. With the injury to Andre Johnson that will likely keep the star receiver out for a few weeks, Daniels should become Matt Schaub's favorite target.
The Texans are up against the Oakland Raiders on Sunday.
Looks like Daniels is going to get his second look at becoming an elite tight end.
Eric Decker (Wide Receiver—Denver Broncos)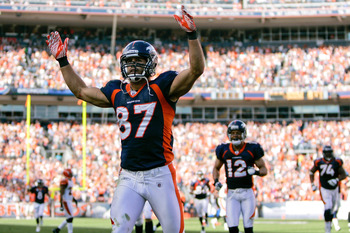 Justin Edmonds/Getty Images
Eric Decker is this year's Denver Broncos fantasy goldmine. Every year, the Broncos seem to find someone new to come out and score points on a consistent basis. From Peyton Hillis to Brandon Lloyd, every season is different in Denver.
Decker returned a punt 90 yards in the Broncos' season opener. In Week 2, he grabbed two touchdowns and stopped returning punts. After a letdown in Week 3, Decker pumped out two more trips to the end zone last week.
Start this guy every week so you don't miss out on his explosive games. The Broncos are facing the San Diego Chargers this week.
Sidney Rice (Wide Receiver—Seattle Seahawks)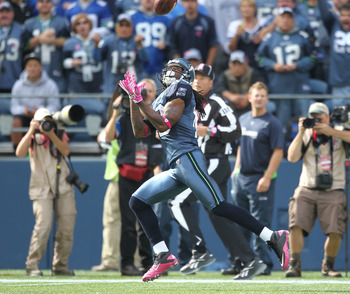 Otto Greule Jr/Getty Images
Sidney Rice is one of the most gifted athletes in the NFL. However, he plays his football for the Seattle Seahawks, so it's tough to notice how good he actually is. He proved himself in Minnesota, and is trying to re-establish himself in Seattle.
Quarterback Tarvaris Jackson seems to have noticed how good Rice is, finding him 11 times in the last two games for 188 yards and a touchdown.
This week against the New York Giants, Rice might not find the end zone, but he'll collect a pile of yards as Seattle's only offensive threat.
Michael Crabtree (Wide Receiver—San Francisco 49ers)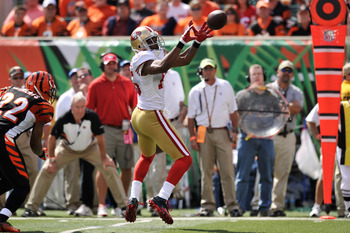 Jamie Sabau/Getty Images
Michael Crabtree is an incredible talent. Unfortunately, San Francisco's offense hasn't been consistent since Steve Young was the quarterback. The Niners are 3-1, but their offense still cannot be trusted.
Quarterback Alex Smith found Crabtree five times last week against the Eagles, sadly a season high. Once Smith learns to trust Crabtree and Vernon Davis, things in San Fran will run a lot smoother.
This week's matchup with the Tampa Bay Buccaneers will provide Crabtree's first touchdown as he begins to break out of his shell.
Mike Thomas (Wide Receiver—Jacksonville Jaguars)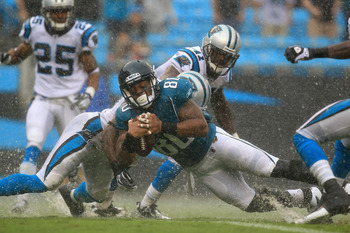 Streeter Lecka/Getty Images
The Jacksonville Jaguars are probably not in for a huge day against the top-ranked Cincinnati Bengals defense, but Mike Thomas will finally get his season started on Sunday.
Thomas has been average at best through four weeks, but with rookie quarterback Blaine Gabbert at the helm, Thomas has grabbed his first touchdown and his two longest catches of the season.
As any rookie should, Gabbert is going to trust his No. 1 option, and Thomas will top his season-best 73-yard showing from last week.
Keep Reading