2012 NFL Mock Draft: Andrew Luck and the Top 10 Picks in Upcoming Draft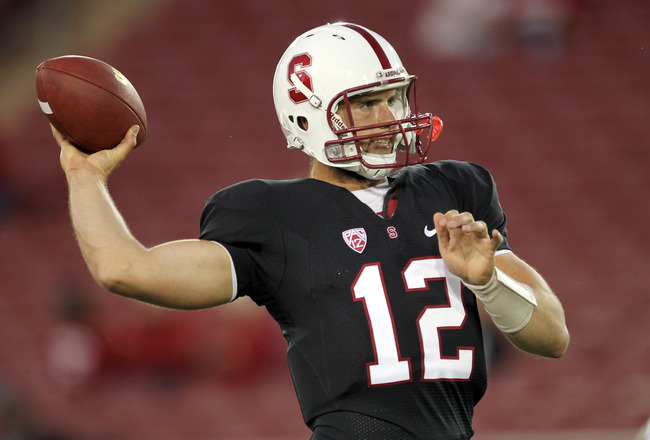 Ezra Shaw/Getty Images
As we all know, it's never too early to start thinking about the NFL draft.
With so much information out there and fan interest at an all-time high, speculation about what a team will do in the next draft begins the minute the last pick in the current draft is made.
The 2012 draft promises to be a really interesting draft to watch unfold. There will be several teams picking early that are in dire need of an infusion of young talent and the top of the draft is packed with high-end talent.
Particularly strong is the quarterback position. Andrew Luck is regarded as the best quarterback prospect to come along in a long time, and Landry Jones and Matt Barkley are both highly-productive passers that will make some team drafting in the top ten happy.
Without further ado, let's get to the top ten draft picks in the 2012 draft.
Note: This draft order was based on where I think the teams will finish the season. It is not based on a previous draft order or on the current records of the teams involved.
1. Kansas City Chiefs: Andrew Luck, QB (Stanford)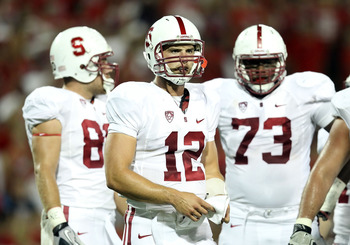 Christian Petersen/Getty Images
The Chiefs have plenty of holes to fill on their roster and Matt Cassel is not the worst quarterback to have, but the temptation to take a prospect like Andrew Luck will be too much.
Even on a team with as many needs as the Chiefs, a franchise-level quarterback can make a huge difference.
You can get serviceable players at other positions at other points of the draft often times, but it's incredibly rare that you get a franchise quarterback anywhere but at the very top of the draft.
The Chiefs need not over-think this pick. They should take the best player available on the board. Without a shadow of a doubt, that player is Andrew Luck.
2. Seattle Seahawks: Landry Jones, QB (Oklahoma)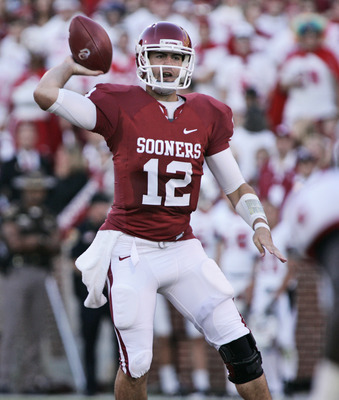 Brett Deering/Getty Images
I'm not entirely sure that Landry Jones is worthy of being taken second overall in the draft, but the Seahawks will be desperate to get their hands on a top quarterback before they are off the board.
They just acquired Tarvaris Jackson before this season, but he has been no better than he was in Minnesota.
Jones is a polished product that will be able to come in and start right away. His ceiling isn't as high as Luck's, but he is every bit as ready to jump in and start as a rookie.
3. Denver Broncos: Alfonzo Dennard, CB (Nebraska)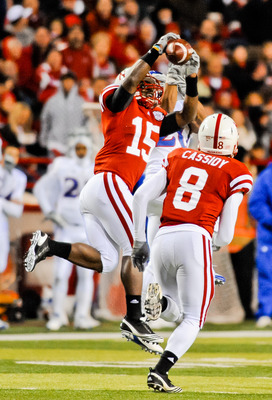 Eric Francis/Getty Images
The Broncos have some nice pieces already on offense, so they will pass on players like Trent Richardson and Alshon Jeffery that are still on the board.
Instead, they will take steps to steadying their defense.
Alfonzo Dennard will make a nice replacement for Champ Bailey when the all-time great decides to hang them up.
Dre Kirkpatrick from Alabama will also be an option here, but as the more physical of the two corners, I think Denver will go with the man from Nebraska.
4. Indianapolis Colts: Trent Richardson, RB (Alabama)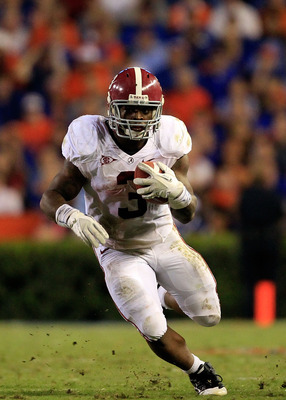 Sam Greenwood/Getty Images
With Matt Barkley on board as a possible replacement for Peyton Manning, the Colts will pass and work under the assumption that Manning will get back on the field healthy. Or they will at least worry about that bridge when they have to cross it.
Trent Richardson is a physical running back that will fit in their offense nicely as a complement to the passing game.
Defense is always an option for Indianapolis, but I think the Colts are of the mindset that they have to do everything they can to prepare their offense for life without Peyton Manning.
If the Colts end up having to lean on the running game in a world without Peyton Manning, Richardson is their guy.
5. Miami Dolphins: Matt Barkley, QB (USC)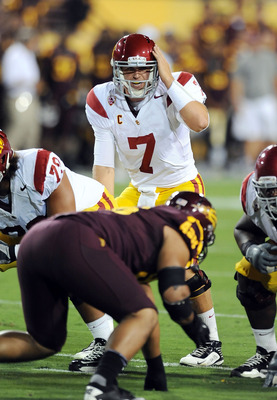 Norm Hall/Getty Images
And just like that, the three elite quarterback prospects in this draft are off the board. Dolphins fans have been clamoring for a change at quarterback since the end of last season, and they will get their wish by the time next season rolls around.
Chad Henne wasn't doing a lot to inspire confidence and his season-ending shoulder injury can't help matters.
Barkley has been as steady as they come in his time at USC. His stats and production have increased as he has gotten more experience, and he has been the one constant in a USC program that has seen so much chaos in the last several years.
The Dolphins don't feel like a team that is all that far away from contending. Drafting a top quarterback prospect like Barkley will get them that much close to making the playoffs.
6. Minnesota Vikings: Jonathan Martin, OT (Stanford)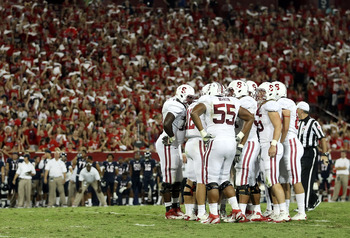 Christian Petersen/Getty Images
The Vikings need to do everything they can to keep running back Adrian Peterson happy after they signed him to a long-term extension.
The first thing they can do to that effect is win games. The other thing they can do is give him a solid offensive line to work behind.
Right now, the Vikings are doing neither of those things.
Jonathan Martin is currently playing in a pro-style offense at Stanford where he protects the best quarterback in the nation, Andrew Luck.
Martin will open huge holes for Peterson and protect the Vikings' quarterback, whoever that might be.
7. Carolina Panthers: Dre Kirkpatrick, CB (Alabama)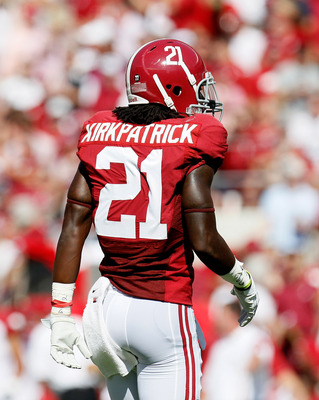 Kevin C. Cox/Getty Images
The Panthers will be in the market for some defensive playmakers, and Kirkpatrick is the top player left on the board.
With Dennard off the board, Kirkpatrick is a no-brainer and to be quite frank, there are many teams that would take Kirkpatrick over Dennard.
As a member of one of the best defenses in college football, you know that he will come in with a ton of big-game experience and a ton of knowledge on how to play the position.
The Panthers just have to hope that Kirkpatrick works out better for them than Kareem Jackson has worked out for the Houston Texans so far.
8. Cleveland Browns: Alshon Jeffery, WR (South Carolina)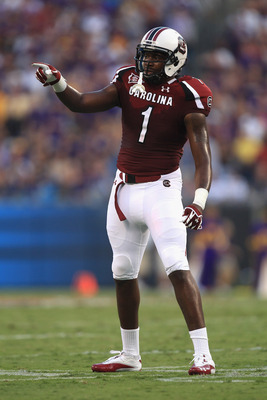 Streeter Lecka/Getty Images
I find it hard to believe that Jeffery will actually drop to No. 8 on the day of the draft, but in this mock, the teams ahead of them just had bigger needs.
The Browns are in dire need of offensive weapons. Colt McCoy is growing with each passing week and there's no reason to believe that he will be anything less than a good starting quarterback.
Right now, though, he has only Peyton Hillis and the inconsistent Joshua Cribbs to work with on offense.
Jeffery would step in as the top receiver on the team immediately.
9. St. Louis Rams: Justin Blackmon, WR (Oklahoma State)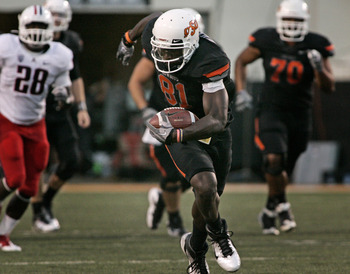 Brett Deering/Getty Images
The St. Louis Rams have the same problem as the Browns. They have a promising quarterback, Sam Bradford, but he has few weapons to lean on.
They would certainly love to get their hands on Alshon Jeffery, but Justin Blackmon is a great consolation prize.
Blackmon can go up and get the ball with the best of them. It will give Bradford a receiver he can simply toss the ball up to with the confidence that he will come down with it.
10. Cincinnati Bengals: Quinton Coples, DE (North Carolina)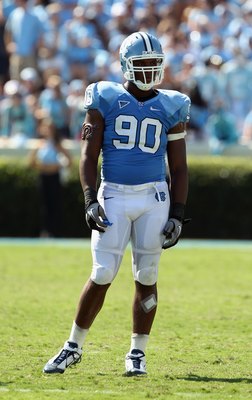 Streeter Lecka/Getty Images
The Bengals have a good thing going on defense this season. They have been much better than advertised, which has given their young offense a chance to win them some games.
The offense has some good young leaders like Andy Dalton and A.J. Green, and now it will be the defense's turn with the addition of Quinton Coples.
Coples is a relentless pass rusher with a litany of moves that can get him to the passer. Quietly, the Bengals are headed in the right direction and Coples would be a nice addition to their squad.
Keep Reading