6 Changes the Miami Dolphins Must Make During the Bye Week
Stephen Dunn/Getty Images
The Miami Dolphins have a bye this weekend, so for the first time since early September, their legions of fans will be spared of agony and depression.
Even though all hope on Miami's 2011 campaign is lost, this bye comes at a perfect time.
At 0-4, the Dolphins have virtually no shot at the postseason. However, they are still alive, and their upcoming schedule features winnable games against teams like the Jets, Broncos, Giants, Chiefs and Redskins.
Of course, the 'Fins could—and probably will—lose most of those games, but if they make the following five adjustments during their bye week, their fortunes could turn for the better.
Get Chris Clemons Back into the Starting Lineup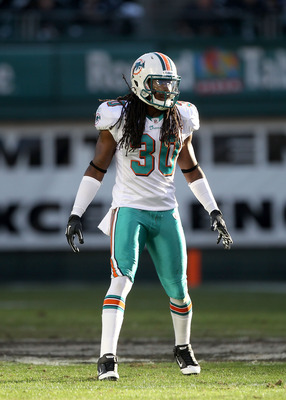 Ezra Shaw/Getty Images
When Chris Clemons was sidelined by a hamstring injury, the Dolphins were forced to start Reshad Jones. But after Jones kicked off the regular season with a string of dreadful performances, Clemons figured to reclaim starting duties upon his return.
However, Clemons has now been healthy (though clearly not back to 100 percent. He didn't practice yesterday) for a couple of weeks yet he still sits behind Jones on the depth chart.
If Clemons' health is still an issue, then why is he dressing out for games? The Dolphins should either sideline Clemons until he is back to 100 percent or let him replace Jones, who clearly isn't ready for a starting job in the NFL yet.
Pursue Another Quarterback...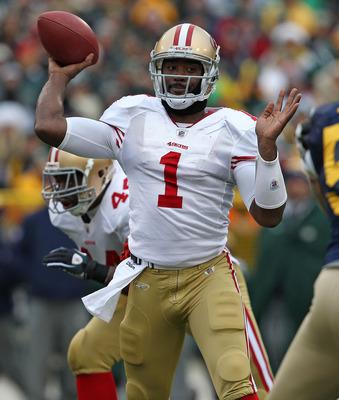 Jonathan Daniel/Getty Images
Since Chad Henne went down with a shoulder injury on Sunday, we've heard whispers that the Dolphins were pursuing a slew of quarterbacks—namely David Garrard and Jake Delhomme. Both reportedly declined offers from the team, so Miami will enter the weekend with only Matt Moore and practice squad quarterback Pat Devlin on the roster.
The Dolphins will probably promote Devlin now that Henne is out for the season, but that still leaves them scarily thin at quarterback.
Miami should continue scouring the free agent market for a third quarterback. Players like Troy Smith, Brodie Croyle, Todd Collins and Seneca Wallace are all up for grabs, and the 'Fins would be wise to scoop one of them up.
UPDATE: The Dolphins announced the signing of Sage Rosenfels today. Although Rosenfels has been a relatively effective quarterback in the past, this suggests the team is prepared to hand down starting duties to Matt Moore for the remainder of the season.
...but Give Matt Moore a Chance to Start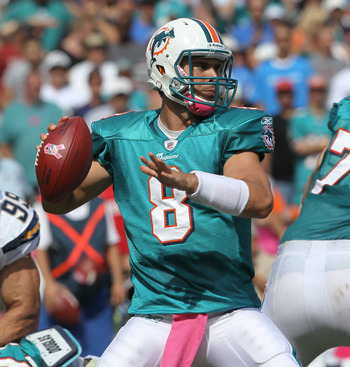 Stephen Dunn/Getty Images
Yes, the Dolphins should pick up another quarterback, but it's time to give Matt Moore a shot. With two weeks of preparation, Moore could be a pleasant surprise.
Remember, he posted a 4-1 record with the Carolina Panthers in 2009 and he looked great at junctures throughout the preseason. Moore puts great zip on the ball, he isn't afraid to take risks and play aggressively, and he loves throwing the ball to Brandon Marshall.
The Dolphins hike up to the Meadowlands next weekend for a Monday Night showdown against the Jets, and with the proper support from his teammates, Moore gives Miami a chance to win.
Shuffle the Offensive Line Around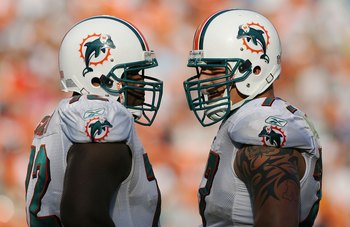 Doug Benc/Getty Images
A lack of continuity has undermined Miami's offensive line over the past few seasons, but when things get dire, changes must be made.
Tony Sparano signed Marc Colombo and moved Vernon Carey to right guard in early August, and his experiment has proven disastrous thus far. Colombo has been at the root of many of the line's protection issues, and perhaps Sparano should try kicking Carey back out to right tackle and giving Nate Garner a shot at right guard.
Regardless of what the 'Fins decide to do, they just need to do something.
Install Some Innovation into the Offensive Scheme
Matt Sullivan/Getty Images
Arguably the greatest play of the Dolphins season came in their Week 3 tilt against the Browns. After two weeks of red-zone futility, Brian Daboll drew up a playground, fake-reverse screen pass to Daniel Thomas on Miami's first drive. It led to a touchdown.
That play inspired excitement and promise. Perhaps Sparano and Daboll have finally figured it out, we thought. Unfortunately, when the 'Fins revisited the red zone throughout the rest of the game, they looked aimless and inefficient once again.
This coaching staff now has nothing to lose. Brian Daboll should be coaching to impress Miami's next regime, in hopes that they will keep him on board. He had a reputation for drawing up innovative packages in Cleveland, and it's time he brings some of that genius to Miami's offense.
Get Some Different Players Involved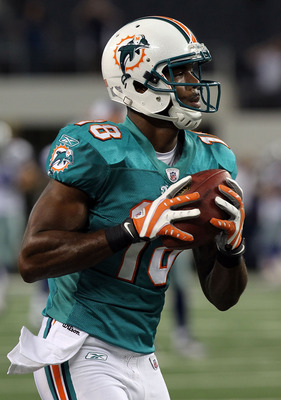 Ronald Martinez/Getty Images
Look, things can't get much worse for the Dolphins, so there's no harm in mixing things up and installing some different pieces in different places.
With Daniel Thomas sidelined last weekend, Miami finally gave Lex Hilliard a chance to shine in short yardage situations and he delivered. So perhaps it's time that the 'Fins try to give some other players—like Roberto Wallace (who has been hampered by a quad injury) and Marlon Moore—a chance to prove themselves with significant roles.
Keep Reading

Miami Dolphins: Like this team?