Get "Luck-Y" with Frogs and Bears: 3 NFL and CFB Predictions Against the Spread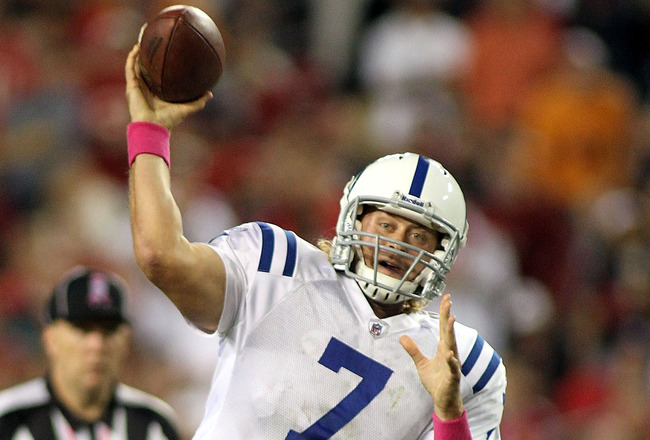 Chiefs (+2) at Colts headline top ATS plays for the weekend
Marc Serota/Getty Images
Welcome to this season's second "weekend prediction" slideshow, which comes four weeks after the first slideshow that featured five selections over college football's opening week (3-2).
Baylor (+3.5), who was out for revenge against TCU from last season, headlined the first of those five predictions in the opening weekend, and tallied a narrow win over TCU.
This time, lets start out with TCU as this week's feature play against the spread, with an additional selection for Sunday and the finale on Monday night in Detroit.
With 39 articles in the books over the 13 months, the overall prediction rate checks in at 26-12-1, good for 68.5%.
Let's take a look at the "big three" for this week, starting in San Diego on Saturday where the Aztecs host a seemingly vulnerable team in TCU, while the Colts-Chiefs game headlines what some are calling ridiculous, although I tend to agree with, the "Andrew Luck Sweepstakes" on Sunday.
We'll wrap it up in the Motor City on Monday in a key divisional match up with a team that could be in for a let down against a team that has to win.
TCU (-4) at San Diego State: Horned Frogs Could Be Undefeated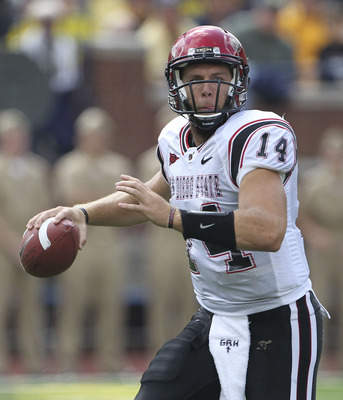 SDSU QB Ryan Lindley is a quality player, but he lost his top receivers to the NFL
Leon Halip/Getty Images
In last season's article The 2010 Rose Bowl and the case for TCU over Wisconsin, I promised the world Wisconsin would lose to the Horned Frogs in what capped off a storybook season for everyone at Texas Christian.
Along the way, TCU handed Baylor an embarrassing defeat which left the Bears out for revenge in their home opener.
Baylor held off TCU 50-48 over Labor Day weekend, but the Frogs were a missed two-point conversion away from possibly sending the game to overtime.
Whats more impressive was a valiant effort by the offense with a 25 point fourth quarter comeback, without Andy Dalton and four starting offensive linemen from last season.
It wouldn't be the first time.
After defeating Air Force handily and a pair of victories over Sun Belt and FCS opponents, TCU found themselves in a deficit once again.
This time, they sent it to overtime with 23 points in the fourth quarter, but Gary Patterson blamed part of the outcome on the officials because of mistakes on key plays including a pass interference call on the first play of the game.
"It can sound like sour grapes, but the first drive of the game and the call on that interception changed the whole complexion of that football game," said the TCU coach. "You just take that one call by itself. The explanation I got was not good. We're all getting paid, [the officials] included, and it was a terrible call. He gets a pick and you take it out of his hands."
Patterson also complained that the officials missed an obvious motion penalty that led to a long scoring play on SMU's second possession.
To follow up, Patterson said Conference USA commissioner Britton Banowsky called TCU's athletic director and acknowledged the game was poorly officiated.
Whatever the case may be, TCU comes in with a record of 3-2 and is just a small favorite over the Aztecs, who lost handily to Michigan and were out-played at Army and probably would have lost to the Cadets if not for eight Army fumbles.
They also got four turnovers out of Washington State.
The Aztecs have two weeks to prepare and attempt to expose the holes found by Baylor and SMU, but the Mustangs and especially the Bears have better receivers.
SDSU quarterback Ryan Lindley is a quality athlete and has running back Ronnie Hillman back in the fold, but Lindley lost his top two receivers to the NFL and their replacements were hurt over the summer.
Who will he throw to against a TCU defense which is surely fired up after allowing 400 yards again?
This season Lindley is completing 51.5 percent of his throws compared to 57.7 percent in 2010.
Last season the Aztecs lost 40-35 at TCU in a game that wasn't as close as the score indicated. TCU made a few mistakes in the first five minutes, a few mistakes in the last five minutes, but dominated the 50 minutes in between.
TCU is two plays away from being undefeated, and Garry Patterson is 8-1 with an average margin of victory of 20 points after his Horned Frogs allow 40+ points.
Look for him to make it 9-1, keeping in mind his defense, although less experienced than last season and without star linebacker Tanner Brock, is probably still too good to allow that kind of production in consecutive weeks.
This time, the Frogs might not need that 20 point comeback in the fourth quarter.
Although we know they can do it.
Take TCU to cover 4 points
Chiefs (+2.5) at Colts Could Be the "Luck-Y" Play of the Week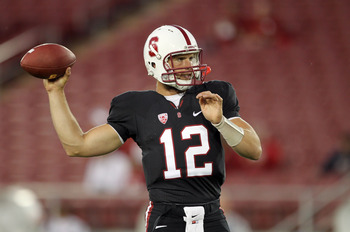 Let the Andrew Luck sweepstakes begin.
Ezra Shaw/Getty Images
Sometimes you have to lose the battle in order to win the war.
For Colts fans, especially those wager savvy types, this taste of reality came dramatically in late 2009.
Indianapolis came into their game vs. the Jets with a record of 14-0 and were flirting with a sure undefeated season providing they would win that game, especially with the Bills as their season finale.
And they probably would have.
With the Colts up 15-10 in the third quarter, amidst a slew of boos in front of their home crowd, coach Jim Caldwell pulled the starters.
Indianapolis didn't score another point.
They didn't score an undefeated season, either.
Peyton Manning said the team was following orders, and were told not to give up a turnover.
A single turnover? The Colts had at least one turnover in 10 of their 14 games prior to that request.
Caldwell also wanted his team to not give up a kick return for a touchdown, which they did to open the second half.
What does that have to do with Peyton Manning and the starting offense?
Curtis Painter came in, fumbled on the second possession which led to a Jets touchdown, and the Jets ended up winning the game 29-15.
Interestingly enough, the Colts were the number one popular NFL team wagered on that weekend.
The Colts eventually made it to the Super Bowl, but lost to the Saints and also lost the motivation to finish the entire season undefeated the way the Patriots couldn't against the Giants. This was in addition to alienating thousands of fans in Indianapolis that Christmas weekend, many of whom stayed after the Jets game to continue booing (most likely the loudest boos came from those who wagered on the Colts with the other 85 percent of the country).
So put yourself in Colts owner Jim Irsay's shoes.
You already gave orders to throw away a chance for an undefeated season for who knows what reason.
You already had a taste of what it's like to have a franchise quarterback virtually guarantee you a decade of winning.
Why not lose this battle for one year in order to win the entire next decade?
Other questions abound.
Why spend years prepping backup quarterback Curtis Painter only to give him, and the team, the middle finger and sign Kerry Collins, who was down in Nashville writing country music, out of retirement in a frantic rush to start the opening game at Houston?
And with the Colts 0-4 and now resorting to a starting quarterback who looked shaky and scared in the previous two games, and knowing they always lose their exhibition games with Painter playing, could this instead be the next big opportunity to obtain the next big Peyton Manning?
Personally, I think it's foolish to put too much stock in any college football player, no matter how highly touted he may be. Sometimes the best players are the least known. Take Tom Brady for example, a late round draft pick who was almost cut from the team. But Andrew Luck is perceived to be the real deal and sometimes perception is reality.
The Colts won't win many games this season so why not go against them as a favorite? The Chiefs aren't great either, but Matt Cassell has shown at least a desire to win and the team has a building block with a victory over Minnesota followed by an honest effort at San Diego as a huge underdog.
Additionally, the Colts already have several key injuries other than Peyton Manning and their offensive line is a mess, having to be frantically shuffled around and patched together to prepare for this game.
They already called Kerry Collins out of retirement while he was writing country music, and it's a possibility they could call Mike Toudouze, a former fifth round draft pick, to start at right tackle this weekend, and he was busy hunting as deer season opened this week.
In the 2005 season finale for the 3-12 Houston Texans and 4-11 San Francisco 49ers, last place was up for grabs in the NFL and a crack at Heisman trophy winner Reggie Bush, who was one of the most highly regarded players of the decade.
"We will be playing this game to win" said 49ers coach Mike Nolan prior to the game, but why did he even have to clarify?
Regulation couldn't even decide the outcome, because the game ended up going to overtime.
Coincidence?
Take Kansas City to cover 2.5 points
Bears (+6) at Lions: From Motown to Letdown?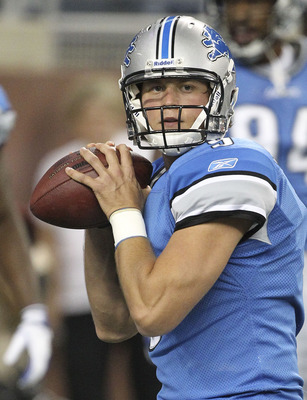 The Lions are likely a playoff team, but the Bears might be more focused for this game.
Leon Halip/Getty Images
The Lions are the NFL's most touching story this season especially for the city of Detroit, which needs all the economic boost they can get, even if it centers around game days.
This is a major game for the Bears here, who will be either a game back or 3 games back of the Lions in a division where neither team will catch the Packers.
Let's take a look at scheduling.
The Lions would be 2-2 if they had Chicago's schedule, unless of course you think they would have won at New Orleans and defeated the Packers.
The Bears weren't so lucky.
The Lions are a playoff team and Calvin Johnson is the real deal, perhaps even the best receiver in the entire NFL, but they were mainly out-played at Dallas if not for a pair of pick-6's and poor coaching by the Cowboys. Also, their blowout of Kansas City was impressive on paper but they were (+5) in TO margin.
One must also wonder how much emotional and physical gas they have left in the tank after a pair of consecutive 20 point comebacks. Take the Bills for example, who came back from consecutive 18 and 21 point deficits then lost at Cincinnati against a rookie QB.
The high excitement and expectations are now very real for the Lions who will be playing among a packed house on Monday Night Football.
But all this paves the way, potentially, for the Bears to end up being the more focused team.
Chicago had to play the Saints and Packers while the Lions got Kansas City, a young Tampa team and a pair of come from behind wins including a bit of a fluke at Dallas.
With eight consecutive ATS wins dating back to last season (not including a perfect 4-0 pre-season), it's time to go against the Lions for a game, as nine in a row is usually unheard of in the NFL.
Take Chicago to cover 6 points
Keep Reading

Indianapolis Colts: Like this team?