Fantasy Football Week 5: 5 Injured Players You Shouldn't Give Up on Yet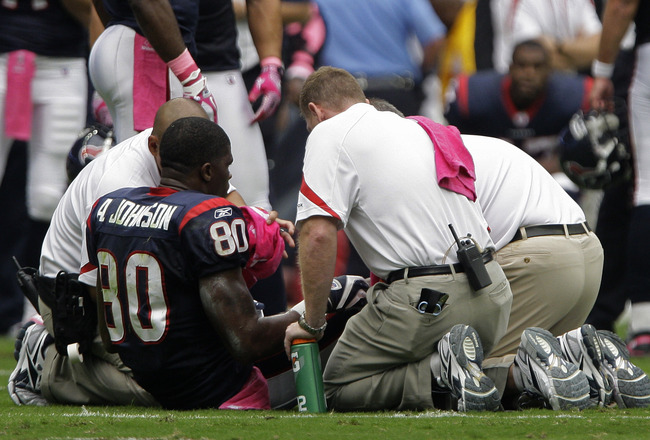 Thomas B. Shea/Getty Images
Another NFL week, another batch of names on the injury report.
The reflex for fantasy owners when their star goes down with an injury is to gasp, and then panic shortly after.
The instance that undoubtedly prompted this in Week 4's NFL action was when Andre Johnson collapsed untouched in Reliant Stadium. His teammates surrounded him much like his fantasy owners were surrounded with uncertainty.
The good news is, panic doesn't have to set in.
Johnson, like many other injured studs, will pose an inconvenience to fantasy owners in the coming weeks, but not the entire season.
There's a reason that the NFL season is described ad nauseam as "a marathon and not a race."
It's because it's true. The same approach must be taken with fantasy football, meaning patience will be key in the coming weeks.
Don't give up yet. These following ailing stars still have value to cash in.
Andre Johnson, Houston Texans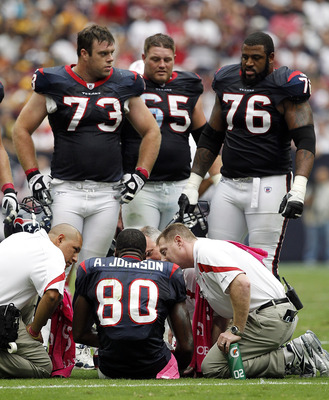 Bob Levey/Getty Images
Andre Johnson owners expected the worst and hoped for the best when his knee buckled during a Week 4 matchup versus the Pittsburgh Steelers.
Thankfully, the worst didn't happen. Johnson's ACL is still intact, despite doing its best impersonation of Wes Welker's in Week 17 of the 2009 season.
However, Johnson will have to deal with a hamstring injury that could nag him for several weeks. It's not likely to keep him out of action for long, but it deserves note that Johnson won't likely be at 100 percent for a good chunk of the season.
That said, Johnson is no stranger to being unhealthy. He has played through pain on several occasions, including an ankle injury in 2010.
Johnson is far too important to the Texans' offense to take a few extra weeks off as a precaution. Matt Schaub completed zero passes to wide receivers after Johnson went down in Week 3. There's only one way to go but up, but until Johnson sees the field again, production in the passing game won't see a steep increase.
Expect Johnson to be heavily involved in the offense as soon as he can run and make cuts effectively.
Miles Austin, Dallas Cowboys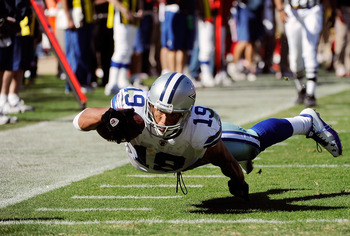 Thearon W. Henderson/Getty Images
Miles Austin is a good barometer for Andre Johnson owners to read into.
Austin has dealt with a similar hamstring problem since the beginning of the season, and we've seen both extremes of the spectrum. Austin missed the last two games because of it, but in his first two, he posted a combined 233 yards and four touchdowns.
We all know that Jason Witten is Tony Romo's security blanket, but after three second-half interceptions and endless scrutiny from the media, Romo will want all the help he can get.
Austin is eyeing a Week 6 return, and should be targeted early and often as long as he remains on the field.
Aaron Hernandez, New England Patriots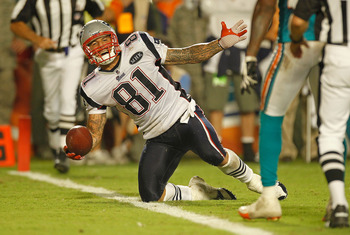 Mike Ehrmann/Getty Images
Aaron Hernandez was only supposed to miss one to two weeks after suffering a sprained MCL in Week 2.
It's two weeks later, and Hernandez's status for Week 5 is uncertain. However, that shouldn't prompt any fantasy owners to give up on him just yet.
Despite Rob Gronkowski's emergence and countless other weapons on the Patriots' offense, Bill Belichick has remained committed to drawing up plays for Hernandez.
Even if owners have to wait another week for Hernandez's return, it will be well worth it.
Rashard Mendenhall, Pittsburgh Steelers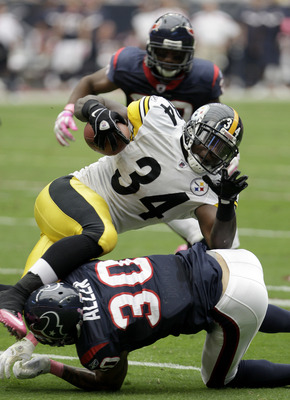 Thomas B. Shea/Getty Images
The Pittsburgh Steelers' offensive line has hardly done anything right this season, and Rashard Mendenhall's numbers have suffered because of it.
In Week 4, Mendenhall added injury to that insult by straining his hamstring. He is not expected to practice this week, and could be out for the Steelers' Week 5 matchup against the Tennessee Titans.
While Mendenhall's numbers have not been encouraging, he still has a place on anyone's fantasy roster. Owners are understandably growing frustrated, but that shouldn't lead to the act of cutting him.
The correct approach for Mendenhall owners is to face the sad truth. His value isn't high enough to sell, and he's likely better than what's available on the waiver wire. It's a bad limbo for owners to be in, but they could do much worse.
Early indications are that Mendenhall's not likely to have a season that warranted many to select him in the first round, but he will still get plenty of opportunities. He is the Steelers' workhorse, and a goal-line back with 15-20 touches per game absolutely has a place in fantasy.
With tempered expectations, Mendenhall is still roster-worthy in any league.
Marques Colston, New Orleans Saints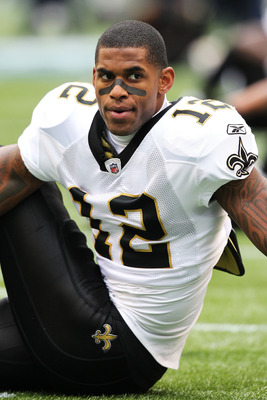 Otto Greule Jr/Getty Images
Marques Colston missed two games due to a broken collarbone, but after a dismal Week 4 performance, he may as well have missed three.
Colston has returned to action remarkably fast for a player with such a rich injury history. He remains Drew Brees' most trusted target and should still see a fair amount of targets come his way.
His near-invisible outing against the Jaguars should not be of much concern. Colston was in a limited role, only playing 20 of the Saints' 81 snaps after coming back from an injury. Sean Payton has enough weapons on offense to allow Colston to be eased back into action.
Now, Payton has informed the media that Colston has a clean bill of health and should see a larger role in Week 5. Owners should start Colston with optimism.
Keep Reading