NFL Predictions: 5 Players Who Will Take the Oakland Raiders to the Playoffs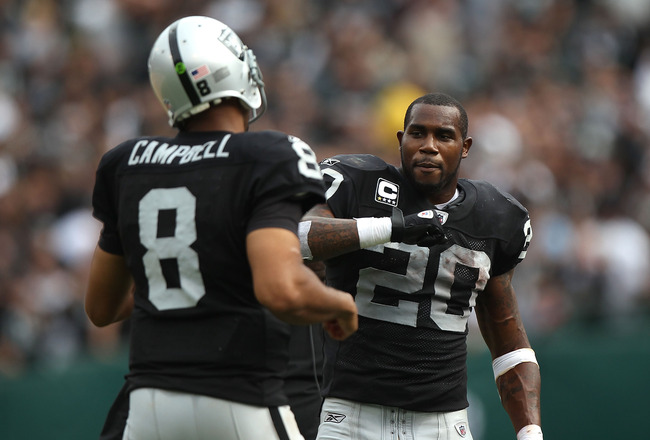 Jed Jacobsohn/Getty Images
Without a doubt, the Oakland Raiders are starting to emerge as an AFC playoff team. The Raiders have more than a few players that can lead the team to the playoffs for the first time in nearly 10 years.
Oakland has been tested through the first four weeks with tough matchups against the New England Patriots, New York Jets and Buffalo Bills.
The schedule does get a bit easier going forward, and here are the five Raiders who will lead the team to the playoffs for the first time since 2002.
5) Tyvon Branch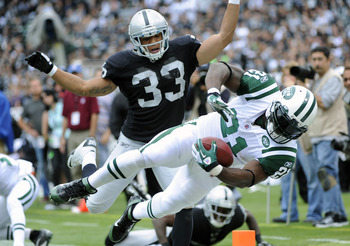 Thearon W. Henderson/Getty Images
Tyvon Branch currently leads the Raiders with 32 tackles and is tied for the team lead with one interception. Branch is on pace for 128 tackles and four interceptions, both would be career highs.
Branch led the Raiders in tackles in 2010 with 104, but only recorded one interception. He has already matched that total in 2011 and is showing improvement in his coverage skills.
With only three pass deflections in 2010, Branch is only one behind that total in 2011 with two so far. Branch is going to be a staple in the Raiders' secondary for years to come.
4) Jason Campbell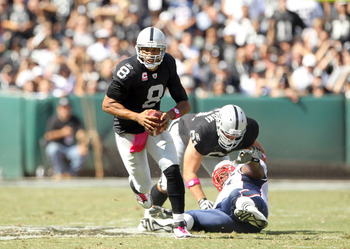 Ezra Shaw/Getty Images
Jason Campbell has only played on one playoff team, the 2007 Redskins, although he missed the last three games and their first, and only, playoff game with an injury. This will change in 2011 for a few reasons.
Campbell is on pace in 2011 to break a few of his previous career highs. His 65.3 completion percentage is his best ever.
Campbell's quarterback rating is currently at 89.1, 2.7 points better than his previous career high. He could easily top his career high for passing yards, as he is on pace for 3,712.
Jason Campbell simply needs to become a game manager. He has Darren McFadden in the backfield and should take full advantage while taking the Raiders' offense to the playoffs.
3) Rolando McClain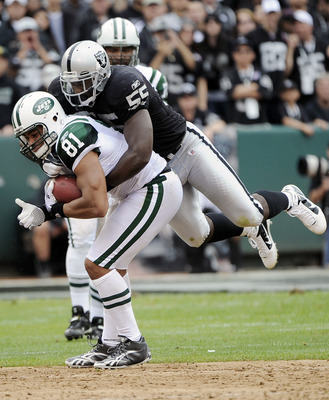 Thearon W. Henderson/Getty Images
We have all heard the old saying that defense wins championships. Rolando McClain is in the center of the defense and will be a big reason why the Raiders will make the playoffs.
McClain is currently second on the Raiders with 30 tackles and leads the team with six pass deflections. McClain's one sack is already a half more than he had in 2010.
The second-year linebacker will continue to improve, as he will take the Raiders to the playoffs with his playmaking capability.
2) Richard Seymour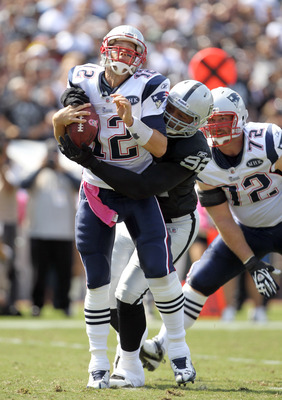 Ezra Shaw/Getty Images
Richard Seymour ranks so high on this list because he has actually been on a winning team before. Seymour won three Super Bowls with the New England Patriots.
Seymour is currently tied for sixth on the Raiders with 13 total tackles and leads the team with 2.5 sacks.
No other Raider on this list has been to the playoffs before (Campbell was there, but was injured). That is the main reason that Richard Seymour will not only take the Raiders to the playoffs, but lead the Raiders to the playoffs.
1) Darren McFadden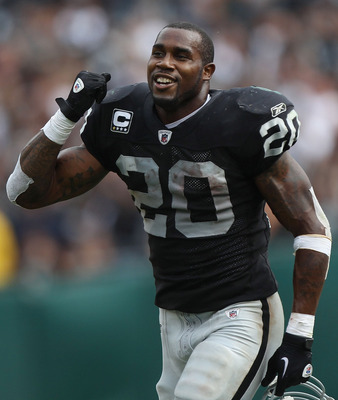 Jed Jacobsohn/Getty Images
Darren McFadden could arguably be called the NFL's MVP through the first four weeks, as he leads the league in rushing yards with 468 yards. That is 77 more yards than anyone else in the league.
McFadden has done it all for the Raiders in 2011, with 600 total yards and three touchdowns. He leads the team with 15 receptions and only has one fumble.
Michael Bush has scavenged three rushing touchdowns on the season. If McFadden would have gotten those three goal line touches, he would lead the league in rushing touchdowns as well.
McFadden will take the Raiders to places some fans never thought possible, and I am not simply talking about playoffs.
Keep Reading

Oakland Raiders: Like this team?