Peyton Manning Deserves MVP Award This Year More Than Ever
October 4, 2011
Andy Lyons/Getty Images
The Indianapolis Colts lost to the Tampa Bay Buccaneers on Monday Night Football by a score of 24-17. This loss brings their record to 0-4 and marks the first time in 10 years that Indianapolis has lost four straight games.
Anyone with half a brain knows that the reason the Colts are struggling, and will most likely end up with their worst record since 1998 is because of the loss of Peyton Manning. In fact, since Manning became starting quarterback for the Colts, he has only had five seasons where he has lost more than four games.
In eight of his 13 seasons in the NFL, Manning has posted a record of 12-4 or better. That is a rather impressive feat showing how consistently fantastic Manning has been throughout his career.
This year, more than ever, Peyton Manning deserves to win the Most Valuable Player Award and here is why.
The MVP Award is the highest honor an individual can get over the course of the year. It is supposed to be given to the player that holds his entire team together. Without the MVP, his team would be a complete train wreck that is capable of nothing more than awfulness.
This year, to most people, two names instantly come to mind when talking about MVP.
Both Tom Brady and Aaron Rodgers have been fantastic for their teams through the first four games of the season. They are clearly the early front-runners to win this award.
However, if I had to vote on an MVP right now, my vote wouldn't be for Rodgers or Brady. We've seen what their teams can do without them.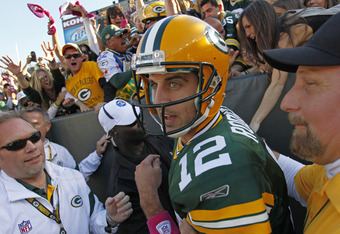 Matt Ludtke/Getty Images
When Brady went down with a season-ending injury in 2008, Matt Cassel was still able to lead the New England Patriots to a 10-5 record. Whenever Aaron Rodgers has been injured, Matt Flynn has played well enough to give his team a chance at victory.
While I don't argue that Brady and Rodgers are extremely valuable to their team, dubbing them "most valuable" just isn't true. Only one name should come to mind when speaking of the true Most Valuable Player this year and that name is Peyton Manning.
If you want to talk about most valuable, all you need to do is look at the 0-4 Colts and how pitiful they have looked through the first quarter of the season. Sure, their past two games have been close against quality competition, but did anyone really believe that they were going to win those games?
Seriously, when the Colts were up 17-10 halfway through the third quarter last night, was anyone confident that they would come away with the victory?
To see the value of Manning to his team, just ask yourself if this would be the worst team in the NFL with him on the field? If Peyton isn't injured, are the Colts 0-4 or would they be 2-2? Heck, would Manning have this team undefeated?
The truth is that we are all finally getting the chance to truly appreciate Manning's greatness. When we look at this Colts' team and see how far they have fallen, we begin to understand how important Manning has been to this franchise.
I'm not sure if there has ever been a more valuable player to a team in the history of the NFL than Manning is to the Colts. He isn't just the best player on the team, he is the team.
If you want to honestly talk about the Most Valuable Player in the NFL, look no further than Peyton Manning. He deserves it this year more than ever.