Miami Marlins 2012: 5 Offseason Moves the Marlins Should Consider for Next Year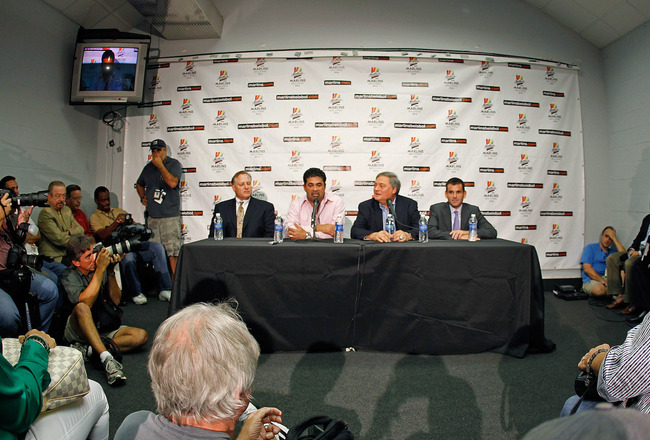 Mike Ehrmann/Getty Images
It wasn't supposed to end this way.
The Florida Marlins weren't the kind of team that would send off their multi-named multi-purpose mega-park with a maddeningly mediocre last-place season, were they?
That's one of the subtle beauties of baseball, though, as the hobbled, humiliated 72-90 final product would grudgingly remind anyone.
In a 162-game marathon of a season, holes in a roster will eventually be exposed and inflated production via small sample sizes will eventually regress to its mean.
However, while the Marlins certainly do need to work on a handful of areas of weakness, it's a rash and short-sighted assumption to begin associating these down south cellar-dwellers with their also-ran brethren in the Baltimores, Seattles and San Diegos of the baseball map after just one season of hopeless flailing.
For starters, one low-key Ozzie (Martinez) has already been swapped for a much more heralded counterpart of White Sox legend (Guillen). Defensive wizard Omar Infante has already agreed to an extension with management to remain in Miami. And the front office is already vowing to let its notoriously tight-lipped wallets open up and get some much needed air this upcoming winter.
There's still a lot to get excited about in Miami if you're gearing up to catch the Marlins roaming their new stomping grounds in April of next year.
A wise man would keep this young Marlins core intact and spend carefully around it, not demolish its sturdy foundation and rebuild from scratch.
This is still a ballclub that possesses once-in-a-generation talents like its enigmatic superstar shortstop Hanley Ramirez and the meteorically rising power bat of young slugger Mike Stanton in right field.
This is a ballclub ready to spend money and contend for years of postseason success before a fresh and revitalized generation of rabid, dedicated fans. The good news is that all of its needs can be addressed by Opening Day if the organization remains on alert and ready to do business shrewdly.
That's why, for years to come, there won't be a more pivotal offseason for the Miami faithful than the one in these upcoming months.
Trading Emilio Bonifacio to the Cubs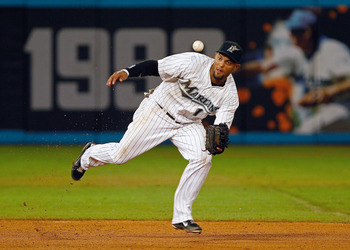 Mike Ehrmann/Getty Images
Emilio Bonifacio should tattoo his 2011 numbers somewhere on his body because it's highly unlikely he'll ever see an output like that again with his name attached to it.
Sure, the .296 average is nice. The .360 on-base percentage is even better.
Those numbers coming from a 26-year-old speedster capable of playing multiple positions? Sounds like gold, huh?
Try fool's gold.
Last season, each of his mainstream offensive statistics skyrocketed. Bonifacio put on the mask of a breakout player and probably swindled the entire league into believing he had some serious value.
This is where those newfangled computer statistics come in handy for player evaluation.
When you dig beyond the surface of Boni's unexpected output, you know what you find? A player who hardly improved his walk rate and didn't cut down on his strikeouts whatsoever.
The only explanation for his greatest statistical season as a pro ballplayer, actually, is his BABIP (that is, his Batting Average on Balls In Play), which in a lot of cases can be used to measure a hitter's luck throughout a given sample size fairly accurately.
Bonifacio's BABIP going into last season had never been higher than .320 over the course of a full season. Then the clock struck 2011 and the soft-stick-carrying utility man's worth blasted through the roof on the coattails of a .372 line.
In other words, the Marlins can take the kid to Vegas, but they shouldn't take him to battle on an everyday basis if they intend to contend. He's purely a product of luck.
That said, he's going to carry some weight in the trade market this winter if dangled in front of the right team. With his speed, versatility across the field and his misleading numbers, there will never be a better time to sell high on this overvalued asset than right now for the Fish.
My personal suggestion is trying to work out a deal that would send him to the Chicago Cubs—who may have needs around third base and center field heading into Spring Training—along with a small package of prospects in exchange for eighth-inning ground ball specialist Sean Marshall and backup outfielder Reed Johnson.
Signing David DeJesus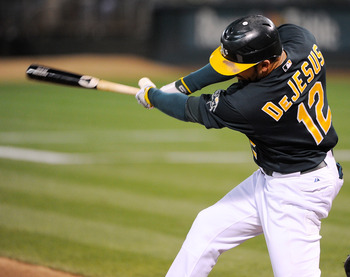 Thearon W. Henderson/Getty Images
Coming into the 2012 offseason, David DeJesus will be looking to rebound from what was, by far, his worst offensive season as a major league ballplayer.
That is exactly why the Miami Marlins should offer him a contract.
His .237/.322/.369 line seems like a far cry from seasons past in Kansas City, but make no mistake, DeJesus is not entering a decline.
For starters, his walk rate has not dropped. He's still seeing the strike zone well enough to earn free passes at an almost 9 percent rate.
While it should be noted on the flip side that his strikeout percentage shot up from 11.7 percent in 2010 to 17 percent this season, I wouldn't be so quick to mark that down as the culprit behind DeJesus's disappointment in the AL West.
Where his career average BABIP was .322, a wave of bad luck this season brought it all the way down to .271.
The Marlins should take a long, hard look at these numbers, because one of the hidden blessings in baseball for a small market club is that while good luck can inflate a player's value, bad luck can also immediately drop a good player into a previously unsuspecting ballclub's price range.
And bad luck does not last forever.
DeJesus is earning $6 million this season. When he hits the free agent market this winter, though, he's going to have to look for a fair opportunity to redeem his value (perhaps on a one-year, incentive-laden deal), as opposed to an opportunity to break the bank.
With a steady walk rate, a batting average that figures to improve and a very solid defensive range that withstands both the test of advance fielding metrics and the scouts' words, David DeJesus is a stopgap match made in heaven for a Miami team in dire need of some centerfield help.
Trading Josh Johnson to the White Sox
Mike Ehrmann/Getty Images
Yes, he's the staff ace. Yes, he's a perennial Cy Young candidate when healthy. Yes, he was just recently signed to a long-term deal.
For a long time, Marlins fans have complained about the team's supposedly bad habit of trading its best players at peak value.
It's frustrating if you still measure the quality of a baseball team by its names rather than its numbers, but the process of buying low and selling high is one of the most effective secret weapons a small market club has on its side when times call for a rebuilding on the fly.
With that in mind, fans would be wise to let go of their sentimental attachments to favorite players, particularly in the case of Josh Johnson.
Let's face it, Johnson can be great when his arm is intact, but over the course of the past two seasons he's begun turning in 60-day disabled list stints more consistently than he has complete game shutouts.
If he comes back next season with a decline in velocity and his production from there on out never matches his early career stats, all of a sudden a broke organization will find itself locked into an expensive long-term deal with a broken asset.
Not a luxury they can afford.
Sure, there's always the possibility that Johnson returns to form and continues dominating the National League with his devastating right arm, but that is exactly why he should be marketed right now.
The 27-year-old star still has some fairly noteworthy value on the trade market, but that may not be the case for much longer after this offseason.
Right now, the Marlins could certainly find an eager buyer in the Chicago White Sox.
For starters, they'd be dealing with a GM that has displayed a penchant for biting at the big names (see: Adam Dunn, Alex Rios) in the past. Also playing into the Marlins' favor here would be the impending free agency of the South Siders' own ace, Mark Buehrle, which should force the team's hand into a frantic search for somebody who will be able to replace his production.
If they play their cards right in this scenario, the Miami front office could potentially ask for a return package centered around either the talented young arm of Philip Humber and/or the relatively undervalued Gavin Floyd—who matched Red Sox ace Jon Lester in terms of WAR (Wins Above Replacement) this season at a fraction of the cost—alongside 22-year-old relief pitcher Chris Sale, who shows signs of becoming a devastatingly effective closer in the immediate future.
Signing Edwin Jackson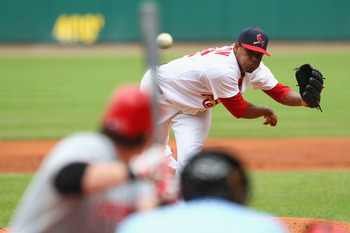 Dilip Vishwanat/Getty Images
As a testament to his steady rotation-bolstering contributions over the course of his career, Edwin Jackson has spent the past couple of baseball seasons racking up more miles than a convict on the run.
It seems like every year there's a team ready to make a bid for the postseason who goes out and makes moves in order to add Jackson to its roster.
He's not a superstar pitcher by any means, but if a team like the Marlins is looking for a cost-effective way to add some punch to the middle or back end of its pitching staff, it isn't going to find someone a whole lot better than this journeying righty.
With an acceptable rate of ground balls induced (career percentage: 43.3), low walk rates per start (career 3.66) and an LOB% (Left On Base percentage) of 71.6, it's no stretch to believe that Jackson would likely find success in Miami with a revamped Marlins defense and a potent offense behind him.
With C.J. Wilson, Mark Buehrle and potentially C.C. Sabathia stealing the spotlight on the pitchers' market, along with fairly attractive names like Hiroki Kuroda, Erik Bedard and possibly Japanese phenom Yu Darvish competing for what's left of the big bucks this winter, a team like the Marlins—ready to open up their wallets for the first time in a long time—could swoop in and steal Jackson at a price that's fair to them.
All of a sudden the Fish would boast one of Major League Baseball's deepest rotations without having to limit themselves by spending the big bucks on a high profile ace.
Trading for Ryan Hanigan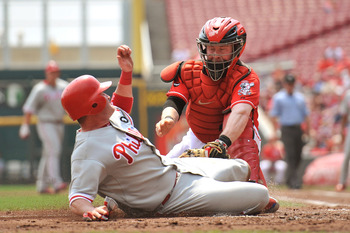 Jamie Sabau/Getty Images
With the Cincinnati Reds having blocked the true value of their backup catcher's last few seasons behind the aging Ramon Hernandez, it seems like a sizable chunk of the league has let Ryan Hanigan slip right past their radars and into relative obscurity.
Now with primetime prospect Devin Mesoraco—the heir apparent behind the plate in Cincy—ready to assume his position, it's all but certain that Hanigan's contributions have been deemed expendable.
Perhaps at this point, with all things considered, a couple of mid-level prospects could be worth his services? It's certainly worth a try.
Here's where the Fish need to swoop in.
Fortunately for them, their need in this scenario coincides perfectly with the existence of Dusty Baker. Not only is the Reds' manager a virtuoso in the art of destroying young pitchers' arms, he also abhors the thought of a batter willing to take pitches rather than constantly swing for the fences.
Hanigan's numbers suggest a pariah in Baker's prehistoric plans.
Last year the Miami front office thought it could plug the team's gaping, crater-like hole at the catcher position by overpaying for one season of John Buck power, but they failed to recognize that power had been enhanced the year prior in hitter-friendly Toronto home.
It's fair to say now the deal didn't exactly go according to plan, as Buck was unable to return to his All Star form of 2010. His power numbers declined to 16 home runs in the more cavernous Sun Life Stadium, along with a paltry .367 slugging percentage and a pedestrian .316 on-base percentage.
With another year under contract, perhaps the Fish would be wise to bring in a low-cost platoon partner who could spell Buck whenever manager Ozzie Guillen doesn't feel like guaranteeing opposing pitchers that the eight-hole in his lineup will be an out.
If the club chooses to take this option, they could certainly do a lot worse than Hanigan, who would bring a career 12.2 percent walk rate, a .371 career OBP and a .994 fielding percentage to the Miami clubhouse.
Keep Reading

Miami Marlins: Like this team?