NFL Power Rankings: New York Jets and 4 Teams Falling Fast
October 3, 2011
Patrick Smith/Getty Images
This week's NFL action did a lot to let fans see just where their favorite teams stood. Many teams took a big step forward. Then there were those that took a huge step back.
This article will focus on the latter.
Here are four teams that are slipping in the power rankings after a rough Week 4.
New York Jets (2-2)
The Jets offense looked absolutely putrid against the Ravens on Sunday night.
The Baltimore defense returned two fumbles and an interception for touchdowns, and Mark Sanchez finished the game a dismal 11-for-35 passing.
And, late in the game, the Ravens were able to run the ball at will against the vaunted Jets defense, grinding the clock down significantly.
If the Jets don't make some significant changes soon, there's no way they are going to make the playoffs.
Dallas Cowboys (2-2)
It appears that Tony Romo is either going to be the hero or the goat in every game this year, with no in-between.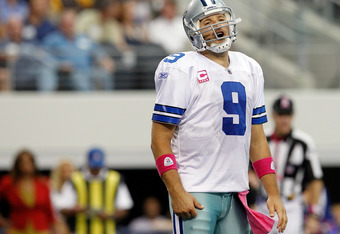 Tom Pennington/Getty Images
This week, he was the goat, throwing three costly interceptions late in what appeared to be a sure win against the Detroit Lions.
As with his entire career, Romo just needs to be smarter with the football in big situations. He can't keep crushing the hearts of Cowboy fans like this.
Minnesota Vikings (0-4)
The Vikings have had the lead at halftime all four weeks this season.
But, as you can see above, they are 0-4. That's simply unacceptable.
With Adrian Peterson, the game's best running back, there's no reason the Vikings shouldn't be able to close out games.
If they don't figure out how to hold a lead soon, it could cost Leslie Frazier his job.
St. Louis Rams (0-4)
The Rams were many people's preseason pick to win the NFC West. That seems like a long shot now after another dismal effort in a loss to the Washington Redskins.
The Rams offense has been terrible all year. Sam Bradford needs more weapons around him if he's going to improve at all this season.
Nothing is impossible at this point in the year, especially in the NFC West, but the Rams need to make something happen in a hurry, or else this is going to be a lost year.
My complete NFL Power Rankings
Green Bay Packers (4-0)
New England Patriots (3-1)
Detroit Lions (4-0)
New Orleans Saints (3-1)
Buffalo Bills (3-1)
Houston Texans (3-1)
Baltimore Ravens (3-1)
San Diego Chargers (3-1)
New York Giants (3-1)
Washington Redskins (3-1)
Tennessee Titans (3-1)
Oakland Raiders (2-2)
San Francisco 49ers (3-1)
Chicago Bears (2-2)
Tampa Bay Buccaneers (2-1)
Atlanta Falcons (2-2)
Pittsburgh Steelers (2-2)
New York Jets (2-2)
Dallas Cowboys (2-2)
Philadelphia Eagles (1-3)
Carolina Panthers (1-3)
Cleveland Browns (2-2)
Cincinnati Bengals (2-2)
Arizona Cardinals (1-3)
Jacksonville Jaguars (1-3)
Denver Broncos (1-3)
Seattle Seahawks (1-3)
Kansas City Chiefs (1-3)
Miami Dolphins (0-4)
St. Louis Rams (0-4)
Minnesota Vikings (0-4)
Indianapolis Colts (0-4)