Pittsburgh Steelers: Ben Roethlisberger and Rashard Mendenhall Might Miss Games
October 3, 2011
Thomas B. Shea/Getty Images
Week 4 wasn't exactly a banner week for the professional football teams of Pennsylvania.
The Philadelphia Eagles have their own set of well-documented problems. The problems that the Pittsburgh Steelers have might ultimately be more fatal than those of the Eagles.
Everybody knew going into the season that  the Steelers would have problems with their offensive line. Only one Steelers offensive lineman (Center Maurkice Pouncey) is generally considered to be an above-average NFL starter. The lockout eliminated almost all offseason activities, giving the offensive line little time to gel as a unit.
But hey, the Steelers made it to the Super Bowl with one of the worst offensive lines in the NFL right?
Big Ben can just make magic, right? Right?
For years, Peyton Manning masked the offensive line deficiencies of the Colts. Manning did this by getting rid of the ball very quickly, having a highly-developed sense of pocket awareness and a willingness to absorb tremendous amounts of punishment.
Ben Roethlisberger has also covered for the shortcomings of his offensive line. But he's done it through scrambling, improvisation and an uncanny ability to escape tackles. It stands to reason that as Big Ben ages, his abilities to scramble and escape tacklers will diminish.
As a quarterback ages, it becomes even more important to protect him.
Now we're right where Steelers fans and fantasy football owners feared we would be.
Roethlisberger had a prominent injury scare in Week 2, but returned to the game. At the end of the game in Week 4, Roethlisberger appeared to suffer yet another injury, but again finished the game.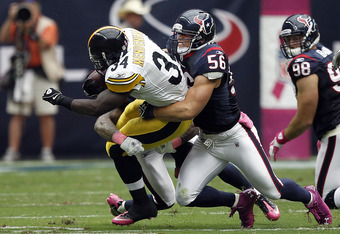 Bob Levey/Getty Images
By Monday, reports broke in the Pittsburgh Post-Gazette that Roethlisberger's left foot was in a cast and he was on crutches.
If you think that's bad, don't worry. It gets worse.
Starting RB Rashard Mendenhall suffered a hamstring injury late in the third quarter and did not return to the game. The availability of Big Ben and Mendenhall for the Steelers Week 5 matchup against the Titans is unknown.
Yeah, it could still get a little worse.
You know that vaunted Steelers defense? Even when they're giving up points, you can't run on them, right?
Through four games, the Steelers have given up 478 yards rushing at an average of 4.8 YPC. While the Steelers offense has rushed for only 375 yards on 3.7 YPC.
So if you're a Steelers fan, or a fantasy owner of any Steelers, it might get worse before it gets better.
I doubt Mike Wallace can lead the league in receiving yards with Charlie Batch throwing to him behind that same offensive line that's gotten Roethlisberger killed. And as bad as Rashard Mendenhall has been this season (173 rushing yards, 3.0 YPC) can Issac Redman and Mewelde Moore be any better behind that offensive line?
But it's never over until it's over. Especially for a 2-2 team in the NFL.
The NFL season is now 25 percent complete, so we can begin to evaluate the strength of schedules more accurately. The Steelers have lost to the Ravens and Texans, both of whom seem like legitimate playoff contenders. The Steelers schedule before their Week 11 bye includes several tough matchups and several games that the Steelers need to, and should, win.
WEEK 5 - vs TITANS
WEEK 6 - vs JAGUARS
WEEK 7 - @ CARDINALS
WEEK 8 - vs PATRIOTS
WEEK 9 - vs RAVENS
WEEK 10 - @ BENGALS
The Ravens and Patriots will be tough games for the Steelers. The Titans are playing good football and can't be overlooked. Arizona played very tough at home against the Giants in Week 4, and probably should've won that game.
The Steelers need to take care of business against the Jaguars and Bengals, teams who are both starting rookies at QB.
Then the Steelers get a bye in Week 11.
And then? Their schedule gets, well, pretty awesome. At least that's how it looks right now.
WEEK 12 - @ CHIEFS
WEEK 13 - vs BENGALS
WEEK 14 - vs BROWNS
WEEK 15 - @ 49ERS
WEEK 16 - vs RAMS
WEEK 17 - @ BROWNS
Games against division rivals are always tough and the 49ers will probably be a difficult matchup at home.
But does any team on this schedule really scare you? Is there any reason that the Steelers CAN'T go 7-0 to finish the season, starting in Week 10?
If you figure that 11 wins will get you into the NFL playoffs, the Steelers could be 4-5 entering Week 10 and still have a legit shot to get to the playoffs.
And fantasy football owners should be loving this schedule as well. The 49ers are the only above-average defense the Steelers will face after Week 9.
Things will get better for the Steelers.
In fact, a weaker Steelers defense will most likely lead to more offense. They will have to continue to try to score points in games, where in the past sometimes they spent entire fourth quarters just trying to run out the clock.
If I'm making decisions for the Steelers, I'm not trying to hurry Big Ben or Mendenhall back. The real target for their return should be Week 8.
The Steelers need to have both players healthy and ready to go against the Patriots and Ravens. So don't be surprised if one or both players miss a couple of games. The Steelers should be able to win one or two games against the Titans, Jaguars and Cardinals over the next three weeks, even with Charlie Batch and Issac Redman.
If you have anything to add, please feel free to use the comments feature or find me on Twitter.