NFL
Download App
NFL Power Rankings Week 5: Which Teams Most Helped Themselves This Week?
Tom Pennington/Getty Images
December 19, 2014
It was a topsy-turvy week in the NFL to say the least. Several surprise teams continued their success and several favorites dropped games they needed to win
In all the chaos, there are a handful of teams that continued to work their way up the power rankings. The following are three of those teams.
Detroit Lions
The Lions were a popular pick to make the postseason this year and they have looked the part so far.
They got their biggest win of the season so far this week over the Dallas Cowboys. It's not just who they beat, although the Cowboys are a fellow playoff hopeful, it's how they did it. The Cowboys' offense was on their game and the Lions withstood it.
The Lions are well on their way to their first postseason appearance in a long time.
Tennessee Titans
It's time that we started taking the Titans seriously as playoff contenders. Their win over the Browns this week isn't all that impressive on its own, but the collection of wins they have put up is impressive.
Their offense has been better than advertised, largely thanks to Matt Hasselbeck. The 31 points they put up this week is not a mirage. They are that good.
They will have to play their best to keep up with the Houston Texans in AFC South, but who's to say that they won't be able to do that?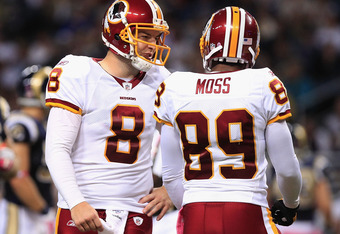 Whitney Curtis/Getty Images
Washington Redskins
Just like the Titans, the Redskins have continued to surprise. This week, they beat the Rams by the score of 17-10. The Rams are winless on the season, but I'm still not sure that they're not a talented team.
Rex Grossman looks like a changed quarterback and their defense appears to be several times better than the unit that was among the worst in the league last year.
They will have to show a lot more to prove that they should be taken seriously as playoff contenders, but for now, they have at least shown that they aren't doormats.
Joseph Healy's NFL Power Rankings Going into Week 5
1. Green Bay Packers
2. New England Patriots
3. New Orleans Saints
4. Baltimore Ravens
5. San Diego Chargers
6. Detroit Lions
7. Houston Texans
8. Atlanta Falcons
9. New York Giants
10. Pittsburgh Steelers
11. Tampa Bay Buccaneers
12. New York Jets
13. Tennessee Titans
14. Buffalo Bills

15. Oakland Raiders
16. Chicago Bears
17. Dallas Cowboys
18. Washington Redskins
19. Philadelphia Eagles
20. San Francisco 49ers
21. Arizona Cardinals
22. Minnesota Vikings
23. Carolina Panthers

24. Cincinnati Bengals

25. Cleveland Browns

26. Seattle Seahawks

27. Jacksonville Jaguars

28. St. Louis Rams

29. Kansas City Chiefs

30. Denver Broncos

31. Indianapolis Colts

32. Miami Dolphins

Like the new article format? Send us feedback!