2011 MLB Postseason: Are the Tampa Bay Rays a Team of Destiny?
October 1, 2011
J. Meric/Getty Images
The Tampa Bay Rays are on a roll.
You don't need me to tell you that, but regardless, it's very true. The media pundits have been declaring all season long how this team "takes on the mentality of its manager." And you know what?
I'm starting to believe it.
The Rays just pulled off one of the great comebacks of all time (thanks to the epic collapse of the Red Sox), overcoming a nine-game deficit in less than a month to make the playoffs. I wasn't a math major, so I can't even comprehend how that is even mathematically possible, but it was one hell of a long shot.
Coming into Friday's game in Texas, everyone in America (aside from Tampa Manager Joe Maddon) would have understood if the Rays lost. They had taken the Yankee Spring Training all-stars into the 12th inning just hours before, where a heroic home run by Evan Longoria propelled the Rays into the postseason at about 12:06 a.m. Thursday.

They were traveling to the sweltering heat of Texas, where the Rangers' best pitcher (C.J. Wilson) would face off against a guy making his second career start in the majors (Matt Moore). This game was a recipe for Rays disaster.
But Maddon didn't seem too concerned. So what if he was starting a rookie pitcher with three major league appearances? Who cares if the Rangers were 52-29 at home (tied for best in the AL)? Not Maddon.
And guess what? He was right.
The Rays prevailed, and it wasn't in a home run derby, or a close pitcher's duel; they won easily. Kelly Shoppach hit two homers and it was 8-0 before Nolan Ryan had time to sport his trademark frown. The Rays won 9-0 in a game that was as boring as postseason baseball can be. Did B.J. Upton even break a sweat?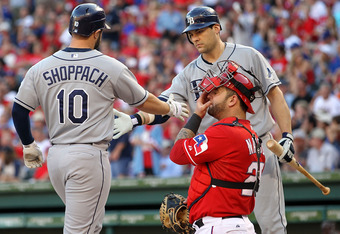 Ronald Martinez/Getty Images
These Rays have the look of a team of destiny. Do I believe in fate? I'm not sure. But I'm scared to bet against these Rays.
Every "team of destiny" has to have that trademark moment where they go from possible victor to "holy crap these guys aren't going to lose." The 2004 Red Sox had that steal from Dave Roberts in Game 4 of the ALCS against the Yankees.

The 2005 White Sox had the A.J. Pierzynski strikeout in Game 2 of the ALCS that confused everyone and resulted in the catcher being safe at first (and a White Sox win). The Rays' moment may have come before the postseason even started, when Dan Johnson (yes, Dan freaking Johnson) hit a home run to save their season on Wednesday.
Do I need to set the stage for you again? If you don't remember this home run vividly, you are officially an awful baseball fan. Tampa down 7-6 in the 9th. Two outs. Two strikes. Dan Johnson hadn't had a hit since April. Freaking April. And he hits a home run to tie the Rays' biggest game of the year. He saved the season.
Red Sox fans have lamented Bucky F****** Dent and Aaron F****** Boone for years, I think it's time to add Dan F****** Johnson to that list.
The Rays have plenty of flaws - their lineup isn't that great, and I could see Justin Verlander or CC Sabathia mowing those hitters down like bowling pins. But right now, there's no way I would bet against the Rays advancing. Their manager is laid back, relaxed and encourages his players to play loose, and it has translated into a lot of success for the scrappy underdogs. I'm not 100 percent they're a team of destiny—but they sure play the part well.