Seattle Mariners: A Fitting End to a Disappointing Season and Optimism for 2012
September 30, 2011
Otto Greule Jr/Getty Images
The Mariners closed out the 2011 season with a 20-inning scoreless streak. They also scored the fewest runs and had the lowest batting average in the MLB. Obviously, their offense wasn't their strong point for the majority of the season, but there's a lot of potential for improvement next year.
The only reason the Mariners were able to squirm out of 2011 with just 95 losses is their pitching. Led by Felix Hernandez, the starters put up 12 complete games and 94 quality starts, both ranking in the MLB top ten. Additionally, fill-in closer Brandon League was dominant and consistent.
So what will next year look like? Jack Zduriencik was wise to bring a lot of the performing prospects up in June, July, August and September; they now have a month or two of major league experience under their belts, and we won't have to wait until May or June next year to see them in the lineup.
Among those prospects who we should see make an impact from the get-go next year: Dustin Ackley, Mike Carp, Alex Liddi, Kyle Seager, Blake Beavan and Dan Cortes.
Dustin Ackley has locked down second base with a solid three months of baseball in 2011. He has put on a nice, dichotomous display of power and speed that works well on any team. We should see him near the top of the order and with versatility in his hitting.
Mike Carp is one of 23 players to homer for the M's this year, a club record. Carp has shown that he can hit for power while keeping his average up at a productive level. Justin Smoak will get the start at first base barring some further injury or bereavement, so Carp will either take DH or LF. That decision largely depends on who Jack Z acquires in the offseason.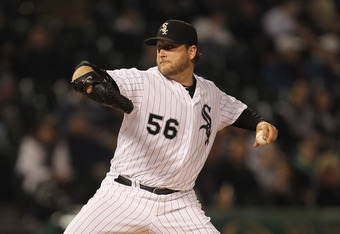 Jonathan Daniel/Getty Images
Alex Liddi and Kyle Seager have been holding down the left side of the infield since Brendan Ryan's injury. The injury came at a convenient time, allowing Eric Wedge to have both Liddi and Seager in the starting lineup. However, when Ryan heals, he will probably have the starting job at short, assuming Jack Z hasn't found a better SS over the Winter (more on that later).
Liddi tore up Triple-A Tacoma with 30 home runs and a .260 average through 138 games. He's already hit three bombs in the majors, and there are certainly more on the way for the first Italian-born player since Al Campanis in 1987.
Kyle Seager has shown consistency through his extended stay in the bigs, but I think Alex Liddi will get the start at the hot corner in 2012.
Blake Beavan and the currently injured Dan Cortes both made positive impacts after mid-season callups. Dan Cortes will most likely pitch out of the bullpen next season, but Beavan could have a shot at the starting rotation provided the M's don't trade for or add any decent pitchers before April.
However, it's possible that Jack Z does find a starting pitcher he likes—Mark Buehrle should be a free agent this year, plus there's Danny Hultzen who has a great shot at being the five starter for 2012.
The Mariners have money to spare since a large proportion of their 40-man roster is homegrown and still restricted to arbitration, so a big-name signing isn't out of the question. In fact, it's more than likely that Jack Z will make a big move this offseason, whether it's signing Jose Reyes, trading Brandon League or bringing Raul Ibanez back to Seattle.
An important advantage to note with regard to bringing a big name to Seattle is the fan turnout. The Mariners had a total attendance under 2,000,000 this year for the first time ever at SAFECO Field, worse even than last year's attendance when the Mariners lost 101 games. 
Besides new players, the Mariners have players returning from injury to look forward to. David Aardsma, Franklin Gutierrez, Adam Moore and Capser Wells will all be returning from injury. You could also count Justin Smoak who has torn up opposing pitching since his September return this year. Hopefully he can pick up where he left off next season.
This team might not be World Series quality by next year, but they'll win more games than they lose. And it won't be long after that before they are World Series, or at least postseason (which we haven't seen in so long), quality.