New York Mets: Jose Reyes' MLB Batting Title Speaks Poorly of Baseball Culture
September 30, 2011
Jim McIsaac/Getty Images
In a night of total baseball insanity, New York Mets shortstop and NL Batting Champion Jose Reyes did the least exciting thing possible.
Fans from across the country gathered around television sets and computer screens and Twitter feeds to follow what ended up as one of the most thrilling nights in baseball history. For the sport of baseball the general enthusiasm for switching channels, extra innings, come from behind victories and walk-off home runs were unparalleled.
From a marketing perspective, it would be near impossible to match the effort that last night had on the effect of the brand for Major League Baseball.
Baseball critics often cite a lack of excitement over the course of a long season to support their claim that the game has not adapted to match the modern American attention span. Many argue that, with a 162-game season, the games themselves have very little impact and significance until the World Series comes up on the calendar.
Last night, however, was a separate notion entirely. Four games (St. Louis vs. Houston, Philadelphia vs. Atlanta, Boston vs. Baltimore, Tampa vs. New York) had end-of-the-season implications. With the exception of the Cardinals routing the lowly Astros, each came down to the wire.
On a national spectrum, fans learned—or at the very least, were reminded—why they dedicate so much of their time to the sport. To borrow an idea from A. Bartlett Giamatti, the sport is unforgiving.
"It is designed to break your heart," Giamatti writes. "You count on it, rely on it to buffer the passage of time, to keep the memory of sunshine and high skies alive, and then just when the days are all twilight, when you need it most, it stops."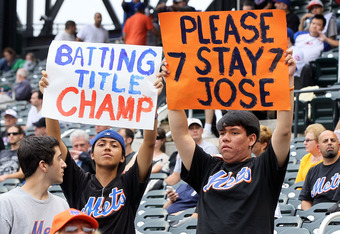 Jim McIsaac/Getty Images
For loyal fans of the game in the greater New England and Atlanta area codes, they will be forced to live their coming weeks without seeing the Red Sox and Braves in the playoffs following disappointing collapses.
Even still, the game offered a much larger service in the evening festivities and excitement. It offered hope.
Acting as the most successful small market franchise in the sport, the Tampa Bay Rays proved that desire could yield itself into destiny. The Rays, who had been trailing the Red Sox all season, played a game that showed itself as a microcosm of their season. Down 6-0 to the powerful (and much more financially secure) New York Yankees until the bottom of the eighth inning, the Rays were charged by young superstar Evan Longoria and eventually pulled off a 12th inning comeback victory.
Longoria showed the nation what the power of one individual could provide to his peers.
His four RBIs and clutch performance helped propel the Rays into an unlikely playoff spot. Following an offseason in which their best player was drawn into a lucrative $142 million contract with the "Goliath" division rival that ironically was outperformed by the "David" of baseball, baseball fans were shown the value of the team.
By no means should the greater sporting world attempt to demonize the Boston Red Sox. They fought hard for 162 games and were never able to reach their full potential as the September collapse demolished their organization.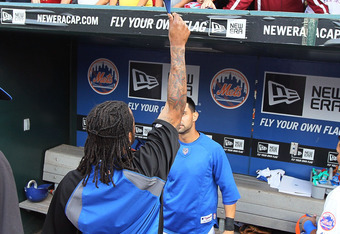 Jim McIsaac/Getty Images
As a large market team, however, their duty is to field the team that would give them the best chance at winning. Offseason additions of Crawford and Gonzalez did exactly that. During the season, they played baseball.
What you are about to hear may shock you, but last night Jose Reyes did not play baseball. His decision to pull himself out of the game was entirely an attempt to pad his statistics.
Over the course of a baseball season, you will find me sporting my Jose Reyes jersey. You will hear me discuss his athleticism with whoever is willing to listen. You will note the enthusiasm in my voice whenever the Mets come into town because I will be able to see my favorite player perform.
Fans like me are the reason that Reyes is able to even have a contract at the end of the season. If we didn't show interest and pay for tickets and jerseys, stadiums couldn't sell out games and commercial sponsors would have no reason to devote their money to the sport.
Reyes is among a blessed super minority in that he plays a game for a living. The entertainment that he provides, by and large, is merited of the contract that he will inherit because of the revenue that he drives and produces.
When a player like Reyes, however, elects to not play the game for the sake of padding a statistic that is largely abstracted in terms of the fact that "milestones" are not a concrete "thing," fans like me will begin to rebel.
Reyes could have invented baseball and fans would have still booed his decision last night. It was a slap in the face to the middle class men and women that save up for months to purchase an overly expensive ticket to a baseball game. They dropped $50 on food and parking once they got there and the entertainment that they get should be of Reyes fighting his entire life to get that second hit that puts him ahead of Ryan Braun.
In a night in which three games were decided in the last minute with the season on the line, in which Evan Longoria hit two game-changing home runs that ultimately let the Rays live one more day, Reyes surrendered.
Reyes knows that this could very well serve to be his last season as a New York Mets player. I know his potential, as I've seen him grow up and mature as a player since he first signed a professional contract. Reyes, however, is getting paid to play baseball.
He's an injury risk, and he's now a sore and embarrassing subject to discuss. Baseball is designed to break your heart. If Reyes didn't deserve the batting title, he shouldn't have gotten it. By no means do I wish to invalidate his batting title. He played hard for the bulk of the season. But the fans deserve to see Reyes play. Now fans may have to remember him as the player that won them their first batting title, only to get booed in his final bid.
Hopefully it will not be his last game as a New York Mets player, but if it is, it leaves my stomach unsettled.
Now, of course, we will never know. What we do now, however, is that his decision is one that would have Ted Williams tossing in his grave.