49ers vs. Eagles: 5 Questions San Francisco Will Answer on Sunday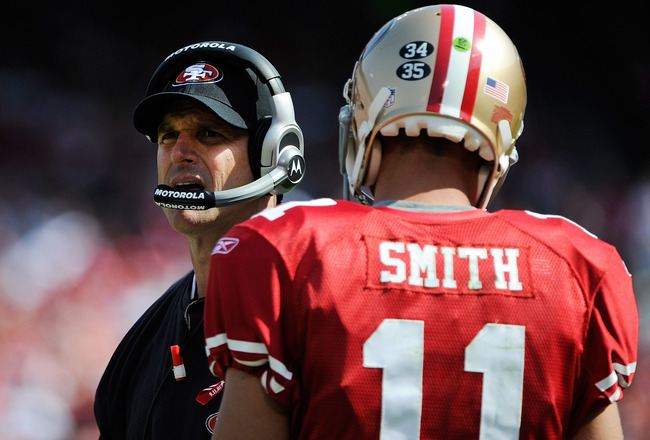 Thearon W. Henderson/Getty Images
The San Francisco 49ers are off to a 2-1 start under new head coach Jim Harbaugh. The 49ers offense has been lackluster, but the defense has generally played fairly well.
Their opponent is the Philadelphia Eagles, who many predicted would be the dominant team in the NFL, as many of their players are high priced stars. Unfortunately for the Eagles, the games are not played on paper, as they now have a record of 1-2.
After the first three games, the 49ers have several questions that are still to be answered. This Sunday, the answers will become much clearer. Let's take a look at those five areas of focus for this upcoming game.
5. Can the 49ers Win Back-to-Back Games on the Road?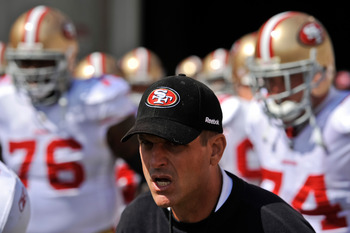 Jim Harbaugh leads his team out on the road
Jamie Sabau/Getty Images
The San Francisco 49ers have been notoriously bad on the road over the past several years. Prior to their win in Cincinnati, the 49ers were 14-50, since 2003. They were 1-7 on the road last year.
However, new head coach Jim Harbaugh somehow managed to guide the 49ers to a road victory against the Bengals. The new regime is 1-0 on the road. It wasn't pretty, but it was a win.
The 49ers, in an effort to minimize travel and the time changes from the west to the east coast, opted to remain in Ohio for the week. The York family lives in Youngstown and made it a special week for their players.
The test this week in Philadelphia will be much tougher for the Niners, however. The Eagles are coming off a loss to the New York Giants and stand 1-2. They can ill afford to go 1-3 and trail the other three teams in the NFC East.
The 49ers will see if their stay in Ohio pays off. Winning on the road is never easy and this will be a stern test for them. If they can get a win, it will go a long way to building the confidence of this team.
4. Can the 49ers Defense Stop the Eagles' Running Game?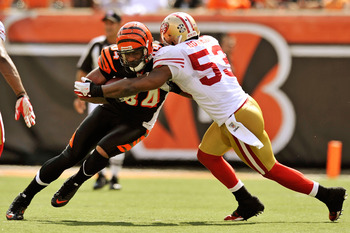 Navorro Bowman has emerged as a play making LB
Jamie Sabau/Getty Images
The San Francisco 49ers have one of the toughest defenses to run against in the league. They currently rank third, allowing only 62.7 yards per game. The 49ers defense have gone 25 consecutive games without allowing an opposing player to rush for 100 yards.
On the flip side, the Eagles' rushing offense ranks second in the league with 182 yards per game. The Eagles are led by LeSean McCoy, who is ranked No. 2 in the league with 345 yards rushing. McCoy also has four touchdowns to his credit.
Michael Vick is also a dangerous runner, with 153 yards in 24 carries, a 6.4 yards per carry average. What makes Vick particularly dangerous is that a defense can have a play covered, but Vick can get out of the pocket and gain yardage and first downs that can be back breaking for the defense.
If the 49ers can win this battle and contain the Eagles' ground game, they have a chance to win this game. If not, it will be a very long day for them.
3. Will Kendall Hunter Build on His Performance from Last Week?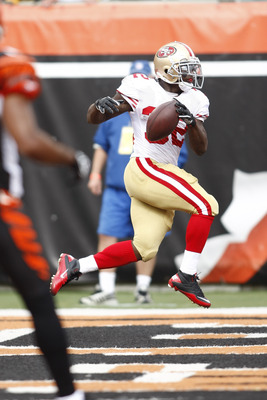 Kendall Hunter scored the 49ers' only touchdown last week
John Grieshop/Getty Images
The San Francisco 49ers have not had success running the football over the first three games. Frank Gore has been ineffective, rushing for only 148 yards on 59 carries, an average of 2.5 yards per carry. To put this into a proper perspective, Michael Vick already has five more yards rushing in 25 fewer attempts.
Heading into the game against Philadelphia, Gore is nursing a sore ankle and, although he plans to play, may be hindered by the ankle. This means that rookie Kendall Hunter will see more playing time.
Hunter had a good game against the Bengals, making a fine seven-yard run for the game-winning touchdown in the fourth quarter. Overall, Hunter's numbers aren't much better than Gore's. He has carried the ball 11 times for just 30 yards, a 2.7 yards per carry average.
The rushing woes are partially attributed to the backs, but the main issue is that the offensive line has not opened running lanes. Run blocking was supposed to be a strength of this line, but it has not materialized thus far.
Hunter has shown flashes of breakaway speed and elusiveness when he's gotten the chance to play. The one area where Hunter will need to prove himself will be his blocking and blitz pickup. This is always a tough assignment for a rookie, but if Hunter wants more playing time, this is a must.
Gore has looked a step slow and is not hitting the line with the same burst he has had in the past. One must wonder if his hip injury from last year has robbed him of that explosiveness.
Hunter is the type of change-of-pace back that reminds you of a player like Darren Sproles. If he gets some room, he is a threat to break off a big gain at any time. I would also like to see Hunter more involved in the passing game, where he can get the ball in space.
If Gore and Hunter cannot get going against the Eagles, it will mean a lot of long yardage passing situations for Alex Smith. That will not bode well, as the Eagles defense can tee off and attack him aggressively.
The Eagles are ranked 30th in the league against the run. With Gore at less than 100 percent, this is a golden opportunity for Hunter to have a big game.
2. Can the Offensive Line Protect Alex Smith?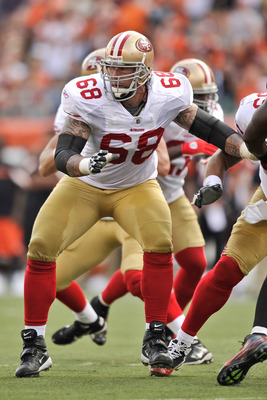 Adam Snyder is on the verge of replacing Chilo Rachal
Jamie Sabau/Getty Images
The San Francisco 49ers' offensive line has not played up to expectations thus far in 2011. With three first-round draft picks, a second-round pick and an expensive free agent along their line, there is absolutely no excuse for their poor play.
The 49ers line has allowed 13 sacks in 2011, 11 of them coming in the last two games. In addition, quarterback Alex Smith has endured several other big hits, one even resulting in a concussion in the Dallas game.
The weakness of the line has also meant that the 49ers have had to run more quick passes and underneath routes. They are unable to stretch the field because Smith simply does not have time to throw.
In retrospect, it's amazing that Smith has only thrown one interception in the first three games. He is not forcing the ball and making the critical turnover in the games the 49ers have won. This is a testament to Jim Harbaugh and his teaching of Smith.
Only left guard Mike Iupati has played well along the 49ers line. The other guard, Chilo Rachal, has been terrible in all phases of his job. Poor pass protection, lousy run-blocking, holding and false start penalties—you name it and Rachal has done it.
Versatile guard Adam Snyder replaced Rachal on several series in the Bengals game and I expect that trend to continue. Snyder should ultimately move into the starting role.
Left tackle Joe Staley has been beaten by the speed rush and also had problems with the bull rush against the Bengals. Staley looks bigger and slower, which hinders his ability to contain speed-rushers. In addition, because he's too big, he is off balance and easily pushed back against strong bull-rush techniques. I believe Staley needs to lose weight in order to be more nimble and effective.
Center Jonathan Goodwin joined the 49ers as a free agent. He is a former Pro Bowler and needs to step up his play. I think he will be able to do so if he's more comfortable with the players around him.
Right tackle Anthony Davis is young and improving, albeit slowly. He has athletic ability, but needs to improve his consistency. He also is typically responsible for two or three penalties a game.
The 49ers have invested a huge amount into building the line, and this group has not performed up to par. The 49ers must give Smith time to throw and the receivers need to do a better job to get open.
1. Will the 49ers' Pass Defense Be Able to Stop the Big Play?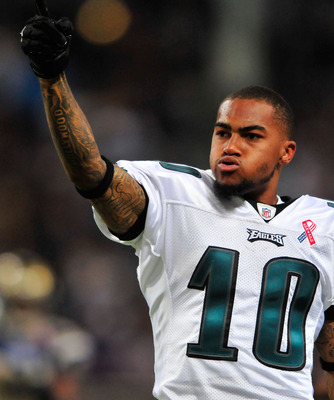 The 49ers must contain DeSean Jackson
Jeff Curry/Getty Images
The San Francisco 49ers defense has problems in pass coverage. They rank higher than they have played because the Bengals' passing game last week sputtered. As Tony Romo showed, the defensive secondary is a unit that can be beaten.
The 49ers have Dashon Goldson back at safety in place of Madieu Williams. This helped against the Bengals. In addition, Shawntae Spencer looks ready to return to his starting corner position. If he's healthy and plays well, it will be a major upgrade over Tarell Brown.
The 49ers secondary will have their work cut out for them against the Eagles. DeSean Jackson is one of the most explosive wide receivers in football. He can score any time he touches the ball, and the 49ers must not allow him to explode on them for big plays.
The 49ers may catch a break with the hamstring injury to Jeremy Maclin. He may not play this Sunday, and if he does, he will be slowed.
The Eagles have a big play offense with Michael Vick, LeSean McCoy, Jackson and Maclin. If the 49ers defense is able to contain this explosive offense, they can stay in the game to the end.
The Philadelphia offense ranks sixth overall with an average of 408.7 yards per game. Contrast that with the 49ers, who are last with an average of 213.7 yards per game. The Eagles are averaging 226.7 yards passing per game. The 49ers defense must be up to the task or this game could get out of hand.
It remains to be seen how effective Vick will be with his bruised right hand, but I do not expect that to be a major issue. The Niners must pressure Vick and hit him early and often. If they allow Vick to escape out of the pocket and either buy time for a long pass or take off running, they will have a major problem.
A 49ers Victory Would Be a Huge Accomplishment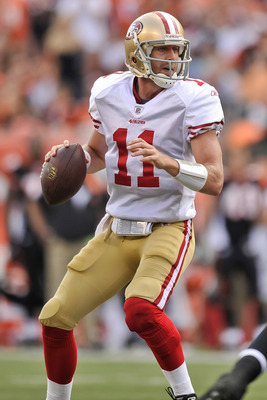 Alex Smith has shown improvement under Jim Harbaugh
Jamie Sabau/Getty Images
If the San Francisco 49ers could somehow beat the Philadelphia Eagles on the road, it would be a huge statement for the team. A 49ers win would move them to 3-1 and give them a solid start in the NFC West.
Head coach Jim Harbaugh and defensive coordinator Vic Fangio are gaining the trust and respect of their players. They are seeing improvement and the victories continue to build confidence.
This will not be an easy task because the Eagles can ill afford a loss but, as I said earlier, football games are not played on paper.
Keep Reading

San Francisco 49ers: Like this team?