Red Sox and Rays: The Closest Race on the Greatest Final Day
September 29, 2011
Greg Fiume/Getty Images
One strike—that's how slim the margin was in deciding the American League wild card.
The Red Sox, 77-0 when leading after eight innings, just one strike away from, at the least, sealing one more game. A win looked all but certain for the Sox with their pit bull Papelbon on the mound just waiting to deal the final blow to the border terrier Orioles.
The Rays, down 7-0 after seven lifeless innings, holding onto their last breath of life after cutting the deficit to one an inning before. A loss looked all but certain, the Rays with Dan Johnson and his .108 batting average down to one final strike.
The odds could not have been more stacked in the Red Sox's favor and against the Rays. Yet, in both cases, they were defied.
Nolan Reimold belts a Papelbon strike into right-center, Orioles 3, Red Sox 3.
Dan Johnson, DAN JOHNSON, serves one over the right field wall, Rays 7, Yankees 7.
Suddenly, all was even between two teams, who are anything but that. $120 million dollars in payroll and 120 million miles in preseason hype separate them. But after 161 games and 26 outs, all was still even. No matter what else separates them, both Boston and Tampa Bay faced the same opportunity last night—and fared vastly differently.
As September 29th began, their fates crossed over the course of just a few minutes.
12:03 Robert Andino lines it into shallow left, former Ray Carl Crawford can't come down with it and Reimold beats his throw to the plate. Game over. Orioles 4, Red Sox 3.
12:06 Evan Longoria lines a homerun reminiscent of Mark McGwire's record-breaking 62nd over the left field corner wall. Rays 8, Yankees 7, in 12 innings.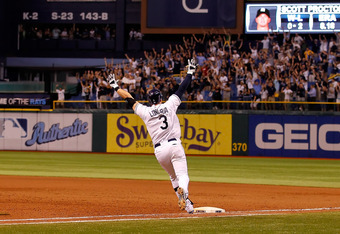 J. Meric/Getty Images
The foghorn bellowing and frenzy erupting at the Trop was the Red Sox's wake-up alarm. The past month was the Sox's version of a nightmare where you're being chased, keep stumbling but getting away, holding onto life until BOOM, BOOM, just like that two gunshots to the chest and you're jolted out of your sleep with a shiver of sheer terror.
Unlike a nightmare, all of which you usually have a tough time remembering, the Red Sox will have trouble forgetting any of this September collapse. All the expectations and what seemed a certain playoff berth eroded until, on the last night, there was no more. My Sox-fan friend, Jordan, called the whole month "a stab wound to the gut that bled out slowly."
However, it's fascinating that after all the misery and disaster that hovered over Yawkey Way for the season's final stretch, the 2011 Boston Red Sox still had a greater probability of holding on until those final, quick dying moments. Some might say it wasn't a fair fight. The Yankees trotted out a Bad News Bears pitching staff of September call-ups and bottom of the barrel relievers. That assertion's correct, but the Orioles are a 90-loss team who Boston could win only two of seven games against in the final ten days of its season. 
All that said though, one final Jonathan Papelbon strike to Nolan Reimold and we're trying to figure out who the Red Sox will start today in a one-game playoff in Tampa Bay.  Add on a strike three to Dan Johnson and the Red Sox are booking their trip to Texas. That's how close it was. In a race that will go down as decided by one game in the standings, the real margin of difference, just a couple pitches.