NFL Power Rankings: Denver Broncos Placement Inaccurate at 26th
September 28, 2011
Wesley Hitt/Getty Images
The Denver Broncos have fallen in ESPN's NFL Power Rankings.
This week they slide to 26th—two spots down from where they stood after Week 2.
It's hard to speculate where they would be if they hadn't suffered the outcomes they did in Week 1 and Week 3.
What we can say is that their spot at 26th is hardly accurate.
Yes, they lost to the Oakland Raiders (13th), who have also beaten the New York Jets (7th). They've also lost to the Tennessee Titans (15th), who have beaten the Baltimore Ravens (5th).
So apparently the rankings as a whole are not based on the teams you beat, or the teams that beat you.
So what are they based on?
Maybe they're based on preseason rankings made up by the experts—which mean nothing, and are based on predictions more than anything else. 
They then could be merely adjusted after each week—moderately—in an effort to save face.
Let's start by breaking down where the Broncos would be were it not for two unfortunate and absolutely forgivable plays.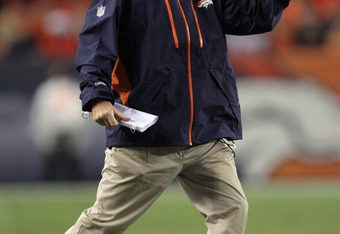 Doug Pensinger/Getty Images
If it weren't for the rainy, wet conditions on Monday Night Football two weeks back, the football would not so easily have slipped out of Kyle Orton's hand in the fourth quarter.
Take that play back and allow Kyle Orton to throw the ball where he meant to—to a wide-open Daniel Fells traveling easily towards the end zone—and that game ends with a different score, and a different team on top.
If it weren't for John Fox's and Mike McCoy's poor play-calling at the goal-line this past Sunday, the Broncos could have either taken the three points that were laying right in front of them, or possibly scored seven with a call that made more sense—enter Tim Tebow.
At that point, the game either travels to overtime if Tennessee ties, or Denver ends it with an 11-point or 3-point lead.
But that's not how it happened, and the Broncos have an ugly 1-2 record to look at for the time being.
I get it, that's a lot of "what-ifs." And I understand if ESPN's voters didn't watch every game of every week. I'm just having a hard time figuring out how their voting was determined when they put Denver at 26th.
I wonder how ESPN would rank the Denver Broncos had they not suffered those two plays.
At 3-0, would Denver be in the top six with the Buffalo Bills, who had to come back from a double-digit deficit to beat the same Oakland Raiders that Denver kept to 23 points?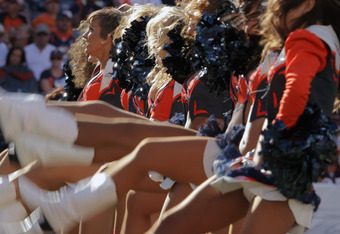 Doug Pensinger/Getty Images
Would they be ranked near the No. 3 Patriots, who boast a quarterback that throws for a million yards a year but also happened to throw four interceptions in a loss to the same Buffalo Bills that are ranked three spots below them?
How about their position as compared to the Titans?
The Titans are still 10 spots below the Ravens even after walking all over them in Baltimore.
If Denver had beaten the Titans—who beat the Ravens, who beat the Steelers, who beat the Seahawks, who beat the Cardinals... I might be going cross-eyed right now—like they should have, would they suddenly be seen as a team capable of much more "power" in ESPN's rankings?
Let's put it this way: The Bears, the Browns and the Seahawks all rank above Denver currently, and for no reason.
The Broncos beat Cincinnati, who beat the Browns. Yet, the Browns (21st) remain a higher ranked team after beating two teams that haven't managed to win one game yet (the Miami Dolphins and Indianapolis Colts,) and losing to the Bengals (27th).
Someone please alert me the next time the Chicago Bears and Cleveland Browns bring a lot of power to the field, and I'll start taking these rankings a bit more seriously.
I believe a team that commands power would require a powerful offensive line. The Bears' offensive line couldn't stop a pass rush if Jay Cutler's career depended on it—and it does.
At this point, I can only imagine these rankings are based loosely around records, and mostly around tacking each team's logo to a wall and throwing darts while drunk and blindfolded.
Maybe after Denver returns its injured players to the field and upsets the No. 1 Green Bay Packers in Week 4, ESPN will give them a better spot.
Of course, keeping with their current ranking system, that will probably only move them up to around 23rd, and Green Bay will have a blue and orange asterisk put next to their No. 1.
Don't get me wrong, I don't think Denver is No. 1. I think they're a bit closer to 15th at this point. I just have a hard time seeing this list for more than the almost-total inaccuracy that it is.
What do you think?
UPDATE: I'm changing my thoughts here, slightly. Denver should be 18th on that list. I still won't make anybody happy with that pick, but I'm sticking to my belief that Denver should be higher.