NFL: Denver Broncos' Kyle Orton to Indianapolis Colts a Perfect Fit
September 27, 2011
Andy Lyons/Getty Images
In a season that seems to be a total loss for the Indianapolis Colts, with Peyton Manning possibly missing the entire campaign, many people are suggesting that the Colts should "suck for Luck." A reference to the much-hyped Stanford Quarterback, Andrew Luck, who will be available in the draft to the lucky team with the worst record in the NFL.
Many consider Andrew Luck "The best college QB prospect since Ol' Peyton Manning back in the '98 Draft." Of course, he's also the most hyped QB prospect since JaMarcus Russel, who at the time he was drafted, was the best QB prospect since Ryan Leaf.
You get where I'm going with this.
Why suck intentionally for an unknown prospect, especially when there is a possibility Peyton Manning, who just signed the most insane contract in the history of the NFL, could return in time for the playoffs? I don't see the Colts taking that route, as they are obviously committed to winning now. The team is built for now.
So without further adieu, I will introduce the perfect solution to the little problem that is facing the Colts: Kyle Orton.
Kyle Orton is a wonderful pocket passer. He has an innate ability to read defenses, and make adjustments and coach an offense at the line of scrimmage.
Kyle Orton is a poor man's Peyton Manning, when you really break down their skill sets and he is also a veteran leader that could come into a new situation and immediately earn his teammate's respect with his intelligence and football savvy.
He also comes with the perfect contract situation. He is a free agent after this season, and he would surely relish a fresh start, especially with a ready made title contender like the Colts.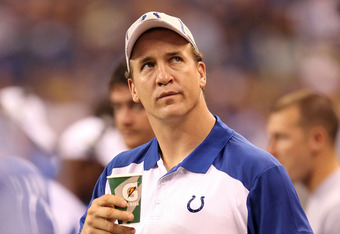 Andy Lyons/Getty Images
Orton would also have the benefit of playing behind a quality offensive line, with quality weapons in what could be the biggest contract year of his career.
If Peyton retires, the Colts could resign Orton as a bridge between Manning and their next franchise QB.
If Peyton comes back, and Orton is able to lead the Colts to a winning record, which he's entirely capable of doing, imagine having a fresh Peyton Manning step in at the end of the season for the playoff run.
You'd have to feel sorry for Orton if this scenario happened, but hey, he'd be getting benched for a hall of famer in the twilight of his career, not a raw prospect like Tim Tebow... Plus, do you really think he'd miss getting booed by the home crowd in Denver?
It's a match made in heaven for all involved. The Colts would be able to stay afloat while Peyton is on the mend, Orton would have a fresh start with a contending team and the Denver Broncos would finally put to bed the controversy that will otherwise never end until they relent, and bench Kyle Orton for Tim Tebow.
Kyle Orton, for as well as he's played for the Broncos, has become public enemy number one in Denver. He has become nothing more than a speed bump in the almighty Tim Tebow's path to stardom.
There is nothing he can do to silence the outcries for Tim Tebow, as unfair as it may be, and he deserves better than the hand he has been dealt.
He deserves to play for the Indianapolis Colts.