Tony Romo Silences Critics as Dallas Cowboys Win Second Straight Game
September 27, 2011
Ronald Martinez/Getty Images
How about those Dallas Cowboys? After seeing a lackluster effort from Tony Romo against the New York Jets, the QB has been facing some criticism that he sees fit to put away for the rest of his career.
His clutch gene was questioned, as well as his toughness and ability to shape-shift himself into a viable leader for Dallas. Sure, everyone was convinced that he could be your guy for three quarters. But, as the cheesy like to say about the game of football, "You have to play for 60 minutes."
While nothing could be done to salvage his reputation in the hours after the Jets loss, Romo was faced with one of two decisions when the media raced towards his side to question his caliber and on-field performance. He could cower and refuse to answer the questions that were thrown in his face or he could stand steadfast, admit he was wrong and promise to press forward.
The fact that he chose the latter is impressive as fans have been readily subjected to the sometimes brash and politically incorrect response from football players after an embarrassing loss.
Romo answered the questions like a gentleman who knew he had royally screwed his franchise out of a 1-0 start and also knew what needed to be done to rekindle the support of Cowboys' fans outside of the city of Dallas, Texas.
Playing through a punctured lung and a broken rib could just be those tokens onto heaven's highway that he was looking for. Immediately he was crowned the ultimate trooper for putting his body on the line and sacrificing his general health for the welfare of his team.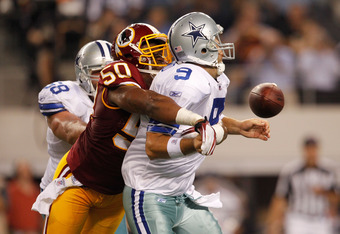 Tom Pennington/Getty Images
As a quarterback, he is expected to throw himself into the line of fire. After sustaining those reasonably game-ending injuries, he trekked back onto the field without the avid support of Dallas' staff to force the Cowboys' first win of the season.
A heave to former reality TV star Jesse Holley was just what Dallas needed to put them over the top and overcome the San Francisco 49ers in OT with a field goal.
Those field goals would become a lot more crucial in their ensuing game against Rex Grossman and the Washington Redskins.
However, what was even more interesting about the contest was how even in the face of a few botched snaps and unwilling young receivers, Romo still managed to put together a fourth quarter and put the squad in position for the game-winning field goal.
The Cowboys may not have scored a single touchdown in the entire game, but that statistic speaks mildly about what Dallas' QB was able to prove to anyone voicing their opinions on a possible replacement.
Dez Bryant, the controversial wide receiver, was questionable going into the Monday Night Football game. He looked nothing short of marvelous as he was Romo's most reliable target on the field next to TE Jason Witten.
The kid may be a gamble, however it is interesting to see him contribute his abilities as such a physical receiver to the Cowboys overall run towards the playoffs. There was a time early in the game where he caught a pass through DeAngelo Hall's contact and began to drag the corner a few more yards just for the hell of it.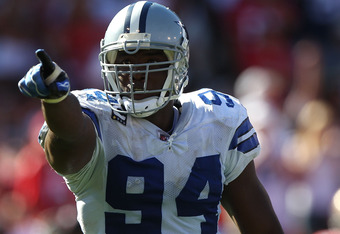 Jed Jacobsohn/Getty Images
The Cowboys' defense was staunch as usual. With DeMarcus Ware being guarded man-to-man for most of the game, he was able to explode and sack Grossman once. Ware's pressure was very instrumental even though at the end of the contest he expressed his frustration with how he was handled by the Redskins and the laid-back manner in which flags were thrown in his favor—there were none.
"If you had guys with some hands that could snatch me down pull me down that's what they did," Ware said. "But they had some great players on their team and they did play really strong."
"Sometimes, animation comes out when people bring it out [of you]," Ware said. "And you have to show them you're not going to get run over and you're not going to do the things you want to do to me. At the end of the day, it's football, you're a gladiator out there fighting and it's the best man wins."
Romo's coaching skills on the field and determination to not allow his team to start off to another 1-7 humiliating start as they did last year was enticing to watch. I had already made my mind up about what type of game I was tuning in to.
It was supposed to be the battle of the overrated quarterbacks, the mouthy cornerback and fine-tuned defenses. What ended up taking center-stage was Romo's play-calling and his efforts to whip his young receivers into shape as they lined up incorrectly on the field or botched routes.
He is handling the problems thrown in his direction with the proper painkilling shot and enough padding to restrict the amount of pain he feels as his ribs still present pain as he is smashed into on the field.
Did the pain show in his throws? Did the pain keep him from getting off of the ground after being tackled? Did the pain put him out of the game in the last moments?
No. We all may be seeing the arrival of a quarterback that was speculated to enter greatness far before now.
By the way, did anyone see DeAngelo tonight? Did he play?
Follow Klaibourne on Twitter