Browns vs. Dolphins: Winners, Losers from Cleveland's 17-16 Win
Matt Sullivan/Getty Images
The Cleveland Browns orchestrated an amazing comeback against the Miami Dolphins on Sunday. They drove 80 yards down field in the last three minutes of the game and squeezed out an unlikely, 17-16 victory.
After struggling on offense for much of the game, Colt McCoy delivered when his team needed him the most.
Here are the winners and losers from the game.
Winner: Colt McCoy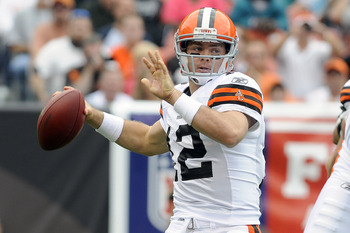 Jason Miller/Getty Images
It did not look like Browns quarterback Colt McCoy would emerge as a winner against the Dolphins until the fourth-quarter drive that resulted in the game-winning touchdown.
Up until the final drive of the game, McCoy was a measly 10-of-26 for just 130 yards. However, on that final drive, he completed nine of 13 passes for 80 yards and a touchdown. He moved the ball efficiently and showed great poise under pressure.
McCoy's ability to win is something the Browns have not had in their starting quarterback for many years. Hopefully, McCoy and the Browns will build off this win and carry their momentum into next week's game against the Tennessee Titans.
Winner: Montario Hardesty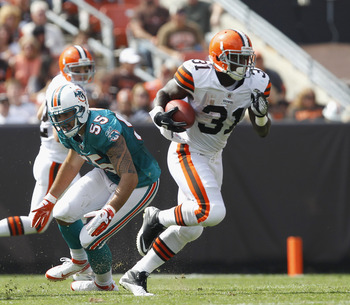 Matt Sullivan/Getty Images
With primary running back Peyton Hillis inactive due to strep throat, the Browns turned to Montario Hardesty to pound the football against the Dolphins.
Hardesty, who missed his entire rookie season because of knee surgery, showed he was worth the second-round draft pick the Browns used on him. He carried the ball 14 times for 67 yards and also caught a crucial pass on fourth down during the Browns' game-winning drive.
Not only did Hardesty have success with the ball in his hands, but he also had several great blocks in the backfield to protect McCoy.
Although Hillis will remain the starter when he returns, Hardesty proved he is worthy of more carries.
Winner: Joe Haden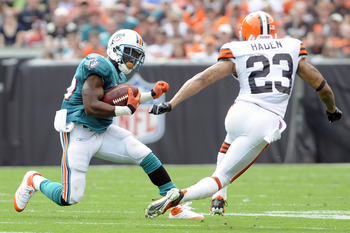 Jason Miller/Getty Images
Cleveland cornerback Joe Haden is quickly becoming one of the best players at his position in the NFL. Regularly matched up against the opponent's No. 1 wide receiver, Haden has been outstanding so far this season.
Haden held the Miami Dolphins' No. 1 wideout, Brandon Marshall, to a harmless four catches for 43 yards on Sunday.
Despite his smaller size, Haden is one of the biggest playmakers on defense for Cleveland and more of the same should be expected of him every week.
Winner: Browns' Defensive Line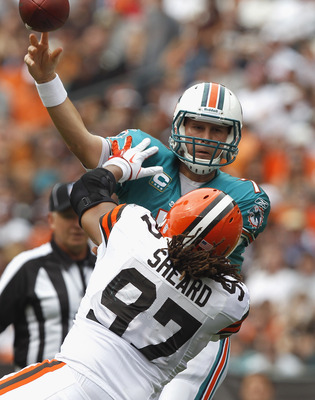 Matt Sullivan/Getty Images
The Cleveland Browns got an outstanding performance from their defensive line against the Dolphins. Miami quarterback Chad Henne was under almost constant pressure and ended up being sacked five times and hit eight others.
Despite being on the field for 37 minutes and 51 seconds, the Cleveland defense stayed strong and the defensive line didn't show any signs of slowing down.
The Browns have lacked a solid pass rush for many years prior to this season. It seems like that is no longer the case, even with two rookies starting on the line.
Loser: Chad Henne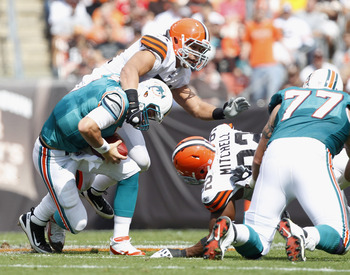 Matt Sullivan/Getty Images
With a last-minute chance to lead his team to victory, Dolphins quarterback Chad Henne came up short.
After the Browns scored their final touchdown, an excessive celebration penalty and a horse collar tackle by the Browns gave Miami the ball near midfield. All Henne had to do to give his team a great shot at victory was move the ball into field goal range.
Instead, he threw three straight incompletions and on fourth down threw an interception that sealed his team's fate. Unlike McCoy, Henne couldn't deliver when his team needed him the most.
Loser: Brian Robiskie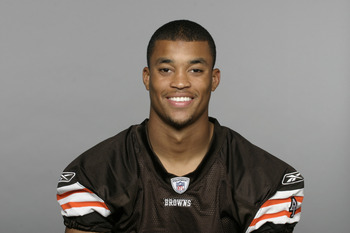 Handout/Getty Images
Cleveland Browns wide receiver Brian Robiskie failed to catch a pass against the Miami Dolphins. In fact, he has not caught a pass so far this season.
Robiskie, taken in the same draft class as Mohamed Massaquoi, has been given every opportunity to step up and become the top receiver for the Browns. He never rose to the challenge and does not seem to even be part of the Browns' game plan on Sunday.
Robiskie will have to show remarkable improvement if he wants to move back up the depth chart. However, with the solid play of rookie Greg Little, Robiskie's chance of becoming a productive wide receiver might be over.
Keep Reading

Cleveland Browns: Like this team?