Tony Romo: 5 Things We Learned About Cowboys QB Monday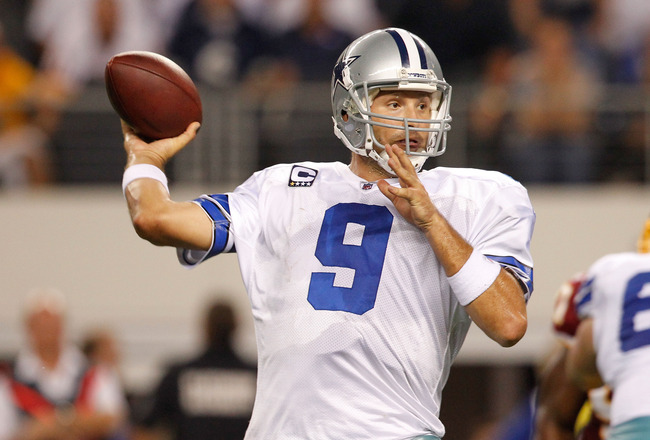 Tom Pennington/Getty Images
Tony Romo led his team to another come-from-behind victory on Monday night, which was an almost unimaginable possibility merely two weeks ago.
Romo has rallied after his disastrous fourth quarter in a season-opening loss to the New York Jets, directing the Cowboys to back-to-back late victories against the San Francisco 49ers and Washington Redskins while dealing with a fractured rib and punctured lung.
The offensive line didn't provide much help for Romo on Monday, as he was under pressure all night.
Romo stood in the pocket and delivered the football, and even though his receivers didn't always know where they were going and his center wasn't always looking before he snapped the ball, he led his team to another win.
It was a fairly common misconception that Romo was a weak-minded quarterback who was terrible in the fourth quarter, as I discussed last week.
The pendulum seems to have swung in the other direction now, as his toughness, fourth-quarter prowess and comeback victories were repeatedly mentioned throughout the Monday night broadcast.
Romo came into this game with something to prove, and he did his job by getting a victory for a banged-up team in their home opener.
He Has No Rhythm with Phil Costa
Ronald Martinez/Getty Images
If you're familiar with the work of Andre Gurode, then Phil Costa's repertoire should remind you of something.
Costa snapped the ball before Tony Romo was ready for it FOUR TIMES when Romo was in the shotgun, and generally looked lost all night.
I'm not sure if it's Costa who Romo is mad at in the picture in the sidebar, but there's a very good possibility that's true.
Maybe this lack of rhythm is due to Romo not practicing until Friday this week, but they've had training camp, preseason and the first two games to get this down.
It's inexcusable to be doing this multiple times in the same game.
This is something that absolutely has to be straightened out in practice this week.
They got extremely lucky that Romo recovered all four of the botched snaps, but that will not happen every time.
He's Getting Better at Talking to the Media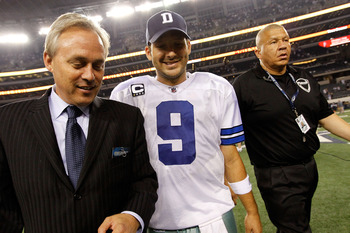 Tom Pennington/Getty Images
In his postgame interview, Tony Romo jokingly credited new wife Candice Crawford with getting him to play, who said, "I can't have a weak husband lying around the house."
"I want to play," Romo said. "We only get to go out and do this 16 times, 16 days out of 365 days a year. You want to be out there. You put so much effort, when you go, you go."
Romo admitted the Cowboys made mistakes on Sunday and that they have to clean those up, but didn't hang any of his guys out to dry.
He was demonstrably upset with certain players—Phil Costa, Kevin Ogletree—during the game, but declined to put them on blast afterward.
He also found Dez Bryant to beat DeAngelo Hall on the play that essentially decided the outcome in this one.
Earlier in the week, Hall had said he would be coming after Tony Romo's broken ribs early and often.
Hall finished with six tackles and zero quarterback hits on the day.
He Really Missed Miles Austin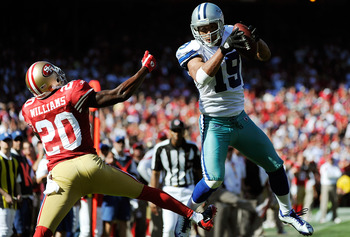 Thearon W. Henderson/Getty Images
The Cowboys were without No. 1 wideout Miles Austin, and for much of the night, it showed.
The Cowboys offense was out of sync and discombobulated for much of the night.
Some of that had to do with the poor timing of snaps, but a lot of it also had to do with receivers running wrong routes, making bad reads or not knowing where to line up.
Romo continually had to show Dez Bryant, Kevin Ogletree, Laurent Robinson and Martellus Bennett where to line up and then correct their routes after the play.
Ogletree had a particularly rough day, getting scolded by Romo for lining up in the wrong spot and then running the wrong route on the same play, after he had already ran the wrong route earlier on a play where Romo was intercepted.
Romo and Bennett seemed to have a miscommunication on a goal line fade play, as it looked like Bennett was expecting a jump ball against a smaller cornerback while Romo threw a back shoulder pass thinking Bennett could shield the defender with his body.
Dez Bryant had a quiet day until he and Romo improvised on a 30-yard pass to convert on 3rd-and-19 to set up the game-winning field goal.
Austin is still Romo's favorite receiver, and when they play together they put up ridiculous numbers. The Cowboys need him back soon.
His Injury Is Definitely Not Healed Yet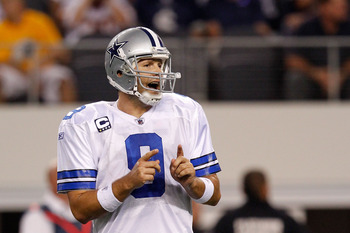 Tom Pennington/Getty Images
Romo was moving around gingerly all night against the Redskins and never really seemed to develop any sort of rhythm.
He was protecting himself early and trying to soften the blow immediately after all his throws, which caused him to be a little more inaccurate than usual.
It didn't help that his center was snapping the ball when he wasn't looking, his left tackle played the worst game he's played since becoming a starter last year and his receivers didn't know the plays.
Brian Orakpo, Ryan Kerrigan and others got huge hits on Romo, who was under siege and running for his life seemingly all night.
He was sacked three times and knocked to the ground four more.
He took a while to get back up and was in visible pain each time, as he was for most of the game.
A fractured rib is among the most painful injuries you can have, as it restricts literally all of your movements, but Romo powered through and delivered for Dallas Monday night.
This Guy Is TOUGH, Man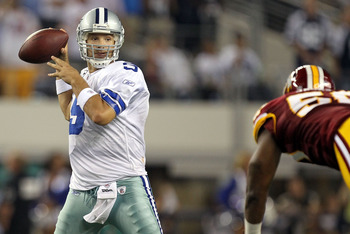 Ronald Martinez/Getty Images
To borrow a phrase from Jon Gruden, "This guy is TOUGH, man."
Romo has really manned up and gotten tough in the last two weeks.
The way he has rebounded from the criticism he faced after the loss to the Jets has been terrific, and he's shown that he can and will do whatever it takes to get victories for his team.
Romo is so important to the Cowboys' success right now, he knows he has to be out there despite the injury because they need him to be elite to win games.
Playing through extreme pain and discomfort, he has delivered back to back gritty performances in come-from-behind victories that seem to have turned the tide on how he is viewed by many in the football world.
Romo's fourth-quarter heroics in back to back weeks after blowing a fourth quarter lead have led to a barrage of support for his actually-quite-stellar-despite-popular-opinion fourth quarter play over the past week.
He was also repeatedly praised for his toughness, determination and leadership and was given the Jon Gruden pre-game interview treatment by ESPN for "Monday Night Football."
Needless to say, there is definitely too much week-to-week pendulum swinging on public opinion of the quarterback based on the result of that week's game.
He's not as bad as people were saying after the Jets loss, and he's not all of a sudden a perfect quarterback either.
Romo's legacy in Dallas will ultimately be judged by whether or not he wins a Super Bowl, but he's proven over the last two weeks that he can overcome any criticism thrown at him, and that we should just enjoy watching him try to get there.
Keep Reading

Dallas Cowboys: Like this team?