AL MVP: Who Could Win, Should Win and Will Win MVP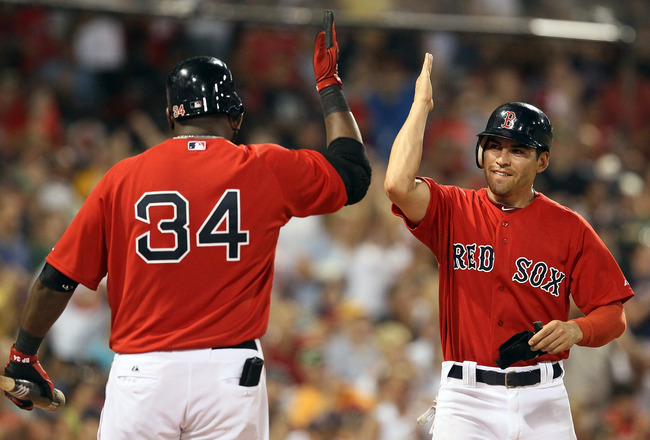 Elsa/Getty Images
With two games left in the 2011 regular season, the race to make it to the playoffs has hit a high as the AL Wild Card race is now up for grabs between the Tampa Bay Rays and the Boston Red Sox.
All of the division winners in the AL have also been decided.
It has been a long season and many have been speculating as to who will win the American League MVP.
There have been several strong candidates this year, and I have gathered a list of those who I think could win, should win and will win the award.
Here we go...
Who Could Win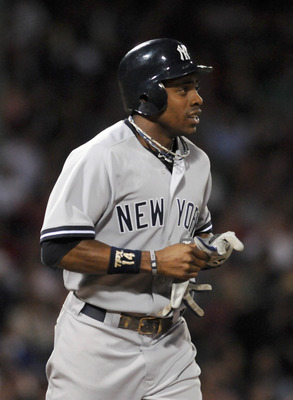 Darren McCollester/Getty Images
Curtis Granderson - Granderson is certainly a candidate for MVP this year.
He has 41 home runs, 119 RBI, 135 runs and 24 stolen bases. These are definitely MVP-worthy numbers, but his batting average is not. Granderson is still in the running but I really don't see someone with a .264 average winning MVP.
Jose Bautista - Bautista may only have 43 home runs this season compared to 54 in 2010, but his batting average his improved from .260 to .302. Bautista is the heart of the Toronto Blue Jays, and he is a definite candidate, but Toronto's .500 record will probably hold him back.
Adrian Gonzalez - One month ago, I was saying that Gonzalez should win MVP. Gonzalez is second in the American League with a .338 batting average on top of 27 home runs, 117 RBI and 45 doubles. I think that because this was his first season in the AL East, it makes these numbers better.
All three of these guys could definitely win the AL MVP in 2011, but I doubt they will be able to beat out either of the next two players.
Who Should Win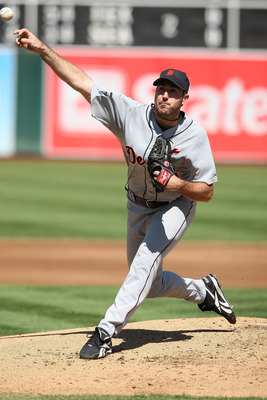 Tony Medina/Getty Images
Justin Verlander has made his last start of the 2011 regular season, and I believe that he should be the one to win the AL MVP award.
Verlander is a lock for the AL Cy Young award in 2011, too.
He has the "triple crown" for pitching in the American League, leading with a 24-5 record, a 2.40 ERA and 250 strikeouts. No other pitcher can touch him this season, and the real question will be whether or not a batter will be able to get to him.
Without Verlander, the Detroit Tigers may not have made the playoffs. Maybe they would have, but there is a very strong chance that they might not have, and if that doesn't scream Most Valuable Player, then I don't know what does.
But there is still the issue that no pitcher has won the MVP in either league since 1992 when Dennis Eckersley did it after getting 51 saves with the Oakland Athletics.
Whether the voters think that pitchers should stick to their own award or that starting pitchers are not as valuable because they pitch only once every five days, voters clearly do not vote for pitchers.
They clearly should, especially when looking into Verlander's case. Despite the fact that he should win the American League MVP, I just don't see it happening due to the award's history.
Which leads us to our winner...
Who Will Win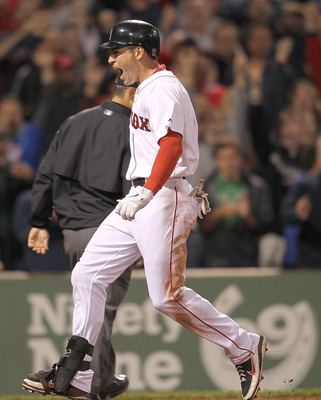 Jim Rogash/Getty Images
Jacoby Ellsbury will win the AL MVP award.
Many people had written off Ellsbury heading into the 2011 season. Many thought he was weak after the 2010 season, and there were so many questions surrounding his offensive abilities.
Since then, Jacoby has silenced all doubters.
Ellsbury has put up the first 30-30 season in Red Sox history with 31 home runs, 38 stolen bases, 103 RBI and a batting average of .323, which have all come from the leadoff spot in the lineup.
He has also played a flawless center field, where he has not committed an error in all of 2011.
Jacoby's signature moment of the season may have come when he hit a three-run home run against the Yankees this week to win the game in the top of the 14th inning, and there is a good chance that MVP voters will remember that moment when they submit their votes.
The Red Sox still need to win the wild card if they want to make it to the playoffs, and they are going to need some help from the Yankees. More importantly, they will continue to need MVP-caliber play out of Ellsbury in the last two games of the season.
If Justin Verlander can't win MVP this season because of the lack of votes for pitchers, Jacoby Ellsbury is the perfect candidate to win the big award in his breakout season.
Keep Reading