Denver Broncos: How Bad Is Kyle Orton Late in Games?
September 26, 2011
Doug Pensinger/Getty Images
Sunday afternoon in Tennessee proved to be another setback for the struggling Denver Broncos. This time the troubles didn't come from the inability to stop the run or getting key defensive stops—things that have haunted the Broncos for years.
The problem arose when the Broncos led 14-10 halfway through the fourth quarter needing to close the door on the Titans and get out of Tennessee with a much deserved win. 
During the fourth quarter, the Broncos offense stood on the Titans goal line with a 14-10 lead. After three consecutive goal line stands by the Titans defense, Broncos Head Coach John Fox elected to go for it on fourth down instead of taking the easy three point field goal that would have put them up 17-10.
Instead the Broncos don't convert on fourth down and turn the ball over to the Titans. Matt Hasselbeck marches the Titans offense 98 yards and connects with former Denver Broncos tight end Daniel Graham for what was the game winning touchdown.
After the touchdown, Kyle Orton had one last shot to get a comeback win and become the hero that Denver Broncos fans are so desperately looking for. Much to their disappointment, the potential game winning drive ended with a Kyle Orton pass being deflected at the line and intercepted by Titans linebacker Will Witherspoon with 1:39 left in game.
Fans will be questioning the call by John Fox to go for it on fourth and goal rather than taking the points, which proved to be the difference in the game. However, Kyle Orton's play throughout the entire game was sub-par to mediocre at best. Orton finished the day 24 of 39 for 172 yards with two touchdowns and two interceptions. Not a terrible day, but Kyle Orton has always been the guy that produces an okay stat line. Whatever it is, he just does not play well when the game is on the line.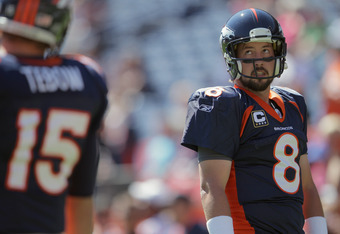 Doug Pensinger/Getty Images
Over the last two years, Kyle Orton has held a 46.2 passer rating in the last ten minutes of games where he is trailing by eight points or less. In Kyle Orton's tenure with the Broncos, he has faced 11 situations like this and has only scored one time. He has also thrown an interception three times, fumbled once, and turned the ball over on downs three times. Do the math, that's 7 of 11 final possessions with the game on the line that Kyle Orton was responsible for creating the turnover that sealed the Broncos fate.
In order for the Denver Broncos to return back to the elite team status that is consistently competing for conference titles and Super Bowl wins, they will need a quarterback that will be a proven winner and lead comebacks late in games.
Follow me on twitter for Denver Broncos Opinions/News @BRAX8