NFL Power Rankings: 10 NFL Players Who May Be Sinking on the Depth Chart
Ronald Martinez/Getty Images
The NFL is a cruel league. One week, a player looks like they are the next best thing and then before you know it, they are yesterday's news and someone else has taken their place.
This can happen for a variety of reasons including injuries, age, ineffectiveness or a combination of things.
It's a tough pill to swallow for players, but it comes with the game. Take for example Arian Foster.
Foster burst onto the NFL landscape last season thanks to injuries by guys ahead of him on the depth chart, mainly Ben Tate. Now this season, the tables have turned and Tate is the primary back as Foster is battling injuries.
Now, that's not to say Foster won't reclaim his starting spot, but it wouldn't be the most outrageous thing if it happened and I think it would be fair to say Tate has earned himself a share of the backfield workload.
That's the way of life in the NFL.
Here are 10 players who could find themselves sinking down the depth chart sooner than later.
Arian Foster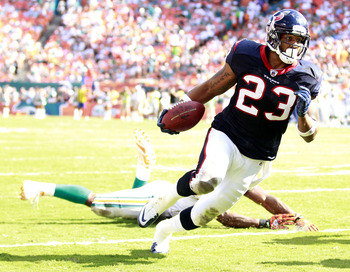 Marc Serota/Getty Images
It's been a frustrating start to the season for Arian Foster.
He injured his hamstring on the first day of training camp only to return in the second preseason game, where he ran for two touchdowns. He re-injured himself in the third preseason game, causing him to miss Week 1.
He made his season debut only to re-injure his hamstring again in the second half. Foster didn't play in Week 3 and it's not yet known if he will be available next week.
In his absence, Ben Tate has been taking full advantage, running for over 300 yards with an average of 4.6 yards per carry. Hamstring injuries have a tendency to linger and this could be a season-long problem Foster may have to fight.
Remember, Tate was going to be the starter last year before suffering a season-ending injury in training camp so you know the coaching staff has high hopes for him.
Donovan McNabb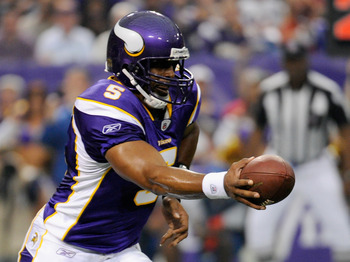 Hannah Foslien/Getty Images
The Minnesota Vikings acquired another veteran quarterback this offseason in Donovan McNabb.
McNabb was coming off a rough stint with the Washington Redskins, but there was no way he could be worse than Brett Favre was last year, right?
Not so fast. McNabb was putrid in the season opener, throwing for a miserable 39 yards. He has rebounded somewhat in the past two games, but there was really nowhere to go but up.
McNabb has shown no mobility in the pocket and hasn't been accurate with his passes. With the Vikings at 0-3, it's looks like we will be seeing Christian Ponder sooner than many people expected.
Hines Ward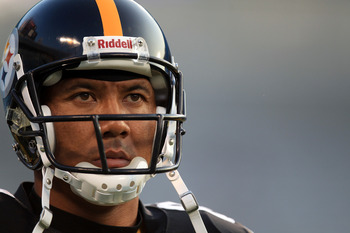 Streeter Lecka/Getty Images
Hines Ward has been a valuable member of the Pittsburgh Steelers for 13 seasons. Now in his 14th year, the 35-year-old might be better off playing a reduced role.
Ward is still an efficient receiver and a devastating blocker, but he is not the target he once was.
The Steelers have two young pass catchers who are oozing with potential in Emmanuel Sanders and Antonio Brown. Both have flashed greatness at times, but don't get enough playing time as they are low on the totem pole.
Don't be surprised to see these two players get more playing time at the expense of Ward as the season progresses, showing what they are capable of.
Shonn Greene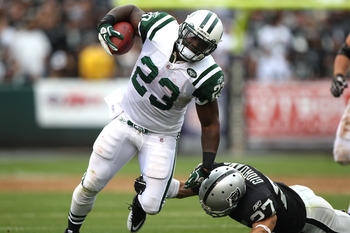 Jed Jacobsohn/Getty Images
"This is finally the week Shonn Greene is going to break out." I feel like I've heard someone utter that phrase a hundred times. It's now three games into his third season and we're still waiting.
Greene was supposed to be the lead back last season, but has been overshadowed by LaDainian Tomlinson. Going into this season, the coaching staff made it clear Greene was going to be the bell cow and even Tomlinson admitted he was accepting a reduced role.
Greene, however, has failed to rise to the occasion.
He had a great opportunity this past Sunday in Oakland, but looked slow hitting the hole and showed no explosiveness. Once again, he is being outplayed by the 32-year-old Tomlinson.
Many questioned the Jets when they drafted Bilal Powell, a running back, in the fourth round of April's draft, but it makes a lot more sense now with Greene struggling. Don't forget they also have Joe McKnight in reserve as well.
If Green continues to falter, expect to see the other backs get some playing time.
Kerry Collins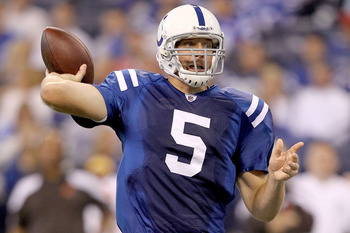 Matthew Stockman/Getty Images
The Indianapolis Colts brought in Kerry Collins during training camp as veteran insurance in case Peyton Manning couldn't make a full recovery. They weren't expecting him to be Manning, but hoped he could lead a playoff team from last year to a decent season.
The results have been ugly so far. Collins has completed less than 50 percent of his passes and is averaging under 5.0 yards per attempt.
Collins suffered a concussion during Sunday's loss to the Pittsburgh Steelers and coach Jim Caldwell admitted he is considering a quarterback change even if Collins is cleared to play.
With this season looking all but over for the Colts, it makes sense to give backup Curtis Painter a shot.
Rashard Mendenhall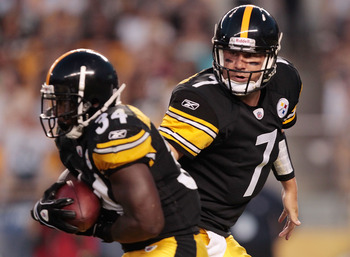 Jared Wickerham/Getty Images
Rashard Mendenhall's inclusion on this list might surprise you, but if you take a deeper look, it won't.
Mendenhall has struggled this season, failing to average more than four yards per carry in any game.He hasn't faced a murderers row of defenses either.
Looking back at the end of season, it has been five games since Mendenhall has averaged over four yards per carry and his last 100-yard game in the regular season came in Week 12 of 2010.
Mendenhall isn't going to benched right now and probably won't be anytime soon. However, the numbers are discouraging to see. The schedule does look brighter looking forward so Mendenhall has a chance to get back on track.
Reggie Bush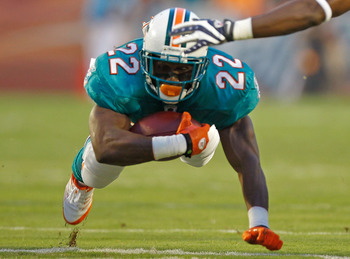 Mike Ehrmann/Getty Images
The Miami Dolphins made a splash in the offseason when they traded for Reggie Bush. The running back had his ups and downs with the New Orleans Saints, but now had a chance at a fresh start with the Dolphins.
The season got off to a rocky start and has gotten even worse since then. Bush is now averaging under three yards per carry. He is being completely outplayed by rookie Daniel Thomas, who has put together two straight games of over 100 total yards.
Bush is supposed to, at his best, catch the ball out of the backfield, but has only caught two passes in the last two games. He fumbled twice on Sunday, losing one of them.
Bush will be continued to be phased out of the offense as the Dolphins feature Thomas.
Lee Evans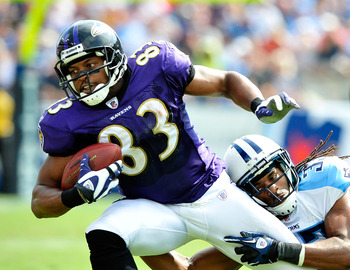 Grant Halverson/Getty Images
Lee Evans picked the wrong week to be injured.
Playing in place of Evans on Sunday was rookie second-round pick Torrey Smith and to say he played well would be an understatement. Smith went off for 152 yards and three touchdowns against the St. Louis Rams.
The Baltimore Ravens brought Evans in to be a deep threat, but they already one on their roster. Smith toasted the Rams secondary for touchdowns of 71 and 41 yards in the first quarter.
Evans only managed two catches in his first two games with the Ravens. By the time Evans is fully healed, his starting job might be gone.
Ryan Grant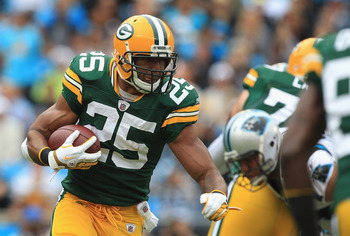 Streeter Lecka/Getty Images
Ryan Grant turned back the clock on Sunday, rushing for 92 yards on just 17 carries against the Chicago Bears. Even with that performance, the arrow isn't pointing up for Grant.
Through the first two weeks James Starks more than doubled Grant's snap count and outproduced him in yards per touch. The tables turned in Week 3, but don't expect that to be the norm.
Starks is more explosive, powerful and younger than Grant. The Green Bay Packers know this and will continue to give Starks more of the workload going forward. Consider this past week to be more of an aberration.
Nate Burleson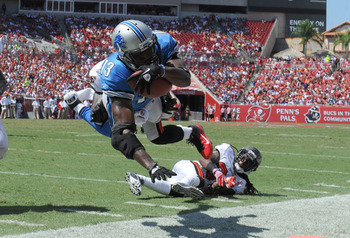 Al Messerschmidt/Getty Images
Nate Burleson has been a key cog on the Detroit Lions offense that has propelled the team to a 3-0 start.
The self proclaimed "Black Wes Welker" has been a nice complement to Calvin Johnson, averaging 55 yards per game. While Burleson isn't playing bad by any stretch, his playing time might shrink going forward.
That is because of the presence of Titus Young. The rookie out of Boise State has come on in the last two weeks catching nine passes for 140 yards. He has earned the trust of QB Matthew Stafford as he has been targeted 15 times in those two games.
Young offers more explosiveness and upside than Burleson and it might not be long before we see him playing ahead of him.
Keep Reading