Detroit Lions
Lions vs. Cowboys: Tilt vs. Dallas the Lions' First True Litmus Test
Last year, Detroit/Dallas was a battle of backup QBs on teams with busted seasons. This year, the stakes are higher.
Tom Pennington/Getty Images
September 29, 2011
Have you heard enough of "but they haven't played anybody" yet?
Gotten enough of Bills fans saying they're better because their big comeback came against the mighty Patriots?
Fired up to see the Lions shut some people up by beating down the Dallas Cowboys at Jerry World?
Good, you should be. But also, maybe reel it in a little.
This isn't going to be another "temper your expectations" article. Wouldn't matter even if it was, since I have no delusions about my ability to quiet the buzz after a massive win at the Metrodome.
But I need everyone to wrap their minds around this concept. The Detroit Lions could very well lose in Dallas this weekend.
Alright, calm down a bit before you lynch me. This isn't me turning on the 3-0 Detroit Lions just as they look ready to turn a corner. This is just NFL football. The Dallas Cowboys are a good football team. They're not the perennial Super Bowl contender the media make them out to be, but they're good.
And good football teams have a chance to win every week. The Cowboys are a better overall team than the Minnesota Vikings, and we saw how close that was.
I'm not even trying to suggest that the Cowboys are a better team than the Lions (they're not). They look like a terribly coached team. Receivers don't know where they're supposed to line up, the center is snapping the ball while Tony Romo calls signals, half the team is in the infirmary, the offensive line can't stop anybody, the secondary is vulnerable, the running game has mostly been a non-issue...
That doesn't mean they can't beat the Lions (who have a lot of the same issues) like they beat the previously undefeated Redskins. It's the "Any Given Sunday" theory.
The Lions are taking to the road for the second straight week. This is a team trying to follow a 26-game road losing streak with a five-game road winning streak.
The Cowboys, on the other hand, are on a short week, but they've been home since Sept. 19. And we can pretty well forget about the possibility of the 3-0 Lions taking anybody by surprise at this point. The words "for real" have been surrounding the team for a little too long.
In other words, the Cowboys are going to be at home, prepared and fired up after a divisional win they fought hard for. They will be ready to take on the Lions. Short practice week or no, this is a dangerous game in more ways than one.
Jeff Backus had maybe the worst game of his career against Jared Allen and the Vikings. And now he draws DeMarcus Ware (followed by a grudge match with Julius Peppers).
Matthew Stafford is dispelling the "injury-prone" tag a little more with every hit he gets up from, but the human body has a limit to how many 250-pound free runners it can take in the ribs.
Just ask Tony Romo. He may be banged-up and unpredictable, but he has proven he can still go off for 300 yards and a couple of touchdowns.
And Romo isn't the only danger. Felix Jones can run it, Dez Bryant is an emerging star at both receiver and returner, and the defense has as many big playmakers as it does weak links (watch out for Sean Lee in this game).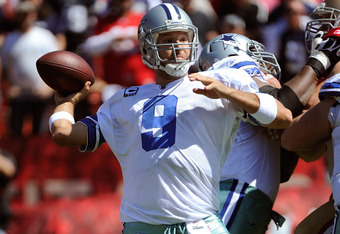 I don't know what to make of Tony Romo, but I don't know what to make of the Lions' secondary, either. This game will help with both determinations.
Thearon W. Henderson/Getty Images
The point is, Dallas has lots of ways to beat you. And while "looking ahead" is something fans do far more than players or coaches, this game comes just prior to a huge Monday night matchup against the hated rival Bears.
I don't doubt the ability of Jim Schwartz to make his team focus on the task at hand, and the nature of the Minnesota game should serve as a vehicle to make the Lions zero in on their errors and fix them for the Dallas game.
But after the "Process of the Catch" last year, and the contested nature of both 2010 games, there should be no doubt that the Lions want to show up big on the national stage.
That's good, they just have to remember to show up in Big D first.
Like the new article format? Send us feedback!