NFL Injury Report: The Key Injuries That Could Cripple Your Fantasy Team
Chris Trotman/Getty Images
We saw another chunk of high-profile injuries during Week 3 of the NFL season. Some of these injuries have the possibility to completely cripple your fantasy team.
We'll look at some key players from each position whose injuries look serious enough to cause major issues for your fantasy team.
Here is the NFL injury report on key injuries that could cripple your fantasy team.
Michael Vick, QB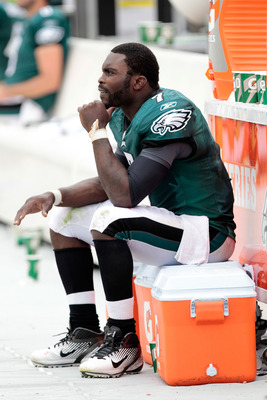 Chris Trotman/Getty Images
We'll start with the biggest loss of the day, Michael Vick.
Vick, who was coming back from a concussion last week, broke his right hand during a loss to the New York Giants. It isn't clear how much time Vick will lose, but he certainly won't be playing anytime soon.
Many people had their fantasy football team built around Vick, and now, they need to scramble to find a capable replacement three weeks into the season.
Kerry Collins, QB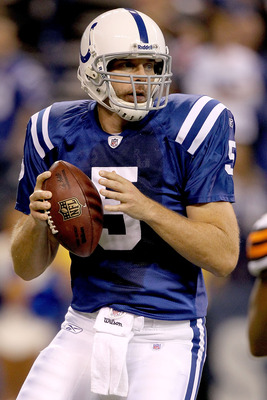 Matthew Stockman/Getty Images
The only way that Kerry Collins' injury cripples your fantasy team is if you have Reggie Wayne or Dallas Clark on your team.
Those two players are two of the top players at their position, and without Collins, their fantasy numbers will decline greatly.
I'm not saying that Collins is a great quarterback, but Curtis Painter doesn't bode well for them.
Frank Gore, RB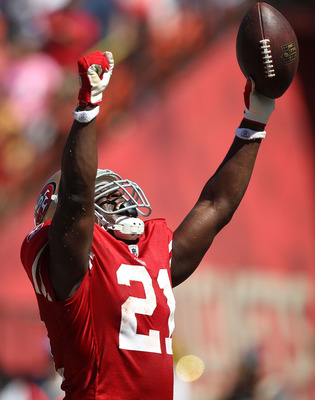 Jed Jacobsohn/Getty Images
Anyone who has Frank Gore on their fantasy team (like myself) probably has holes in their wall due to the inability to control throwing things when watching Frank Gore play.
Every year we talk about Gore as a top fantasy back, but every year he either gets injured or is a disappointment. He tried to play through an ankle sprain this week against the Cincinnati Bengals but was removed rather quickly for Kendall Hunter.
While an ankle sprain doesn't seem like too big of an injury, Gore has had issues recovering quickly from small injuries, and this one could keep him out for another week or two.
I know I knock Gore quite a bit, but the truth is that he is a quality fantasy player and his injury, if it continues to nag him, could be rather crippling to your team.
Arian Foster, RB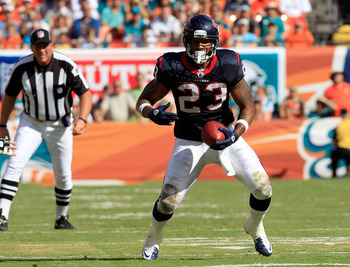 Sam Greenwood/Getty Images
Fantasy owners who drafted Arian Foster after he said he would be playing by Week 2 of the NFL season have been sorely disappointed.
The question that now needs to be asked is when will Foster return to full health? He was inactive this week, and if the hamstring continues to give him problems, I can't see the Houston Texans risking his health by throwing him into the lineup again without him being at full strength.
Foster was a top-three fantasy draft pick, so to see him still struggling with this injury is crippling many fantasy teams out there.
Kenny Britt, WR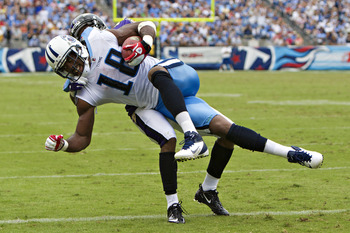 Wesley Hitt/Getty Images
Kenny Britt was having a huge fantasy season before suffering a possible season-ending knee injury against the Denver Broncos.
Britt was playing like a top receiver and losing him for the rest of the season is a major hit to fantasy teams that were expecting 15 to 20 points a game from him.
The biggest area of concern is finding a replacement for Britt on the Tennessee Titans, as there appears to be no wide receiver that will step in and be able to produce similar numbers.
Antonio Gates, TE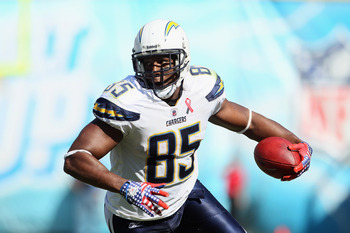 Jeff Gross/Getty Images
We've seen Antonio Gates struggle to get back from minor injuries before, so seeing him sit out this week against Kansas City because of a foot injury is throwing up red flags.
Gates has been the top fantasy tight end in the league for years, and some people are willing to spend a high-draft pick on him. If this injury is anything like last year's injury, fantasy owners of Gates could be in for a long season.
Keep Reading