San Diego Chargers Squeak out a Close Win Against the Winless Kansas City Chiefs
September 25, 2011
Stephen Dunn/Getty Images
The San Diego Chargers were 14-point favorites heading into Sunday afternoon's game against a Kansas City Chiefs team that has only scored 10 points over two games. However, this game would not be the blowout that most Chargers fans were expecting and would end with a interesting and dramatic finish.
The Chargers definitely came to play, but not in the fashion as we have seen in years past.
San Diego's defense was incredibly dominant during the first half of football, holding the Chiefs to zero first downs and zero points, however the offense was a horse of a different color.
The Chargers' offense (which looked incredibly lethargic) could only muster 10 points in during the first 30 minutes of football.
Ten points in one half of football against a Chiefs team that has scored only 10 points combined in two games!
Something has to be wrong with that!
I do have to give the Chargers credit where credit is due. They were able to move the ball, however, the Chargers were once again plagued by miscues and turnovers in what looked to be a continuation of last Sunday's game in Foxborough against the New England Patriots.
While the Chargers have won two of the first three games of the season and seem to be off to what could be considered a quick start, it has come at a price and I'm not talking about injuries.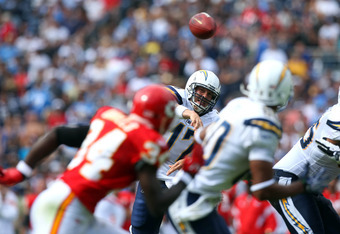 Donald Miralle/Getty Images
Chargers quarterback Philip Rivers threw two interceptions and even fumbled the ball once (it was recovered by the Chargers).
At one point in the game Rivers looked to be in pain (at one point wincing and limping off the field), having been knocked to the turf after a play succumbing to the pressure of the Chiefs defense.
In response to observations of Rivers' performance, he was asked how he felt during the postgame press conference.
"I'm good," he said.
"You get banged up in every game some are worse than others. Last week (the New England Patriots game) was a rough one."
Chargers head coach Norv Turner reached the podium, he was also asked about Rivers' "being off."
"The biggest thing is, he was just trying to do too much," he said.
"It broke down, there was pressure, he was out of the pocket."
Rivers would end the game with 266 yards on 24 completions, with two interceptions and no touchdowns.
Penalties also plagued the Chargers once again (four for 40 yards) with two of those penalties aiding the Chiefs in field position on a drive that would lead to a Chiefs touchdown, essentially keeping them in the game.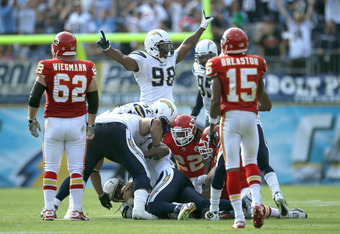 Stephen Dunn/Getty Images
However, there happened to be a silver lining in a game filled with (in my mind, incredible disappointment) plenty of miscues once again.
Chargers' second-year running back Ryan Mathews and veteran safety Eric Weddle also came up big.
Mathews, who has seemed to come into his own after what could be a less than memorable rookie season, ran for 98 yards and two touchdowns on 21 carries. He also had four catches for 51 yards.
Weddle came up with the biggest play when the Chargers needed it the most.
After the Chargers were unable to convert on 4th-and-inches with time running down in the fourth quarter, the Chiefs would end up in decent field position. Chiefs quarterback Matt Cassel would throw a quick strike to wide receiver Dwayne Bowe that would put the Chiefs near field goal position.
On the next play, Weddle sniffed out what was intended to be a screen pass to Dexter McCluster and Matt Cassel threw the ball directly into Weddle's hands ending the Chiefs' chances of a game-winning or tying drive.
An impressive play for the NFL's highest-paid safety.
The Chargers are now 2-1 and tied for the AFC West lead with the Oakland Raiders, after the Raiders' impressive win against the New York Jets.
The Miami Dolphins (0-3) will travel to Qualcomm Stadium to face the Chargers next Sunday, a game that is in jeopardy of being the first television blackout of the season unless roughly 8,000 tickets are sold by Thursday afternoon.