Michael Vick Injury: Who Is to Blame for QB's Injured Hand?
September 25, 2011
Rob Carr/Getty Images
As we watched Michael Vick re-enter a game with a broken non-throwing hand—a game in which he was hit more than a few times a week after a concussion—you have to ask yourself: Whose fault is his latest injury?
There's enough blame to go around, really and frankly I think the Eagles were lucky he didn't get hurt worse.
Here are a few of the culprits making Vick a pinata each week.
The Offensive Line
I just finished a piece on this about 10 minutes ago, so it's not a fresh angle for me.
In short, I think that the offensive line is a combination of too young and too mediocre for a quarterback like Vick. I don't know they could protect Tom Brady or Aaron Rodgers back there any more effectively, mind you because even when Vick is in the pocket he gets hit too often.
However, it's further complicated by Vick's constant out-of-pocket movement.
The most veteran Pro Bowl tackle would have issues keeping up with Vick. Asking the rookie at center and the other journeymen linemen (Jason Peters excepted but also hurt) is too much.
Which leads me to—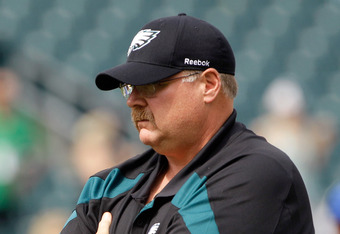 Rob Carr/Getty Images
The Coaches
I get that they're desperate for a win. They needed to rally after last week's loss.
I'm not sure it was worth risking Vick a week short of a concussion, and more than once Vick looked a little groggy. Don't be surprised if, on top of the broken hand, he's got another one.
Beyond that though, Vick isn't being given enough protection.
You knew Vick was your quarterback. You knew the style of game he plays. Yet you didn't go and build a super-duper offensive line. You didn't really improve it all that much, and you certainly didn't build one which was suited to keep Vick upright when he runs.
There's only so much you can do to protect him, sure, but I don't even know if you did that much.
A rookie at center? Aside from left tackle, only the most important position on the line. No wonder the defense gets through—how can you expect a first-year player to hold his own at center? He's getting hit on three man rushes?
That's unacceptable.
At least you're running the ball more. LeSean McCoy is making sure the defense isn't just sitting back and teeing off on Vick.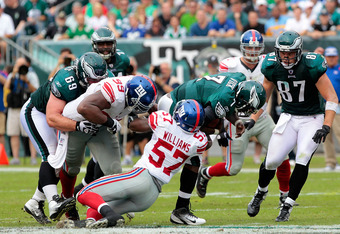 Chris Trotman/Getty Images
Of course, there's enough chances for that anyway.
Vick Himself
Because of the player he is, Vick can be his own worst enemy. It's not that he runs a lot—it's that he never slides enough. He allows himself to get hit in the hopes that if he doesn't he can make a huge gain.
I don't want to change Vick. He's not a pure pocket passer and honestly he brings too much else to the table. It'd be a waste.
However he needs to run smarter. If he isn't getting out of bounds, slide more often. Don't take the big hit. There's no need. If you are under pressure, dump the ball off more or throw it away—don't always run.
Get yourself out of harm's way.
Nobody else seems to be able to do it for you.