Michael Vick Injury: Why Eagles QB Will Never Be Healthy Behind Bad O-Line
September 25, 2011
Chris Trotman/Getty Images
Once again Eagles quarterback Michael Vick has been forced from the game, this time with a reported right hand injury. He came back, but one has to wonder how much more of a beating he can take.
Before the season, in both regular NFL and fantasy football circles, a lot of people were predicting a monster season from Vick.
Quite often the "if you translate his numbers from last season to a full 16 games" came up as to how come people expected huge numbers.
There's a problem with that and we are witnessing it again today. He can't stay healthy.
In part it's because of his running style. Vick takes a lot of big hits outside of the pocket, and he's not going to hook slide very often. So defensive players will get a lick in on him, and it's usually a solid blow.
Secondly, though, is the problem of a sub-par offensive line.
Your average offensive line would have enough troubles protecting Vick while he freelances out for a run when a play breaks down. Really, unless you have an O-line of mobile tanks, any line will struggle on occasion once Vick breaks down a play like that.
The Eagles line is, in my opinion, shaky at best (that's a technical term), and while they have only given up one sack today, there are plenty of quarterback hits in the pocket and out of the pocket to account for.
To be sure, adding in the roll outs Vick does increases it. However, even when staying inside the pocket—something he has done more frequently this season—defenders are getting their licks in on Vick.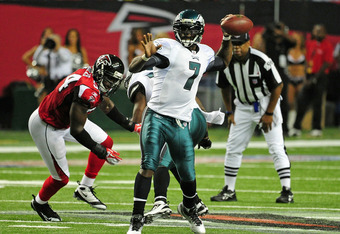 Scott Cunningham/Getty Images
Center Jason Kelce and right guard Danny Watkins are both rookies (although Watkins hasn't been regularly starting). Jason Peters is solid at the critical left tackle position but his best years are behind him, and he has been banged up. Todd Herremens is nothing special, neither is Kyle DeVan or Evan Mathis.
This isn't a great offensive line by any stretch. Serviceable in stretches, but not great. Certainly not a group who is going to be able to account for Vick's mobility. Having a rookie at center is risky in the best of circumstances, and I believe it disastrous for a quarterback like Vick, who can do anything at any time.
Again, it's tough enough for a veteran offensive lineman to keep up with Vick. But an inexperienced rookie?
Do they want Vick hit?
For a quarterback who already leaves himself open to a lot of big hits, the last thing you want is an offensive line which will allow them when he's in the pocket.
That appears to be exactly what they have in Philadelphia.