Chad Ochocinco: As Overrated as He Always Was and Deserving of Release
September 25, 2011
Elsa/Getty Images
Today, the Patriots lost to the Buffalo Bills, a team they had beaten in 20 of 21 prior contests.  In the game's second half, critical errors by Chad Ocho Cinco (or Ochocinco, or whatever his fake name is) certainly had a direct impact on the outcome in the final minutes.  His lack of presence, inopportune drops and inability to contribute have become far too common.
Indeed, his lackluster Sundays contributed to a New England loss today. Coming from a non-Patriots fan with no emotional investment, this should mean something. Unless he shapes up, the ex-Bengal's days with a fine organization are going to end with his being shipped out.
Frankly, the Patriots should release Chad "Eighty-five." Why hesitate?
His best days are well behind him, a career rife with egocentric claims turned lame.
The mistakes he is making in the passing game are not the result of confusion; they are a lack of discipline. They are rookie stuff.
They are the mark of a talent that has gone unrefined and unchecked for far too long. Many have viewed his former team in Cincinnati as a sports circus led by a variety of ringmasters doomed to never be fitted for rings.
At the center of the big top was the man with the biggest head and goldest teeth.
As his play in the past few seasons would indicate, perhaps he should have kept his former last name, a much more normal denotation for a man with pedestrian skills to match. There is only one "Ochocinco," but many NFL receivers of a comparable quality.
Indeed, Johnson seems more appropriate...more common.
In a world of words that end up being eaten like raw liver, maybe a Boston gut check had to happen. Even if Brady had rallied New England today, I'm willing to bet it wouldn't have gone through Chad. As I write this response, the future is uncertain, but the current state of the bumbling former Bengal is too concrete.
Chad who?
In today's game, he may have been the worst receiver on the field for the Patriots, and he would surely have trouble cracking the starting lineup for the Buffalo Bills. To be sure, the big mouth gone silent is a talent gone quiet. 
His loyal supporters will continue to make excuses for him.
Many will quickly point out Chad's lack of familiarity with the Patriots' offense, but his lack of contribution in blue reminds me of his black stripes in Cincinnati. Like a tiger, Chad would have his flashes of a different color, a breed of receiver that flashed neon orange and was electrifying. 
Yet, in the hottest spotlights, he would show his black stripes. 
Sorry, but dropping perfect throws is not a matter of execution; it is a matter of focus and personal accountability.
With the Bengals, the man with the Spanish surname looked foreign to the game of football in the most critical moments.  As a Steelers fan, I vividly remember his angst and body language, wearing a badge of frustration as Terrell Owens had his way with the Pittsburgh secondary in a near-Monday Night comeback for Cincy. 
Owens didn't have a catch in the game until the fourth quarter. Having always been absent against the Steelers—the very team Cincinnati claimed as their key divisional rival—the self-promoting wideout was disappearing against the rest of the NFL.
As always in Western Ohio, the receiver had a million excuses for his play and the franchise's losses. Poor personnel moves, a lack of offensive cohesiveness and being targeted too little fell on the deaf ears of a public growing wiser to his act—nay, his antics!
Moments ago, playing for a team that seems to transform NFL castaways into newly reinvigorated dynamos, Chad Ochocinco dropped a critical third down pass. He was wide open, heading toward the endzone. The play would have tied the game. 
After running imprecise routes for the last couple of weeks—and having already played a role in a Tom Brady interception to start the second half—the receiver was probably aggressively deciding what flamboyant dance to showcase in Buffalo. After all, he is a dancing star; not just a football player.
He's also a talk show  host. Maybe he can replay clips of today's game in a segment called "Ocho-stinko."
Perhaps if the all too average Johnson (his real name) were more aggressive in his route running and ball retrieval, he wouldn't be exposed as a complete NFL afterthought.
In the meantime, a man who clearly desires to be great needs to accept the fact that his best days are behind him or that he needs to work harder. 
When clips are replayed of his make-shift Hall of Fame jacket, I think of the sacrilege. Sure, the Canton monument may not be marked by religious followings, but for those who love the game, there is a spiritual element to those jackets and bronze busts.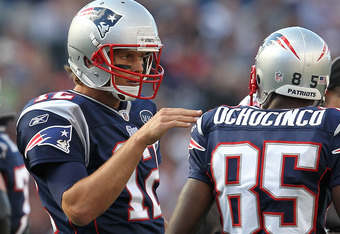 Jim Rogash/Getty Images
For a showboat like Johnson, the only jacket befitting his play is a straight jacket. He's crazy to think that he still has the skills to perform at the NFL level.
Just ask Darell Revis, who shut down the loudmouth receiver in a personal battle during Cincinnati's fluke trip to the 2009-10 NFL postseason. Surely enough, after a regular season finale of little importance, Ocho over-inflated himself.  In the critical playoff affair, like other important games during his tenure in Ohio, he was eliminated from the game, snagging two passes for a measly 28 yards.
Two catches. 28 yards. Does that stat line sound familiar, Bostonians?
Seeing his anemic skills on display in New England is gratifying for those who have always known one things about Chad. In the big showdown, he was a major showoff. In the biggest showdown, he was a complete blow-off.
For the energy he brought to NFL football, his major accomplishments were few and his dynamic play was limited to a narrow window of time.  In this offseason, fans and experts alike viewed the acquisition as an experiment for the football scientist that is Bill Belichick.
Now, it's time for Belichick to get the hype in check. Like myself and everyone else who has seen his play in recent seasons, the hype and hysteria of his dance and verbal stance no longer clouds the reality of his deteriorating skills.
Should the Patriots keep O-cho? O-no.