4 Teams That Need to Look Ahead to the 2012 Draft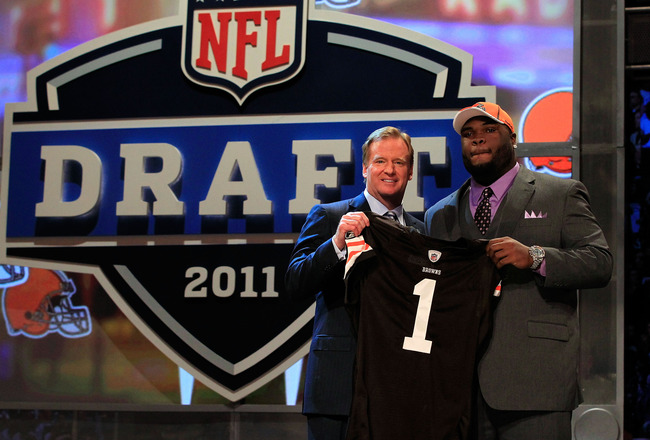 Chris Trotman/Getty Images
The 2011 draft picks are only three weeks into their new year. It's time to start evaluating the teams as a whole. After four preseason games and three regular season performances, we can get a good idea of who is going to be coming out ahead this year, and who is going to be back to the drawing board for a fresh start next year.
It's never too early to start planning ahead for the 2012 draft. Which teams are likely doing just that?
Indianapolis Colts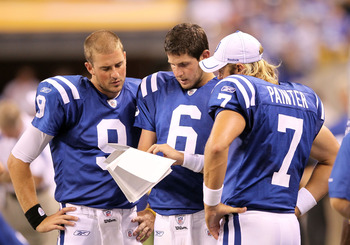 Curtis Painter
Andy Lyons/Getty Images
The loss of Indianapolis Colts' quarterback Peyton Manning has been in the forefront of our minds as we have watched them struggle through the beginning of the season. Currently out for what may be the entire season after his third neck surgery in the last 19 months, team owner Jim Irsay should be putting some thought into the next draft.
Although the Colts brought Kerry Collins out of retirement to spearhead the starting position, the team still has an 0-3 start for the year. Curtis Painter showed some promise in last week's game against the Pittsburgh Steelers after he took over in the fourth quarter, but there are reasons why they didn't put him on the starting lineup.
According to ESPN online, his QB rating this year is only 62.7, up immensely from his career rating of 23.8. Compare that to Manning's 94.9 for his career, Painter isn't exactly the Favre to Rodgers trade up their hoping for. No matter what the outcome of Manning's surgery and future, the Colt's roster is showing up meager. It wouldn't hurt for them to start paying attention to Andrew Luck out of Stanford or Robert Griffin III from Baylor.
Cincinnati Bengals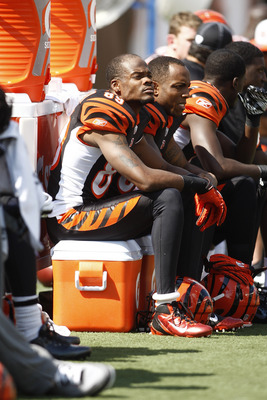 John Grieshop/Getty Images
The Bengals started out the year with a win against the Cleveland Browns. Good for them. But what else is good? Not really a whole lot.
Look at some daytime television drama that unfolded earlier in the week with WR Jerome Simpson and you can see that this player will be scrutinized to see if his benefits outweigh his cons. Potential intent to deliver charges are no laughing matter in this game.The Green Bay Packers choice to release Brandon Underwood was influenced by off-field behavior, so this receiver may be in jeopardy as well.
Cedric Benson and Adam "Pac-man" Jones were subject to league discipline as well for arrests made during the lockout which violated the league's conduct policy.
The continuous headlines made by this team, combined with the unimpressive field play, leaves me wondering when this team is going to get serious about the game they are involved in. Maybe it will begin with some selections in 2012, like South Carolina's WR Ashlon Jeffery, which might actually benefit the outlook of the team.
Chicago Bears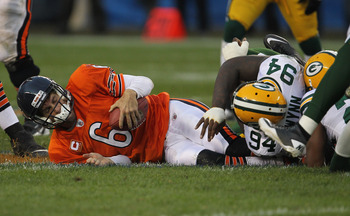 Jonathan Daniel/Getty Images
I'm about ready to suit up and block for Jay Cutler myself here soon. If the Chicago Bears don't get a more talented fullback on their roster, I may actually begin to worry about this players safety at the rate he's being sacked.
To hold off the blitz, Chicago needs to look at some alternative tackle and guards. Riley Reiff, T, out of Iowa may be a good contendor for the job.
Take also into consideration that the Bears are one of the only two teams in the NFL without a rushing TD so far. This could certainly be explained by their meager 17 rushing attempts per game, the lowest in the whole NFL. Although their defense isn't the greatest right now either, I feel Chicago needs to focus more on the offensive line when they hash out next year's improvements.
Carolina Panthers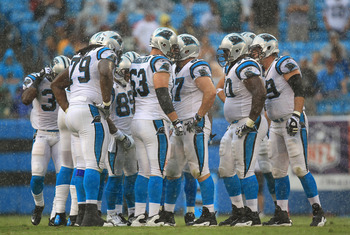 Streeter Lecka/Getty Images
The Carolina Panthers need to make some selective choices in the upcoming draft as well, but not for the same reasons as the others I discussed. With the debut of Cam Newton as a potentially elite quarterback, this team could go far with a few careful trades and draft picks.
With the canon of an arm this kid has, a strengthened depth chart of running backs and wide receivers and you've got some play makers on your hands. So far RB DeAngelo Williams isn't living up to the potential that we expected. WR Steve Smith is doing great, but three strings deep into the chart and we see he is the only one out of the six wide receivers and running backs that has even put up points this year.
Compare that to a team like Green Bay who has Greg Jennings and Donald Driver throwing up points left and right and we can see an area which should be mimicked.
Lamar Miller, RB, out of Miami, Trent Richardson, RB, from Alabama and Justin Blackmore, WR, Oklahoma State are a few people they may potentially be scouting.
Sky's the Limit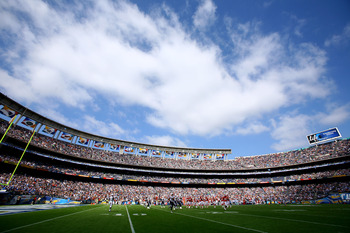 Stephen Dunn/Getty Images
A lot changes in a year; players emerge, injuries happen. We have only just debuted with the 2011 season. However, any strong team knows that, like chess, this game needs to be played out one move ahead of the others.
It will be interesting to see how this year plays out, as for now, the sky is the limit with potential game changers.
Keep Reading