Rob Carr/Getty Images
September 24, 2011
Things finally seemed to be working out for Beanie Wells. Tim Hightower, the running back that had been blocking him for so long, moved to the Washington Redskins. Wells was going to be the every-down running back.
In the first two weeks of the season, things went pretty well for Wells, who rushed for a combined 183 yards and two touchdowns.
Now, things have hit the skids. Wells is suffering from a hamstring injury that has his status for Sunday's game in question.
The injury isn't serious, but as we all know, hamstring injuries can be nagging. They can linger on for much of the season and bother a player at any given moment.
Just ask Texans running back Arian Foster.
He has been dealing with a hamstring strain since early in training camp. Every time he goes back out to test it, he says it tightens up again.
UPDATE: Sunday, Sept. 25 at 2:01 p.m. EST
According to Charlie Casserly, it doesn't look good for Beanie Wells. Casserly doesn't think Wells will be suiting up today.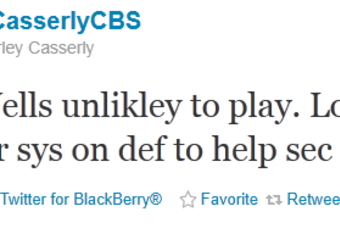 UPDATE: Saturday, Sept. 24 at 7:53 p.m. EST
We now have more confirmation that Wells will indeed give it a go this Sunday. Bob McManaman of the Arizona Republic tweeted the following about Wells and his injury after talking to him after practice Friday:
I talked to Beanie Wells well after practice today and he fully expects to play Sunday at Seattle despite hamstring tightness he felt Thurs
UPDATE: Saturday, Sept. 24 at 12:44 p.m. EST
According to the Tucson Citizen, Cardinals head coach Ken Whisenhunt is cautiously optimistic about his running back, saying, "Beanie's doing all right. We'll see how he progresses and see how he is Sunday."
In the same story, Wells himself all but said he would be ready to go Sunday, claiming, "It feels good. Just to be healthy and being out there with my teammates going to war, I love it."
Like the new article format? Send us feedback!