Los Angeles Angels of Anaheim: Mike Scioscia's Blunder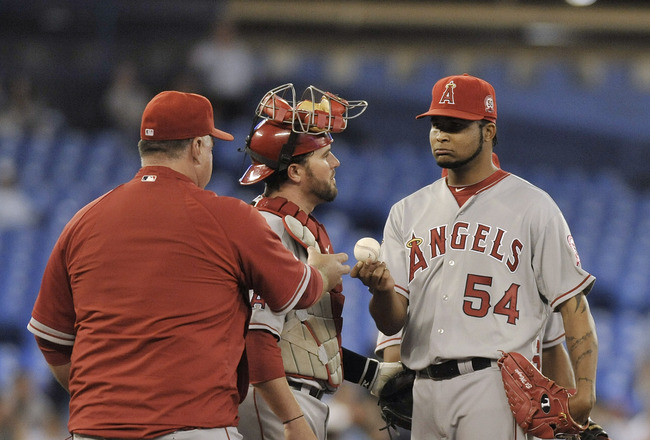 Decisions, Decisions!
Brad White/Getty Images
Mike Scioscia should feel obligated to give an apology to his team, its fans and even to all diehard baseball fans who are being deprived of what could and should have been a marvelous, season-ending, three-game showdown for the American League's West Division Championship next week.
You are cordially invited to read on and experience Abacus By the Numbers.
At First Glance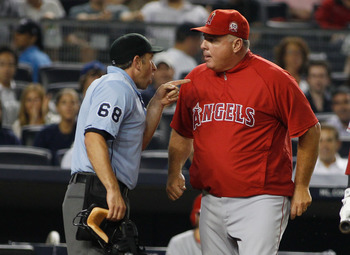 And another thing...
Mike Stobe/Getty Images
The geographically challenged Los Angeles Angels of Anaheim seemed like a team on the rise a month ago, and then manager Mike Scioscia got in the way. In a move born of "comic-book light-bulb" genius or plain old panic, the skipper chose to start aces Jered Weaver and Ervin Santana on short rest in the 132nd and 133rd games of the regular season on Aug. 27 and 28.
Those two games against the Rangers had been on the schedule all year, and a competent manager would have been tweaking his rotation a week or so prior to the game, to ensure that his studs would be in top form for a big series. Scioscia's method, more than anything else, told the other starting pitchers that they were not good enough.
Since then, the Angels have gone a so-so 13-10 and dropped two games—three in the loss column—in the standings to the Rangers.
And to add injury to insult, Dan Haren got hit with a line drive in Wednesday night's game in Toronto.
The Angels' playoff hopes may yet have mathematical breath, but the manager gave them no real chance about a month ago.
Ball Two: Just a Bit Outside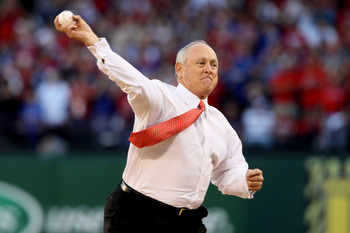 Lookos like a Brushback!
Elsa/Getty Images
It's a shame we're being deprived of a knockdown, drag-out fight between these two practitioners of the get-a-good-day's-work-out-of-your-starting-pitcher old school of thought that has come back into vogue.
Rangers owner Nolan Ryan has been nothing if not outspoken regarding the expectations for his starting rotation, but the Angels have been more diligent than even the Rangers.
Through 150 games, the Angels starters had a dozen complete games and were tied for second in the American League and third in MLB. Even more impressively, in 73 of those 150 games, the Angels got at least seven innings from the guy who threw their first pitch—a total exceeded only by the Phillies (84) and Tampa Bay (75).
Texas, even without the redoubtable Lee at the top of its rotation, has held its own in these endurance categories, boasting 10 complete games—one notch behind the Angels—while 40 percent of its first 150 starting efforts lasted for at least 21 outs.
Thanks to Skip Scioscia, all we'll learn next week might be how the Rangers' Ron Washington plans to set up his playoff rotation.
Strike Three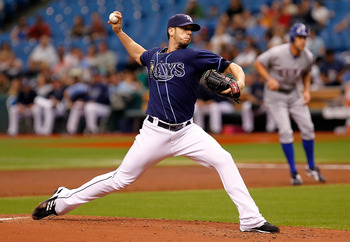 Big -Game James
J. Meric/Getty Images
The Chicago Cubs' Matt Garza threw MLB's 167th complete game of the 2011 season Wednesday afternoon at Wrigley, one of 82 guys to accomplish the feat this year.
2011 will produce the second-highest total of complete games in the last eight years, surpassed only by 2005's 189, and the fourth consecutive season to see an increase.
While the rate of complete games—just over one per day over the season's first four months—has slackened slightly since the arrival of the dog days of August, Nolan Ryan, Bob Gibson and the pitcher's wing of Heaven's Hall of Fame must be pleased by this development.
Here's the by-month and by-league breakdown, through games of Wed. Sept. 21:
| | | | |
| --- | --- | --- | --- |
| | AL | NL | Total |
| April | 12 | 14 | 26 |
| May | 22 | 16 | 38 |
| June | 18 | 16 | 34 |
| July | 18 | 13 | 31 |
| August | 14 | 8 | 22 |
| September | 7 | 9 | 16 |
| | 91 | 76 | 167 |
The top complete gamers are James Shields (11), Roy Halladay (eight), Cliff Lee (six, all shutouts) and Felix Hernandez and Clayton Kershaw (five apiece).
Look at it this way—when a pitcher throws a complete game, at least the manager can't get in his way, can he?
Keep Reading

Los Angeles Angels: Like this team?