Pittsburgh Steelers: Keys to Earn Sunday Night Win over the Indianapolis Colts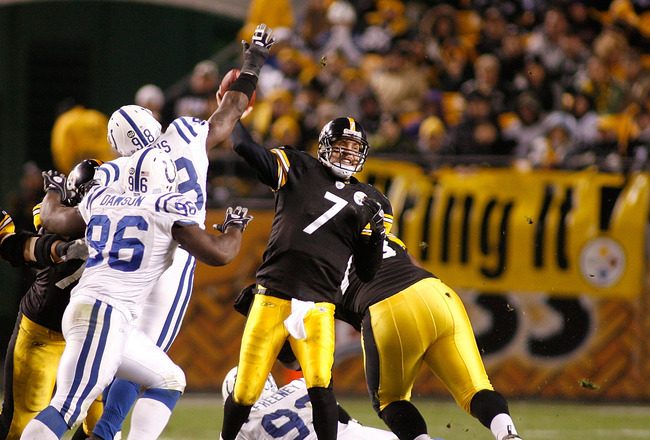 Rick Stewart/Getty Images
Pittsburgh opens its prime time schedule Sunday night when they travel to Indianapolis to face the Colts.
Prior to the start of the season, this game appeared to be a matchup between two potential AFC favorites.
Instead, the injury to Peyton Manning puts the Steelers as huge favorites this weekend. But this is the NFL, and anything can happen.
Mike Tomlin has coached the Steelers to a 5-4 record on Sunday Night Football, including a 4-3 record on the road.
Even with Manning absent, the Colts will present a challenge for the Steelers. Pittsburgh has gone on the road for Sunday night games before and have looked completely unprepared. They cannot allow this to happen this week.
Even in their shutout victory over the Seattle Seahawks last week, Pittsburgh did not look particularly crisp.
Dwight Freeney and Robert Mathis will lead a feisty Colts defense against a Steelers offense which is still trying to find its rhythm. They will be aided by what figures to be a rowdy Lucas Oil Stadium, though many Steelers fans are expected to be in attendance.
The eyes of the nation will be on the Steelers Sunday night, and they will want to show that they are still contenders in the AFC and improve their record to 2-1.
Contain the Edge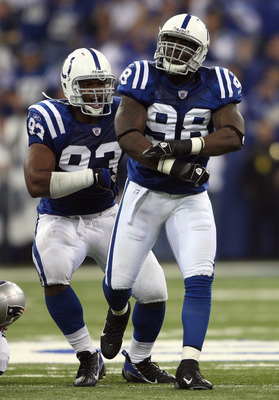 Andy Lyons/Getty Images
Jonathan Scott and Marcus Gilbert will have their hands full this week against two of the best pass rushers in the league.
Freeney and Mathis have combined for two sacks so far this season, and together, have combined for 66 sacks over the past three seasons.
Neither Scott nor Gilbert has been particularly good against speed rushers, and the Colts will have a big edge on the outside of the line.
Expect the Steelers to provide tight end help on the outside and utilize a running game to wear out the undersized defensive ends.
Pittsburgh cannot let the Colts gain momentum and get the crowd into the game. The noise could completely disrupt the flow of the Steelers offense and lead to a sack fest.
Bruce Arians has a plethora of weapons to get the ball out of Ben Roethlisberger's hands quick as well.
If they expect to send the receivers on medium and deep routes all game, Roethlisberger will be running for his life.
The less the names Freeney and Mathis are brought up, the better it is for Pittsburgh.
Defend Dallas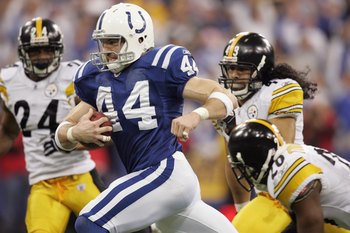 Andy Lyons/Getty Images
Ike Taylor will likely shadow Reggie Wayne throughout the course of the game, so expect his production to be limited.
That leaves Dallas Clark as the Colts' most dangerous option.
Pittsburgh has recently had trouble stopping tight ends in the passing game, and Clark is one of the best in the league.
Clark is a safe option for Kerry Collins and will likely be one of their main targets.
Lawrence Timmons will not be able to run with Clark all game, so expect Troy Polamalu to sit back in coverage and take on the responsibility of Clark.
While this will limit Polamalu in other areas of the defense, it will also prevent Clark from helping the Colts move the chains.
Wallace Time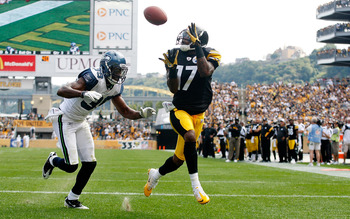 Jared Wickerham/Getty Images
Mike Wallace has shown over the first two weeks of the season that he is more than just a deep threat.
Still averaging an impressive 14.6 yards per reception, Wallace has diversified his game and has been effective all over the field.
He has 16 receptions for 233 yards and a touchdown and wants to add to these totals this week.
"I got to pick it up," Wallace said about his goal of reaching 2,000 yards this season. "I don't worry about that. Before the season, it's fun to talk about that stuff. But, once the season starts, I just want to make plays and win."
Wallace has been making plays, and the Steelers got in the win column last week when he made his first touchdown reception on a fade pass by Roethlisberger.
He has a chance to make more big plays this week against a favorable matchup this week.
Spotlight Player: Offense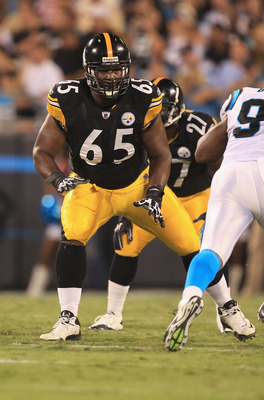 Streeter Lecka/Getty Images
Marcus Gilbert got his first action last week and played fairly well. The test will be even bigger this week.
Gilbert has to go against Mathis and will have to battle crowd noise as well.
Though he is not protecting Roethlisberger's blind side, he does have his hands full this week.
Spotlight Player: Defense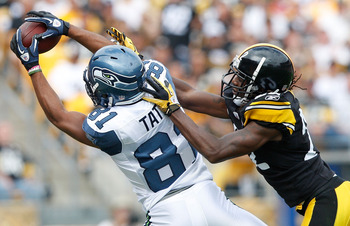 Jared Wickerham/Getty Images
William Gay is starting in place of Bryant McFadden this week.
He will likely see a lot of Pierre Garcon, who has been relatively quiet this year, with only six receptions.
Gay is criticized on a weekly basis regardless of his play, but this week, he will have to be at his best, as the Steelers cannot afford to give the Colts any hope while playing at home.
He does not physically match up well against speed or strength and will instead have to use his smarts to succeed this week.
Game Notes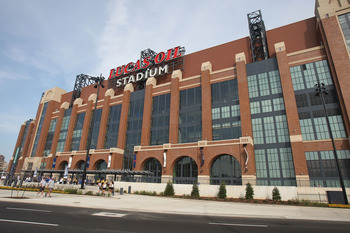 Jonathan Daniel/Getty Images
Pittsburgh has won 14 of 20 games against Indianapolis.
The Colts won the last regular season meeting 24-20 on November 9, 2008 in Pittsburgh.
Mike Tomlin lost his only game coached against Indianapolis.
Pittsburgh is only 15-16 all-time on Sunday Night Football, including a 5-4 record under Tomlin.
Hines Ward is 33 receiving yards to moving into 20th on the all-time list.
Follow me on Twitter @ChrisG_FC
Keep Reading

Pittsburgh Steelers: Like this team?