Washington Redskins: Why Not?
September 22, 2011
Rob Carr/Getty Images
Washington Redskins: Why Not?
Why not us? Why not the Washington Redskins? Why not the laughing stock of the NFL over the past decade?  Why not the gloriously underachieved quarterback Rex Grossman? Why not the head coach whose Super Bowls victories have been majorly credited to John Elway?
Before you read any further, don't have this response: "Oh typical Redskins fan, they win two consecutive games and they think this is the second coming of the glory days." This is not another bias fan-friendly column that is casting my Pro Bowl vote for Rex Grossman and I have not already purchased a number 25 Tim Hightower jersey. Have I been incredibly surprised with the start of the season? Yes. Do I feel safe saying that this team is a playoff contender? No, not yet.
For those that don't know me, I am an extreme pessimist. I am a glass half-empty guy who has repeatedly been heartbroken by my beloved Redskins and other DC teams for that matter. I will admit, after the long touchdown reception by Larry Fitzgerald, I immediately proclaimed that the game is over. While that it is an unrealistic prediction with more than 11 minutes of the fourth quarter left, can you blame me? Nine times out of 10 that type of game would have resulted in a Redskins loss in previous regimes.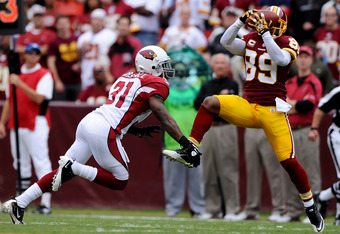 Patrick Smith/Getty Images
Steve Spurrier would have all of his receivers run go routes without any protection and Rex Grossman would have fumbled after another vicious sack. (Poor Patrick Ramsey) Joe Gibbs would have kicked a field goal on fourth and three instead of going for it and with the production of Shaun Suisham, who knows if the kick would have gone in. As for Jim Zorn, a middle linebacker in pee wee football would be able to read his atrocious offensive game plan.
We have seen this before. There are many games in which the Skins dominate in every aspect of the contest other than the score. We have witnessed missed field goals, careless turnovers and poor refereeing, which ends in another tragic loss; leaving players, members of the media and fans in complete disarray.
The Redskins will continue their improbable start as they face the injury depleted Dallas Cowboys on Monday Night Football. If they pull off another win and start the season at 3-0, I can guarantee you that the Redskins bandwagon will start to fill up.
While it is vastly premature to predict the overall outcome of this year's team, and we have certainly been teased before, there seems to be something different about this organization. The two longest tenured Redskins, Mike Sellers and Chris Cooley, appear to not have the same prominent role they once held for years, yet there is no complaining or confrontation. Instead of taking Monday off after a victory against the Giants, the players elected to go to Redskin Park that day and review the film.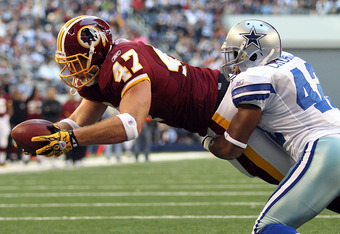 Ronald Martinez/Getty Images
There is a level of dedication, high-character and cohesion that Mike Shanahan has bought his players into. After throwing two costly interceptions, a blocked field goal and a wind-sucking touchdown by Larry Fitzgerald, all would have made previous Redskin campaigns crumble. Nonetheless, they continued to show the fight that only winning teams represent.
What separates a winning team from a losing team is that good teams find ways to win despite all obstacles thrown at them throughout a season. Last year's champion, the Green Bay Packers, had some of the biggest injury hurdles in the entire league, yet they came out on top. Are the Redskins a winning team? It is way too early to distinguish, but positive strides have definitely been made.
A close of friend mine and I were speaking about Monday's upcoming game at Dallas and how it appears that the Cowboys will limp into the game with injuries at numerous positions, which will be in the Redskins favor. My friend later claimed "How are we getting lucky like this?" "It doesn't feel right." I'll tell you why: because everyone that associates themselves with the Washington Redskins deserves it.  The players are due, the coaches and other members of the organization (yes, even you Daniel Snyder) and the fans are owed. It has been almost 20 years since the Redskins were last relevant and it's about damn time for a change.
The beauty of sport is that it's an escape.  It is an entertaining event that people of all ages, races and backgrounds can enjoy. I think many Redskins fans have forgotten that component (myself included). So why not Washington Redskins? Why not show yourselves and show your fans what the key element of sports is? If so, we'll be there every step of the way.