Rejuvenated Detroit: Lions and Tigers And...Playoffs? Oh My
September 22, 2011
Rick Stewart/Getty Images
Title town.  It's not exactly synonymous with Detroit, is it?  Well, once upon a time it was.  The thing with stories beginning with the words "Once upon a time" is they usually signal a fairy tale.  Events that occurred a long time ago, in a place far, far away. 
Well, how's 76 years?  Is that long enough for you?  We, as Detroit fans, are not getting many last words in when we declare, "Yeah!  Well back in 1935 the Lions and Tigers won it all!"  1935, what a year, good thing I know so many people who can vividly tell me about Detroit sports back then. Sadly, that is the last time both the Lions and Tigers made the playoffs in the same calendar year.
Despite decades of mediocrity in sports not played on skates, Detroit has long been a passionate sports city.  You'd be hard pressed to find a more loyal fanbase than those who cheer for Detroit teams.  Being an avid Detroit fan hasn't always been easy; not for the Tigers, and certainly not for the Lions. 
I was always proud to be a fan of the Lions and Tigers, you never saw me putting a brown bag over my head.  Not in 2003 when the Tigers went 43-119, and not even in 2008 when the Lions...um, what happened in 2008 stays in 2008!  No matter how dire the situation, I (as well as thousands of others) have remained true. 
So when does all of the perseverance pay off?
Something peculiar has been taking place the past couple of months.  Something wonderful.  The Lions thus far have lived up to their preseason hype, meanwhile the Tigers appear dominate.  You can tune into SportsCenter, hear analysts talking about either organization, and feel...good.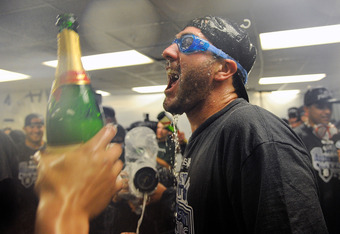 Thearon W. Henderson/Getty Images
If you look atop the AL Central standings, there is an "x" next to the Tigers; "x" for clenched division.  The NFC North standings (granted we're only two games into the season) show the Lions are tied with the Super Bowl defending Packers for 1st place.  Rub your eyes if you need to, but the standings are accurate.
No more curses (Bobby Layne), no more crooks (Tatum Bell), no more sports anchors' disgusted looks.  The Lions are a legitimately good football team.  They might not be Super Bowl contenders this year, but they are a playoff team, have no qualms about it—Detroit is headed to the postseason.
If Stafford can stay healthy (God, I'm sick of having to write/hear that) he appears to be a superstar in the making.  He has the moxie, he has the confidence of his teammates, and he has the hopes of Detroit city. 
No. 9's odds of staying healthy increase ten fold when you consider Ndamokung Suh plays on the same team as him.  And worse case scenario, just throw it high and let Johnson make a play!  Currently Stafford is tied for the league lead in TD passes with 7, and ranked 4th in QBR with a rating of 112.  Tom Brady, Aaron Rodgers, Drew Brees, then Matthew Stafford.  How nice does that sound Lions fans?
Justin Verlander is on the verge of forcing dictionary processors to add another definition for the word "ace" accompanied by the words "refererence: Justin Verlander."  The man (as in he's the man) is 24-5 on the season with a 2.29 ERA and 244 strikeouts.  He's thrown four complete games, one a no-no.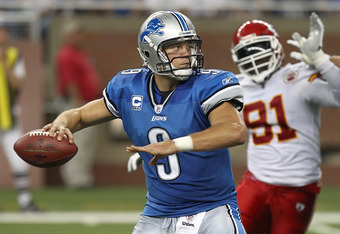 Dave Reginek/Getty Images
Verlander has been goosebumps good for the entirety of the 2011 regular season.  To Detroit fans maybe the biggest example of how valuable Verlander has become, isn't that he's a pitcher in serious talks about winning the MVP (the Cy Young is a lock); rather that no one even talks about Cabrera's offseason alcohol-related problems anymore!  When you hear Detroit Tigers, you think Justin Verlander.  The Tigers have a recipe for a World Series trophy—power pitching culminated with bats getting hot at the right time.
Both rosters have an extremely good front office and coaching staff. The Lions and Tigers have GMs and Coaches who have refreshed their respective rosters. 
Love Leyland or tolerate him, he wants to be in Detroit and he gets the city. Anyone catch how emotional he was the other night when talking about knowing what this division title means to the city of Detroit?  Keep him as long as he wants to continue coaching.  Dave Dombrowski is all about crafty transactions—Cabrera from Florida, Jhonny Peralta from Cleveland, signing Victor Martinez last December, and extending Verlander's deal last February.  The man is undoubtedly a talented chess player. 
For the Lions, everyone loves Schwartz's Rock 'n Roll mentality, who wouldn't?  As long as Jim Schwartz is the head coach in Detroit, the defensive line is going to be a strength and the players will enjoy coming to work.  He's the type of guy who elicits a vibe the younger players feed off of.  Simultaneously, if Dombrowski is crafty, Mayhew is downright shrewd.  He's made too many ingenious moves to list since taking over the Lions front office in 2008.  The only mistake that stands out in my mind is drafting Derrick Williams.
An abundance has gone wrong and little has gone right for the Lions and Tigers since 1935.  The men running the teams now have their trains back on track.
Once upon a time, in a year far, far away the city of Detroit watched as its Tigers and Lions both made the postseason in the same year.  It's 2011 now, and both teams appear to be on a playoff odyssey.  Seventy-six years since Detroit football and baseball each had a successful season. 
Doesn't Detroit deserve a new fairy tale?
—