Packers vs. Bears Week 3: 5 Keys To NFC Championship Game Rematch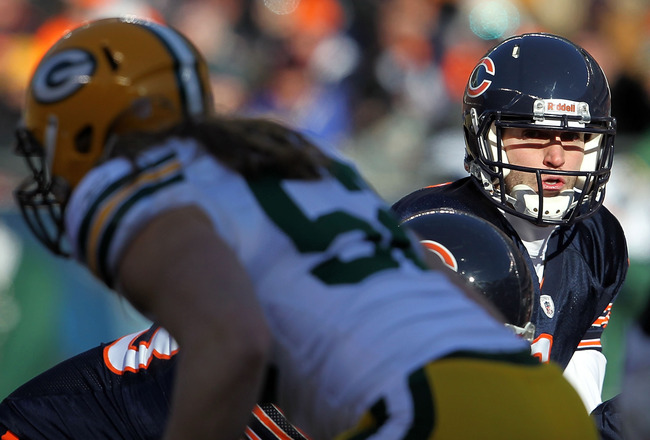 Jamie Squire/Getty Images
Are you ready football fans? The most exciting game of the season, so far, is on our doorsteps as the oldest rivalry in football embodies its first duel of 2011. The Super Bowl Champion Green Bay Packers will take on their arch-rival NFC North Champion Chicago Bears in the Windy City this Sunday afternoon.
Both teams are off to a relatively good start to their respective 2011 campaigns, which makes this match-up all that much more exciting.
The Packers will go into the game with a 2-0 record while the Bears are 1-1, but this doesn't mean that, at this point, one is clearly cut above the other. This early in the season, the game is completely up for grabs.
With all of the talent on both rosters, this victory will go to whomever wants it more.
Here are 5 keys to the NFC Championship Rematch.
Defense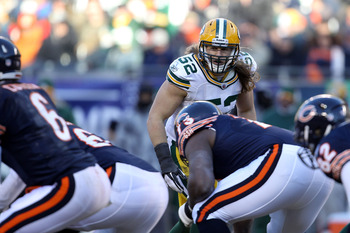 Jonathan Daniel/Getty Images
Arguably the two best attributes of these two teams are their respective defenses.
Two of the Bears' players - Julius Peppers and Brian Urlacher - could be some of the best defensive players in the history of the game, while the Pack boasts a starting defense full of Pro-Bowlers and promising young talent.
Chicago's defense was criticized for their age at the beginning of the season, but were able to silence the non-believers by holding a heavily-favored Atlanta Falcons team to a mere 12 points.
The next week against New Orleans, however, didn't go as well. The Saints put up 30 points, and Drew Brees was able to throw for 270 yards and 3 touchdowns.
For the most part, the Bears were able to shut down the run, limiting the Saints to a 4.1 YPC average. This won't be too significant against Green Bay, however, because the Packers are a much more pass-oriented team and will likely try to expose the weak players in Chicago's secondary.
Green Bay, on the other hand, came into the season as one of the most praised defenses in the NFL and haven't proven to be the same squad we saw last season.
In their season-opener against the Saints, Green Bay's defense gave up 419 yards and 3 touchdowns to Drew Brees. Fortunately, their offense was able to produce enough to keep them ahead of the Saints, but as a whole, there wasn't much defense played in that game.
Last week against Carolina, the Packers once again gave up some pretty significant yardage, and this time to a rookie QB.
Cam Newton was able to throw for 432 yards and a touchdown. Although the Packers were able to intercept his passes 3 times, they still gave up enough yardage to allow Olindo Mare to complete 3 field goals.
The Panthers' ability to move the ball against Green Bay almost won them the game, impressive for most teams, let alone the NFL's worst team in 2010.
Though they had several take-aways against Carolina, the Packers' defense was an embarrassment to the level they usually play at.
Defense will be a huge key for both teams in this game. If both defenses can hold their opponent to under 28 points, this match-up could honestly go either way. That being said, however, it could be a deciding factor in the game given the fact that both teams have explosive players on offense that need to be accounted for.
Key Players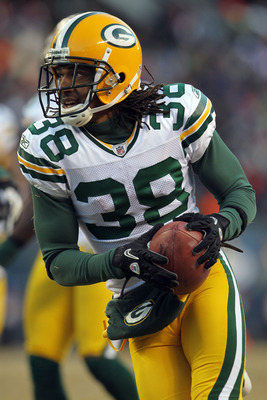 Jamie Squire/Getty Images
I think you could make the argument that any and all players on either team could be key players - given the amount of talent on both rosters.
That being said, I want to focus on one player from each team that I believe will be an "X-Factor" for their team.
Green Bay - CB Tramon Williams
In my opinion, Tramon Williams should be named playoff MVP for the Packers in 2010. The young corner heaved himself into the national spotlight as one of the best emerging defensive backs in the NFL.
Williams hurt his shoulder against New Orleans and missed the Week 2 game against Carolina. Williams presence was clearly missed because of how bad Cam Newton was able to light up Green Bay's secondary (for a while, at least). Had Williams played in the game, however, the score wouldn't have been nearly as close.
The Packer's website said that Williams was limited in practice this week but did participate. This is good news for Green Bay because now they will be able to line up Williams on the Bears' No. 1 receiver and take some pressure off of veteran Charles Woodson, who can lock-down pretty much anyone on the other side of the field.
Williams' mere participation in the game won't be enough for the Pack to win. He will have to come off his injury in a big way so that he can shed blocks and get to the ball-carrier, as Jay Cutler loves to dump the ball off to RB Matt Forte.
Williams was clearly missed against Carolina. It will be huge for the Packers to get him back in this game, but he must play well coming off an injury to ensure the win for Green Bay.
Chicago - RB Matt Forte
Like I said above, Jay Cutler loves to dump the ball off to his RB. Against New Orleans, Cutler threw 10 passes to Forte for 117 yards, a team high for the game.
Forte is, in my opinion, one of the most underrated RBs in the NFL, though he hasn't shown much on the ground yet this season.
Regardless of his production on the ground, he is statistically the Bears' most productive offensive player. He leads the team in receptions and carries this season.
That being said, there is a lot of pressure for Forte to play well against the Pack. With WR Roy Williams questionable for the game, the Bears don't have very many proven receiving targets for Cutler. This means that when the Packers' secondary shuts down these receivers, the dump-off to Forte will once again be in full-effect.
Because Forte and the Bears haven't been able to come to terms on a new contract, the two sides seem uneasy with each other. Pro Football Talk reports that Forte is starting to take the lack of progress personally and that he believes that "Someone doesn't believe that [he is] an elite running back."
This game may be Forte's chance to really prove his worth to the Bears. He is already the go-to-guy for Cutler, so there's no reason he can't be that guy to the whole organization.
Either way, Forte's performance will have a large impact on the Bears' production offensively. If he doesn't show up to play, honestly, the Bears stand no chance.
Key Match-Ups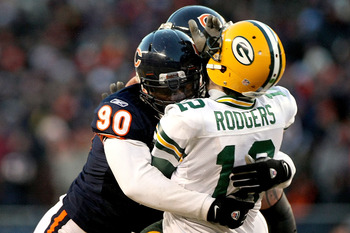 Doug Pensinger/Getty Images
Just like the impact of "X-Factor" players for both teams, favorable match-ups (or unfavorable ones, depending on your perspective) could be a deciding factor for either team.
With teams like these, you could sit here and analyze pretty much any match-up in the game and call it "important," but one for each team stands out to me.
Julius Peppers vs. Chad Clifton
Julius Peppers is probably the most terrifying defensive player in the NFL. No matter what tackle he is lining-up across from, it's a mismatch.
Green Bay's left tackle Chad Clifton does an adequate job protecting Aaron Rodgers' blind side (most of the time), but this match-up could be a landslide in Peppers' favor as the LT nurses a knee injury that could end up being a huge factor in the game.
According to the Packers' website, Clifton was limited in practice on Wednesday and was a full participant on Thursday. Though he is a "go" for the game, this knee injury could end up slowing him down against a speedy and powerful defender.
If this injury nags Clifton at all, Rodgers could end up on his face a lot, and that makes it difficult to put the ball in the end zone.
In the 2010 NFC Championship game, Peppers was limited to a mere two tackles and no sacks against this Packers offensive line. Peppers switched back and forth from the right and left end positions to try to exploit mismatches, but in the end, he wasn't much of a factor in the game.
This cannot be the case for this game if the Bears have any hope of slowing down Rodgers.
By leaving Peppers to tire out Clifton, he may be able to get into the backfield and blow up some plays. Whatever perspective you are looking from, this match-up will be very important to watch.
Charles Woodson and Tramon Williams vs Roy Williams, Johnny Knox, and Devin Hester
As I touched on earlier, Tramon Williams will have a huge impact on this game. He and Charles Woodson make up arguably the best cornerback tandem in the NFC.
The Bears receivers, on the other hand, aren't fantastic. You know your passing game is in trouble when your team's leading receiver is your RB, and that's with 15 receptions.
Roy Williams might not be available for the game, and even if he is, he probably won't be very effective against a defensive secondary with this level of talent.
With QB Jay Cutler unsure of his offensive line, it will be up to this group of unproven receivers to get open on short and intermediate routes so that the Bears can get some sort of offensive momentum.
If the Bears' offense becomes one-dimensional, this game will be over in a hurry. Williams and Woodson don't necessarily have their work cut out for them, from my perspective, but they will have to limit the production of these receivers so that their pass-rush can put Jay Cutler on the sidelines.
Like I said above, whatever perspective you're looking from, this match-up could decide the game.
Bottom Line for Chicago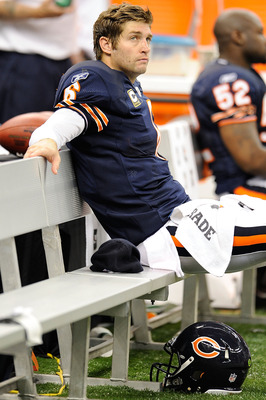 Stacy Revere/Getty Images
When it comes down to it, this game will be decided by whether or not Chicago's offense can produce.
Nobody will question Aaron Rodgers' ability to put points on the board, but Jay Cutler has a habit of throwing his teammates under the bus when his team can't produce.
In the link I posted on the previous slide, Jay Cutler was reported as essentially doubting the offensive line and whether or not their play would allow him to stay healthy being the most-sacked QB in the NFL. You can't really blame the guy for his doubts because he is on pace to be sacked 88 times this season, which would be the most in NFL history for one season.
That being said, Cutler still has a responsibility as the emotional leader of his team. If he has doubts about his teammates, they do not need to be made public.
For Chicago, this game will boil down to Cutler's leadership ability. If he is able to keep confidence in his teammates and keep the confidence of his teammates, they will be able to emotionally stay in the game, which is essential for staying physically in the game.
If he can't stay on the same page with his teammates, the Bears might not lose, they will lose - end of story.
Bottom Line for Green Bay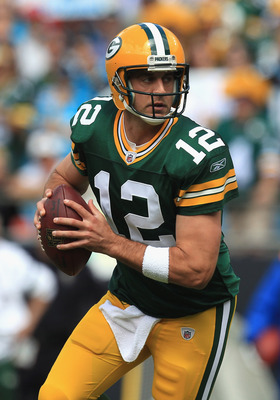 Streeter Lecka/Getty Images
In my opinion, Aaron Rodgers is not the best QB in the NFL. That honor belongs to Tom Brady, but Rodgers is certainly in the top five, if not No. 2 himself. (And yes Eli Manning, that does mean he's better than you)
Rodgers is certainly an elite QB, but he was off to a bit of a slow start against Carolina. That slow start gave the Packers almost no sense of momentum until Charles Woodson started picking the ball off left and right.
The Packers were able to walk away with the win over New Orleans because the momentum he created offensively vastly overpowered the Saints' momentum.
Though both games had the same outcome, Rodgers has to get the ball rolling right out of the gates. If he allows Chicago to have the same momentum he allowed to the Panthers, this game might be out of reach for the Packers.
Rodgers needs to be able to pick up the blitz and move the ball outside of the pocket, if necessary. These are both things he is perfectly capable of doing, but he can't afford to have another slow start in this game.
Final prediction: Green Bay 35, Chicago 17
Thanks for reading.
Follow me on Twitter @MCNick92
Keep Reading