Indianapolis Colts: Why Colts Fans Should Start Rooting Against Their Team
September 21, 2011
Andy Lyons/Getty Images
There's a fine line between being a fair-weather fan and simply recognizing your favorite team's shortcomings, and this season, for the first time in ages, Colts fans are being forced to walk it.
An entire generation of Colts fans has grown up expecting near perfection from their team week after week, and now that those days are over (or at least temporarily interrupted), the fan base in Indianapolis today feels just as lost as the team they (used to) love so much. 
How will they respond?
Right now the whole thing just seems like a big joke, and more than anything it's really just given them an opportunity to appreciate how good they've had it all these years.  But as this potentially dreadful season continues to unfold and the embarrassing losses start piling up, it's tough to imagine the tone in Indianapolis remaining so indifferently nostalgic.
Anger is already starting to loom in the Circle City.  The frustration is palpable.  The future, for the first time in a very long time, is hazy, unpredictable, and in many ways, downright scary.
And the truth is, no matter how devoted a follower one may be, the only people rooting for the Colts at this point should be opposing fan bases that want the team's streak of dominance to end for good this season.
Here's why:
For the fair-weather fan, this is a no-brainer.
Any fair-weather fan has already lost interest in this year's team anyway, so it's not like he or she cares what happens from this point on, and the fastest way for the Colts to return to the glory days a fair-weather fan basks in would be to secure the No. 1 draft pick next season, use it on Andrew Luck, and groom the young standout as Peyton Manning's heir.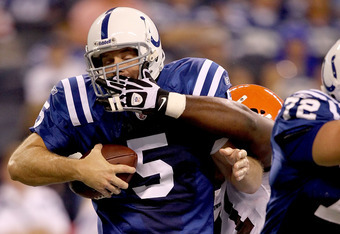 Matthew Stockman/Getty Images
We now know with absolute certainty, after all, that in its current form, excellent quarterback play is necessary for Indianapolis to succeed.
Kerry Collins has gone out of his way to prove that to everyone so far this season, bumbling around the backfield like the Wizard of Oz scarecrow for two straight games now and constantly reminding everyone just how effortless Peyton Manning used to make every little thing appear along the way, and even though there are certainly other issues this team also needs to address, unless they have a talented signal caller lining up behind center for them every week, the Colts aren't going to be much of a threat to anyone.
Obviously there's no way to know yet if Luck will develop into even an adequate professional quarterback or not, but he has already established himself as the most likely franchise prospect of next year's draft class, the comparisons he's drawn to Peyton Manning are accurate and justified (at this insanely early stage in his career, at least), and considering the team's obvious long-term need at the position, the opportunity to get a player like him now, with an all-time great potentially available to mentor him and an offense already designed with someone like him in mind, is utterly tremendous.
Plus, unless the college scene completely shifts between now and April, we already know it's going to take a very high pick in order to land this guy, so if the Colts have to excel for you to care about them, it'd be in your own interest just as much as it is the Colts' for this team to lose every single game this year.
The crazy part, however, is that even if you aren't quite that shallow and support the Colts no matter what their record is, or if you think it's unethical for a team to throw a season just to land a high draft pick, in either case you still shouldn't be rooting for the Colts this year, and for different reasons altogether.
Loyal Colts fans shouldn't root for Indy this year out of protest for the severe mismanagement it took to assemble a team this bad.
Obviously it comes as no surprise that this team is awful without its star quarterback leading it.  Anybody could have seen that coming.
But does a single injured player really excuse the Colts' pathetic performance this season?
Every NFL team suffers injuries, and the Colts know this just as well as anyone.  How could they be so unprepared for what would happen if Manning were ever to go down, even if he is an Iron Man?  The guy just underwent his third surgery in three years this past May at the age of 35 for crying out loud, and the Colts didn't even try putting together a backup plan until a few weeks before the season began.
Then, when they finally did go out and pursue a replacement, this is the guy they settled on? Scary Collins? The 38-year-old Just for Men model who so far is averaging about $200,000 for every fumble he produces?  Are these guys trying to lose?
This team never had a chance this season and no Colts fan should overlook Indy's failure to recognize that a long, long time ago.
No good team lives or dies on the performance of a single player, not even one as skilled as Peyton Manning.
When Tom Brady went down in the first quarter of the first game in 2008, the Patriots took the blow in stride and still won 11 games that year.  When Ben Roethlisberger was suspended for the first four games of last season, his team went 3-1 without him there then rode the momentum they'd built up all the way to the Super Bowl after he returned.  Hell, even the '72 Dolphins played 10 of 17 games without their starting quarterback, and they were undefeated Super Bowl champions!
While Manning is obviously good enough to carry a team, then, no single player on a 53-man roster should ever be expected to do so.
The Colts have relied on Manning far too much for far too long and now that he's gone and we're finally able to see behind the massive, touchdown-textured curtain that he used to provide, Indianapolis has been completely exposed as the undersized, one-dimensional, poorly-coached group of misfits we all secretly suspected they really were for the last couple of seasons now.  Without Manning, we're seeing this team's true colors for the very first time and the results are far from pretty.
Why is this team so easy to score against? Peyton Manning might have kept the defense off the field for longer spurts, but it's not like he was out there tackling running backs and swatting passes too.  Why is everyone injured so often?  How can they make no improvements in so many key areas for so long and never think it would catch up to them? Special teams? Oh they're "special" all right.  Running the ball? That's a good one.  Maybe in the other direction.  Offensive line?  Do they even have one?
This team doesn't deserve support right now.  They need some tough love.  The fans in Indianapolis have been extremely supportive of everything this team has done for a very long time but it obviously went all in on one excellent player and, at least for the time being, the plan is backfiring.  They took a gamble and lost.  They deserve to suffer the consequences.  They deserve to lose.
At this point, they should almost give Manning another MVP award just for the hell of it.
Lord knows he's earned it.