Oakland Raiders: Why Al Davis Must Step Away and Hire a GM to Run the Team
September 20, 2011
Justin Sullivan/Getty Images
Many people call me pessimistic when it comes to the Oakland Raiders. I say I am not pessimistic, just realistic.
Before the first preseason game, I went through the schedule and marked what games I thought they would win, and I came up with six. After the preseason, I was tempted to change it to four, but preseason football isn't really a good predictor of how a team will do during the regular season, so I didn't.
Of course I want the Raiders to win on Sunday against the New York Jets, and on any given Sunday, any NFL team can beat another. But I just don't see it happening this Sunday, or the following week against the Patriots.
"But the Raiders have a superior rushing game thanks to Darren McFadden and Michael Bush," many folks say. "And we have some great young receivers in Darrius Heyward-Bey, Jacoby Ford, Louis Murphy, Denarius Moore and Chaz Schilens," many are saying.
While McFadden is starting to become a real factor in the NFL, and the young receivers most likely do have a bright future, that will not win it for the Raiders on Sunday against the Jets.
Defense usually wins NFL games, and great defense usually wins Super Bowls. That is the way it is.
Yes, some games are shootouts with a lot of scoring, but defense is usually the key.
During the preseason (which shouldn't carry much weight) the Raiders defense struggled, as did the offense. I knew the offense would get on track with McFadden leading the way, and it has. But the defense continues to struggle, and without some major personnel changes it will continue to struggle.
But here lies the key to the Raiders struggles over the last few years: Personnel.
Let's face it, really good players don't want to go to Oakland, they want to go somewhere where they have a chance to win a Super Bowl.
Great coaches won't go to Oakland—they don't want to put up with the meddling of Al Davis. Think about it. In the last eight years, when a really good head coach has become available, has the idea of Oakland ever come up as a real possibility? No.
Why? Al Davis, plain and simple—no really good coach will coach for him. And without superior coaching, a team of talented young players cannot develop into a Super-Bowl-caliber team.
I'm not saying Hue Jackson isn't a good coach, but he isn't a great coach either. To be a Super-Bowl-contending team you have to have great coaching and great players. And neither wants to come to Oakland.
While we don't know the specifics of the contract negotiations between the Raiders and Nnamdi Asomugha, I would be willing to bet that even if the Raiders had been able to offer him $10 million more than the Eagles, he would have gone to the Eagles anyway.
Why? Because he wants a chance to win a Super Bowl before he retires. Can anyone really blame him for that? I can't.
The time has come for Davis to step away from the Raiders and hire a qualified GM to run this team. Someone who really knows football, not someone who used to really know football. Davis used to be a great football mind, but he is old now and very sick. He just can't be expected to be capable of running an NFL team any longer.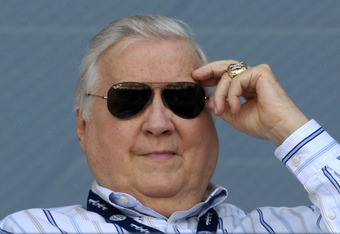 Al Messerschmidt/Getty Images
Davis needs to do what George Steinbrenner did in the last few years before he passed away: Step back and not interfere with the operations of the team. The New York Yankees won a World Series when Steinbrenner did that, and the same could happen in Oakland.
But the key to this is that Davis must totally step away. He must guarantee anyone he hires as a GM that he will not interfere in any way. Otherwise, he will never get a really good football mind to become his GM.
If that means watching games from home and not having contact with the team, so be it.
Of course, he will also have to give any potential GM a boatload of money, but I don't think that is the issue. Money Al has. But does Davis have the sense to step away and let someone qualified run his team? Or will his huge ego continue to hold the Raiders back?
That I believe is the problem.
I don't think Davis' ego will let him do that.
Until he does, his team will continue to be a young, promising team that just can't seem to get over the hump and become a young, great team.