Week 3 Fantasy Football Waiver Wire: Five Raiders to Add to Your Team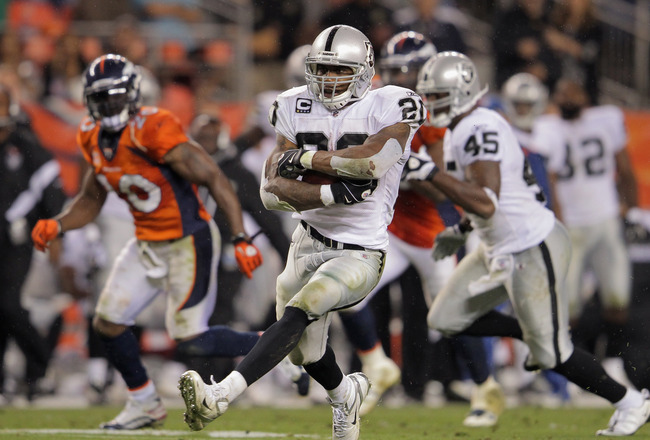 Darren McFadden, after two disappointing seasons in the league, has become one of the top running backs in the league, fantasy and otherwise.
Doug Pensinger/Getty Images
Let's take a break from analyzing last week's heart-breaking loss to the Buffalo Bills and, instead, examine a lighter subject—fantasy football. This article is for everyone to read and enjoy, not only fans of the Oakland Raiders. Ladies and gentlemen, I present you with a list of Raiders you should consider for your fantasy squad.
While players like Darren McFadden, Sebastian Janikowski, and Michael Bush (as a handcuff to McFadden) are probably already owned in your league, here are five players that are most likely languishing on your league's waiver wire, awaiting a savvy owner to scoop them up.
For years, the Oakland Raiders' roster has been a vacuous wasteland when it comes to viable fantasy options. While they have eons to go to match the fantasy productivity of teams like the Green Bay Packers and Philadelphia Eagles, the Raiders should no longer be ignored on the fantasy landscape. Let's get to the list.
5. Louis Murphy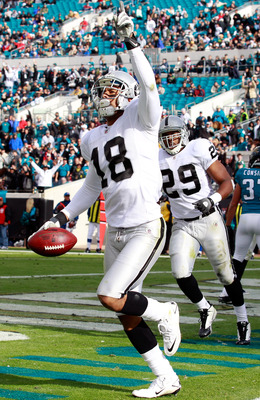 Sam Greenwood/Getty Images
One of the forgotten members of the Raiders' receiving corps, Louis Murphy can be a sneaky pickup in deeper leagues, especially ones using a PPR format. Sure, Murphy is injured right now, but he could be back as soon as this week's game against the New York Jets.
Murphy missed some time last year due to injury but was still able to amass 41 catches for 609 yards. While this is not tremendous fantasy production, he's shown that when in a pinch, he can be plugged in for a game or two where needed. Last year, he had nice games against the St. Louis Rams, Arizona Cardinals, Miami Dolphins, and Jacksonville Jaguars.
With so many options at wide receiver for the Raiders, targets are going to be split amongst the bunch, but Murphy has one of the better track records in the group. While it is true that he had better chemistry with former quarterback Bruce Gradkowski, he can be a reliable tool for Jason Campbell to utilize on underneath routes.
4. Jacoby Ford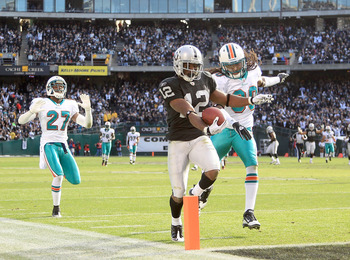 Ezra Shaw/Getty Images
Another injured Raiders' wideout, no. 4 on our list is electrifying playmaker Jacoby Ford.
Like I said, it's hard to predict production from the receivers in Oakland, but Ford probably has more upside than Murphy. To go along with his receiving stats, he is the team's kick returner and also receives various carries on reverses. While the new kickoff roles hinder his potential production in that space, coach Hue Jackson has said multiple times that he wants to put the ball in the hands of his playmakers.
Ford certainly falls under that category. He had seven total touchdowns last season to go along with an 18.8 yards per catch average.
No one knows how long he will be out due to the hamstring injury that knocked him out of the game against the Denver Broncos. However, you can be sure that once he is healthy enough, he will be reinserted into the lineup and continue to play a central role in the Raiders' offense.
Stash him on your bench and potentially use him as trade bait after he has a big game or two and increases his stock.
3. Jason Campbell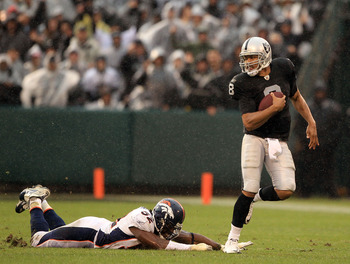 Ezra Shaw/Getty Images
Jason Campbell could be an excellent backup quarterback for when your starting quarterback is on a bye week. As we saw last year, there are games in which Campbell simply goes off. His inconsistency when it comes to statistics is the only thing holding him back from becoming a back-end option as a starting quarterback in deeper leagues.
Against the Buffalo Bills, Campbell put up stellar numbers, amassing over three hundred yards over the air, throwing for two touchdowns and running for another. The biggest difference this year is that he appears to be limiting his mistakes. The only interception he has thrown this year came on a Hail Mary to end the game at Buffalo.
When looking at Campbell, it's important to keep matchups in mind. He tends to have fantastic games against teams who can't generate pressure on defense and/or have a poor secondary. Take a look at when your starting quarterback has a bye week and see who Campbell is playing that week. If the matchup is favorable, don't hesitate bringing him onto your squad.
2. Kevin Boss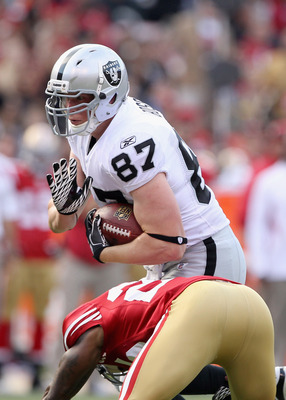 Ezra Shaw/Getty Images
The tight end position is probably the one with the most fantasy depth in the league, so at first it may be puzzling putting Kevin Boss on here. Couple that with the fact that he is still out after injuring himself in the preseason and he seems like a risky option.
Yet, the one thing the Raiders offense seems to have lacked in the first two weeks is a safety valve in the passing game. Derek Hagan was just that in the game against the Buffalo Bills, but who knows how much playing time he will be getting in the future once Ford, Murphy, and Darrius Heyward-Bey return from injury.
Campbell has a history of relying upon his tight ends, as was the case last year with Zach Miller at his disposal. Boss could be a similar weapon. Over fifty catches and a handful of scores is definitely not outside the realm of possibilities for him.
If your starting tight end is underachieving, feel free to add Boss to your roster in a bench role until he starts to establish himself. Many owners in your league have probably forgotten about Kevin Boss, but that doesn't mean you should.
1. Denarius Moore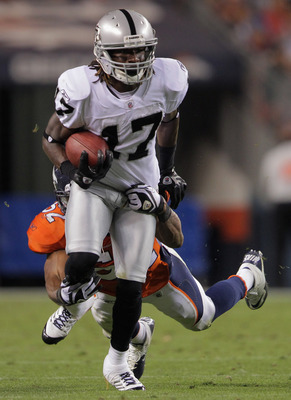 Doug Pensinger/Getty Images
The rookie sensation who made a splash in training camp, Denarius Moore easily has the most upside of all the Raiders' receivers. If given the opportunity, he showed this past Sunday that he can put up statistics that warrant a look as a starting receiver in fantasy leagues.
A dark horse candidate for Rookie of the Year before the season started, Moore showed against the Bills that he can be a vertical threat from the traditional flanker position. The speedy Ford excelled in the slot role, but the Raiders have not had a consistent threat lined up outside since Tim Brown.
If given the playing time that he has earned, Moore can very well become a solid option as a WR2 or at the flex position. He easily has the lowest floor of Oakland's wideouts, but he clearly has the highest ceiling.
After his big game this week, a lot of people in your league will probably look to add him if they haven't done so already. He has been noticed by fantasy owners, so it would be in your best interest to pick him up now before he has another big game and gets plucked off the waiver wire.
Summary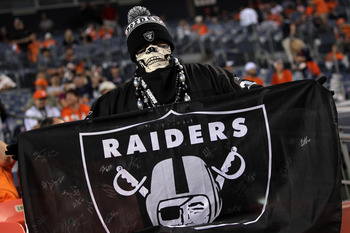 Doug Pensinger/Getty Images
In an ideal world, you hopefully do not have to add any of these players to your roster. With any luck, you are 2-0 right now and sitting pretty on top of the standings with all of your players performing just as you had hoped. That is not how fantasy works though. Injuries happen and players underperform.
On the flip side, some players who were not drafted become viable fantasy options. Just keep in mind players like Peyton Hillis and Steve Johnson were unowned going into last year but, by the end of it, those two were starting for teams in most leagues. Most likely, teams that earned playoff spots. A big part of fantasy success comes from uncovering those hidden gems through the waiver wire.
I'm not saying that these players will be breakout stars, but they can be. Be ahead of the curve and keep these Oakland Raiders in mind when you're scouring the wire. You may be pleasantly surprised.
Keep Reading

Oakland Raiders: Like this team?